Eli Holzman, a reality TV producer who has had a hand in bringing shows like Project Runway and Undercover Boss to television, was working at home a few years back and craved something sweet. "I thought, you know what would be delicious–a crunchy rice treat filled with ice cream, and I decided to make some," recalls the president of All3Media.
Holzman got to work creating his dream dessert, fashioning ice cream into cubes, flattening a rice treat and forming it around the ice cream, and he discovered that his concoction was just as yummy as he thought it was going to be. His family and friends enjoyed the dessert, too, when he served it at Thanksgiving, and soon enough, Holzman teamed up with his brother Daniel and some buddies to create Q-Bees Treats, a line of ice cream treats based on his original creation. (FYI, the same group of guys, including Holzman, is also behind The Meatball Shop in New York City.)
Q-Bees are now sold in Whole Foods and supermarket chains across the country, but getting them to market was quite a task, even for an enterprising producer. In fact, finding out how to manufacture the desserts on a large scale and lining up a distributor was a daunting and complex process, according to Holzman. "It changed my view of the supermarket," he says. "You realize there is a story behind every single product."
Out of that realization came the idea for Supermarket Superstar.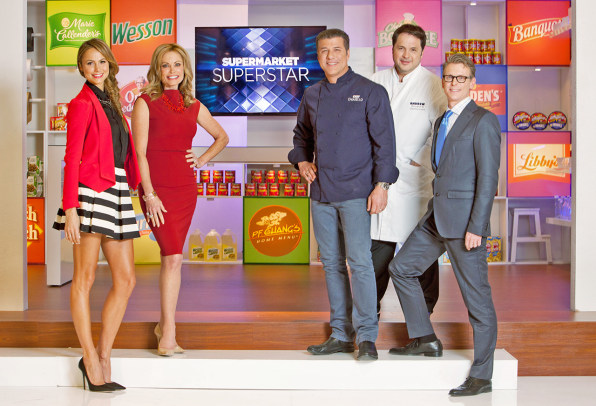 Produced by The Weinstein Company and All3Media America and hosted by Stacy Kiebler, who happens to be working on the launch of her own healthy food line, the reality competition show airs on Lifetime Mondays at 10 p.m. EST. Every episode finds three home chefs pitching their cakes, soups, and other food items to a panel of mentors made up of celebrity chef-restaurateur Michael Chiarello, cookie mogul Debbi Fields of Mrs. Fields fame, and branding expert Chris Cornyn, the founder and president of DINE, The Food & Drink Agency.
"We didn't want it to just be a cooking show," stresses Holzman, who is one of the executive producers of Supermarket Superstar. "I don't say that in a negative way, because there are some great cooking shows out there and several that I really admire. But it feels like people are already doing that really well. The unique and different thing about this is that it's more than a cooking show. It's cooking with an aim and a goal. It's cooking within really strict parameters with respect to nutritional content and price parameters and coming up with a brand."
After being critiqued by the mentors at the top of each episode, the contestants are sent to a test kitchen where they refine their recipes under the guidance of Chiarello and research and development chef Andrew Hunter (former vice president of culinary development for Wolfgang Puck), using commercial ingredients and taking into consideration everything from taste to nutrition to price point.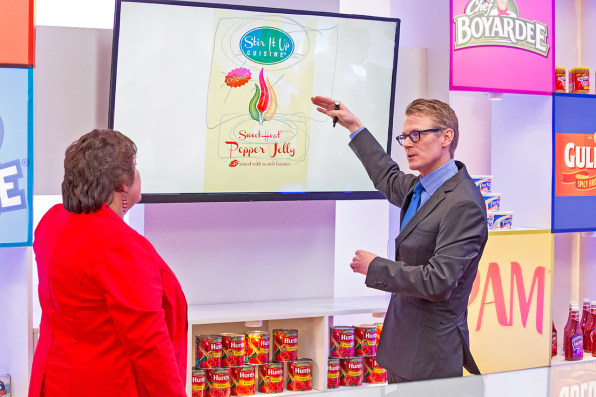 They go on to meet with Cornyn to nail down their brand and design packaging, and then a focus group made up of real-life consumers samples the products and weighs in.
A&P buyer Tom Dahlen has the final say, choosing a winner at the end of each episode. Three of those finalists will go on to compete for the show's grand prize–having their brand launched in A&P supermarkets and affiliated stores across the country. (A&P CEO Sam Martin will appear in the finale to select the winner.)
"I think it's going to be a really fun play-along for our viewers to be able to sit at home on their couches and determine if that is or is not a product that they would buy," says Supermarket Superstar executive producer Rhett Bachner, whose credits include Shark Tank.
There was certainly no shortage of people interested in being on the show. "What's so great about a show like Supermarket Superstar is these people really have no interest in being a celebrity or being reality stars," Bachner says. "They're passionate about their businesses, and I think that makes for better television because it's pure and it's true. These people really, really, really want to win this prize and that makes for real stakes."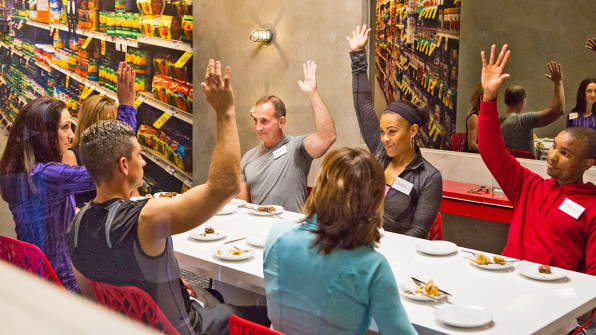 Cornyn was thrilled when the producers of the show sought him out to be a mentor. "America has no clue how a food product gets to supermarket shelves, and [the producers] found the process interesting enough to portray what I do for a living every day," Cornyn says.
That said, Cornyn doesn't want the people who watch Supermarket Superstar to think "you can just take your Aunt Betty's pie recipe and make a million dollars because that is not the reality."
Cornyn offers advice for food entrepreneurs who are convinced they hold the recipe for the next big supermarket success:
"The world doesn't need another cookie," Cornyn says. "There are three words of wisdom that I always give food entrepreneurs: New, new, and new. In the food business, you need something new. You need something disruptive to catch people's attention. When people are in the supermarket, they spend 2.6 seconds deciding whether to pick up a package or not, so you need to stop them and sell them. In that time, you're not going to do it with just some family recipe that all your cousins like."
"Nine out of 10 new products fail. I think Vegas has better odds than that. Every year there are 14,000 new food products introduced, so the odds are not working in your favor," Cornyn says. "Every once in a while a great idea that is disruptive will make it, and you'll see the entrepreneur sell the company to one of the big multinationals. But you indeed have to have a passion for the business that drives you because the first three years, you're probably going to be losing money."
"There's not one product on the supermarket shelf that came from somebody's real kitchen. You cannot make product in your home kitchen and sell it to a supermarket," Cornyn says. "Food entrepreneurs have to take the first step of finding a commercial kitchen that has been certified before any big chain is going to take your product."
"You cannot produce a food product using ingredients that you get at a supermarket," Cornyn says. "You need commercial ingredients that are available in bulk, that have a price point that will allow you to make the margins that you're going to need, allow the supermarkets the margins that they need and, most important, will work in a food manufacturing plant."
"Just a few weeks ago, there was the Fancy Food Show, which is held in the summer in New York and then in the winter in San Francisco. You'll see a lot of first-time food brands exhibiting here. All the buyers from most of the grocery chains go to these shows, and they're looking for something new," Cornyn says. "It's conceivable that you put your product in their mouth and get an order."