4chan is an infamously anarchic message and image board that has launched a million Web memes over the years. Between the Pedobears,turning trolling-for-fun between total strangers into an art form and the weird image boards no mainstream publication can touch with a 10-foot-pole, founder Christopher "Moot" Poole learned a lot about running an online community. Now Poole's startup Canvas is launching the second version of its iPad app DrawQuest–and Canvas hopes that gently guiding users into unwitting creativity will make them a lot of money.
The 2.0 version of DrawQuest's app, which launched this week on the iTunes Store, adds heavy social components to the drawing community. While the core of the game–a daily quest to create a drawing on a specific topic–remains unchanged, the company layered new functions onto the product designed to connect users with each other. A new "Explore" feature follows the vogue among apps (see Twitter, Tumblr) to share what's happening in the user community; functionality to find friends via email addresses has been added; Web profiles have been added; new sharing options for Tumblr and Twitter have also been added; and options were created to transform a user's DrawQuest archive into a portfolio. The changes are small, but they add up for an app that's trying to build a community out of original content.
When we met, Poole–who is unfailingly intelligent and polite, especially for the founder of the infamous /b–explained one of his company's favorite talking points: That people love making art, but most people are trained by society to be hesitant about being creative.
The biggest difference between DrawQuest and rival Draw Something is that while Zynga's game pits friends against friends, DrawQuest has strangers competing with strangers. This has led to artists developing individual personas, such as Slothdude, a DrawQuest user who works sloths into every drawing he makes.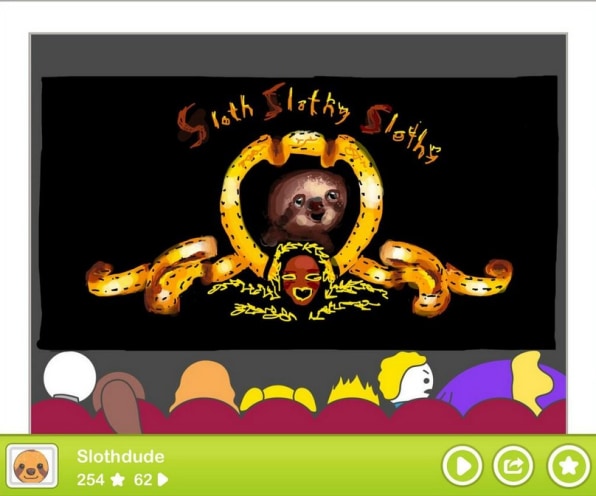 Canvas also maintains a Best Of Drawquest Tumblr that highlights the site's most noteworthy creations.
One user, Skunkwood, drew this Avengers-like piece for a contest called "What Can You Pick Up With Chopsticks?"
Another user, Supercalidrawquest, did some wordplay in visual form to "Help The Beavers Build A Dam."
Poole feels that DrawQuest's community aspects outside of users' real-life social circles differentiate the game from Draw Something.
"What differentiates us from Draw Something is that while DrawQuest starts as a game, the new version . . . makes it much more of a community–we're evolving from a game into a community," he added. According to Poole, the service maintains 30% to 40% of users three months after account registration.
Canvas' first product, Canv.as, allows users to "remix" existing images into a visual-oriented conversation. It is a natural successor to 4chan's image-oriented narratives, but the site still tends to attract a relatively small core group of users who contribute most of Canv.as' content.
"I think only about 10% of our users on Canv.as remixed things, while 20% posted. We tried to make it simpler to use and more user friendly, or more advanced–and we couldn't remove that hurdle. What we discovered in the process of remixing was that many people don't think of themselves as particularly creative or artistic. This is especially true in the context of the online world. It's one thing to be good at Photoshop, but a whole other thing to be good at making funny Photoshop images. The vast majority of users appreciated the output of the community but felt they weren't comfortable in joining the conversation. So that's why DrawQuest exists–we gave people the tools to be creative and actually broke down the tools so they'd be accessible to people who don't necessarily identify as amateur or professional artists."
Poole's method for introducing users to making art through Drawquest is simple:
By offering a drawing contest with a set description of something to draw, users are taught to be comfortable making art.

To make creating art easy, offer a UI that removes any hesitancy to do so. "You give people a box of crayons and ask them to make the outline of a hand, and they'll draw something," Poole said.

Encourage repeat visitors by making the drawing competition a daily thing. As he put it, "creativity is a muscle that needs to be flexed."
Canvas and DrawQuest, which are backed by Lerer Ventures among others, also need to make a profit from cute iPad art. DrawQuest's 2.0 version accepts an in-game currency that allows users to earn or buy additional palettes and picture-drawing tools. In the future, the company is considering turning competitions and quests into a potential revenue stream–sponsors could potentially pay to have themed competitions in-app. Sponsored content for art? Why not.