When writer Dany Levy launched DailyCandy in 2000, it was simply an email newsletter full of tips on where to shop, eat, and play in New York City.
Since then, DailyCandy, now part of NBCUniversal's digital portfolio, has evolved into a major online destination for women, with its editors showing more than 6 million readers ages 18 to 45 what's hot in food, fashion, and entertainment in cities across the country.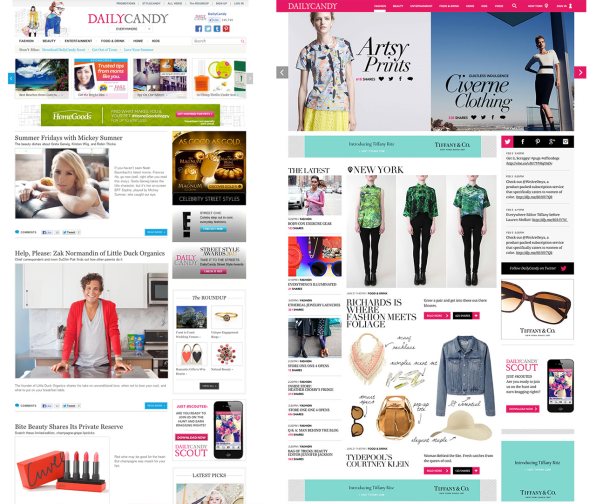 Trendsetters must stay ahead of the curve, so DailyCandy's evolution continues with a multi-platform overhaul that readers will begin to see June 17. "The idea is that all of the platforms will be completely refreshed with a whole new look and feel by the end of the week," says Alison Moore, the former head of digital products at HBO who is now executive vice president and general manager of DailyCandy. She adds, "This is the perfect time for us to do this because digital is exploding, particularly around women's content."
The new and improved DailyCandy website, created by the DailyCandy team with help from Roundarch Isobar, features a rotating marquee across the top that can be used to promote a variety of content and a three-column layout below, with content branded The Latest presented on the left-hand side of the page, general interest Everywhere stories in the center column, and an assortment of social media offerings on the right.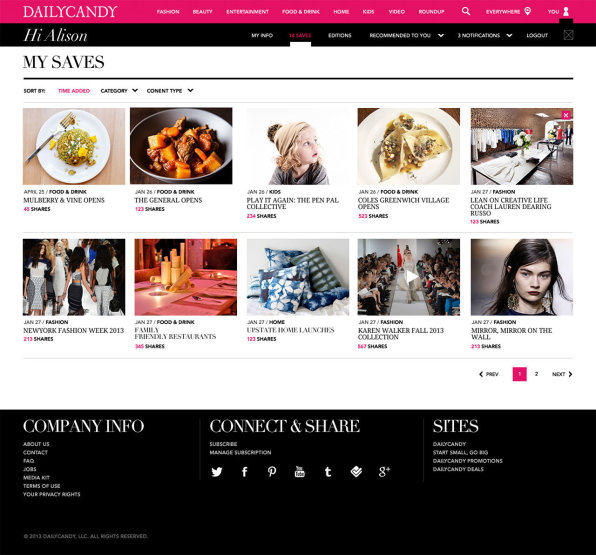 Consumers can further personalize their experience on this new incarnation of DailyCandy, honing in on the locations and subjects they care about most, while still being exposed to general content that might pique their interest, according to Moore.
Beyond a new look and personalization options, the site will now deliver at least twice as much content as before. "[The previous site] was built for a one-story an hour format, and that's just not enough content," Moore says. "We're publishing so much more now."
The written word will remain a key element of the site—DailyCandy's editors are known for sharing their opinions with flair. But video will figure more prominently in the DailyCandy experience going forward. The new site incorporates a more advanced video player, encountered as one scrolls down the homepage. "It's bigger and bolder and allows for more of a light's out experience," Moore says. "The entire back page goes dark and out comes the video, and you can watch it full screen."
To fuel the video player, SuChin Pak, DailyCandy's chief correspondent, will churn out more episodes of her series Currently Coveting and 5 Questions with SuChin. She will also host a new series called Nightly Candy, talking to celebrities and other trendsetters about the cool things readers like to know about.
DailyCandy, working with Phunware, has created a new version of its Scout app, which has been rebranded DailyCandy Scout. "I'm a big brand-forward, brand-first believer," Moore points out.
The new DailyCandy Scout, which is scheduled to roll out June 20 (although that's subject to Apple's discretion), is much more customizable than the previous iteration, providing feeds on fashion, beauty, and restaurants and more based on user's preferences in terms of location and types of content. "If you only want to hear stuff about kids, we can set it to where all you get is the updates on kids stuff. But, hopefully, you want to see more about where to go out, too," Moore says with a laugh. "I have a child. But you've got to keep your game going."
As for the app's features, Moore is particularly excited about a new list function, which enables users to bookmark items from DailyScout (or the DailyCandy website) for future reference. "There used to be a feature on DailyCandy a few years back, a straight-up bookmarking tool," Moore says. "This is an even better tool. As you traverse either Scout or the website, you can put things in your list—that new store that just opened on the Lower East Side, that new artist who is creating great wallpaper—and save it in the app or save it online so that you can go back in to review it."
DailyCandy Scout will also allow users to really be a part of the curation process by uploading photos of their own finds.
Currently designed for the iPhone, a tablet version (for iPad and other devices) of DailyCandy Scout is in the works as well.
It may seem old-fashioned, but DailyCandy still uses email to communicate with its readers. "We've done consumer research on this, and the emails are valuable to the consumer," Moore says.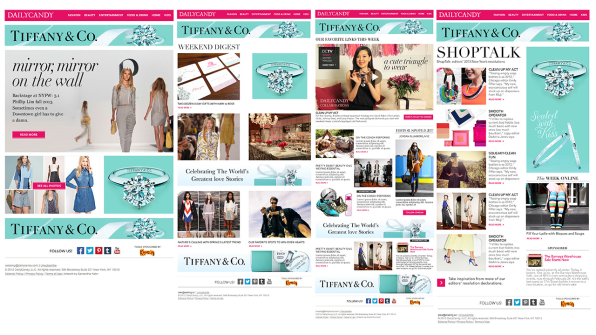 They are also popular. The DailyCandy newsletter has 3.3 million subscribers, and it's broken down into nearly 30 editions, with local coverage extending to a dozen cities including New York, Los Angeles, Boston, and Dallas.
And, like the website and the app, the emails will also get a refresh as part of DailyCandy's makeover, becoming much more visual, with larger photos and less text "because people are not reading tomes in their email anymore. People need to be able to open their email and look quickly to see if there is an offering of value, and they need a 'click to go somewhere' button immediately," Moore says. "Everything should be driving to the site."
The work designed to optimize the DailyCandy experience doesn't end with this week's rollout, of course. "In digital, you may have your big launch, but then you continue to work, and you continue to innovate and continue to enhance your platforms as you go along," Moore says, noting commerce is one of the areas of DailyCandy that will see a major redefine in the future.