Nadia Tolokonnikova, Masha Alyokhina, and Katia Samutsevich had no idea that singing in church would get them into so much trouble. After all, their punk rock-powered artists collective Pussy Riot had previously played a ditty in Red Square called "Putin Pissed Himself" and only got fined a few rubles.
But after the feminist trio, clad in homemade ski masks, thrashed around on the no-women-allowed altar of Moscow's Christ the Savior Cathedral to perform 40 seconds worth of a raucous anthem decrying the connection between church and state, the women landed in jail where they faced seven years in prison on "hooliganism" charges.
Meanwhile, their "Punk Prayer" video went viral, prompting dozens of Free Pussy Riot protests along with shout-outs of support from free speech enthusiasts ranging from Bjork, the Beastie Boys, and Madonna to Paul McCartney and Sting.
Max Pozdorovkin's new documentary, Pussy Riot: Punk Prayer, which debuts Monday on HBO, follows the Russian performance artists, widely known simply as Nadia, Masha, and Katia, as they explain their actions to prosecutors while sitting inside aquarium-like glass booths.
The Russian-born Pozdorovkin, who moved to New York City with his UN translator mother when he was 12, says he and codirector Mike Lerner aimed to dig beneath the circus-like trial antics to acquaint viewers with the women behind the candy-colored balaclavas.
"We want to show Pussy Riot as radical artists rather than just martyrs who are oppressed for free speech," says Pozdorovkin. "Yes, they sing punk rock songs, but Nadia, Masha, and Katia think of themselves as conceptual artists who are part of this avant garde lineage," he tells Co.Create. "They see their art as being video and discourse. They're interested in the debate it can provoke."
Inspired by America's riot grrrl movement, British left-wing band Angelic Upstarts, and European Situationists' street-theater activism, Pussy Riot's outrageous theatrics galvanized passionate responses for and against. Hundreds of thousands took to the streets in Moscow to protest Pussy Riot's trial. Thousands more, led by bearded religious conservatives Pozdorovkin calls "biker priests," denounced the women on government-controlled television shows as "witches."
Pozdorovkin believes the polarized reactions to Pussy Riot underscores a major schism in Russian culture. "Ultimately this is a story about generational struggle," says Pozdorovkin. "Masha's mom and Kaita's dad started out being very much against what they did. I remember sitting in court next to Katia's dad and he told me 'When you look at these two sides, the prosecution and the defense, that's two Russias, and they hate each other and they don't know how to speak to one another at all.' That was a very important kernel to get at. The film is very much about this conflict that runs very deep in Russian history between Western and more traditional aspects of society."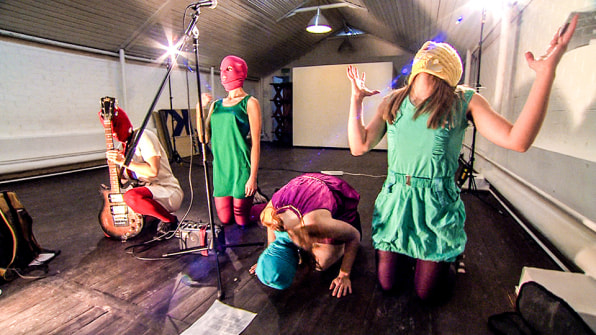 The documentary features previously unseen footage shot by a Russian news service each day before trial proceedings officially began. "From the beginning," says Pozdorovkin, "we felt like the most feminist film we could make would be one that lets the women speak as much as possible for themselves. Once we found this material from the courtroom where you see Nadia, Masha, and Katia interacting privately, we wanted to give that as much weight as possible."
At the trial's conclusion, Katia got off on a technicality, but the judge sentenced Nadia and Masha to two years in separate labor camps located in the Ural Mountains near Siberia. In prison, the women sew police uniforms. They will be released in March.
Prison terms notwithstanding, Pozdorovkin expects Pussy Riot to continue shaking up Russian society. His film includes an interview with half a dozen additional activists concealed behind the group's signature face masks. "Pussy Riot are not a band," he explains. "They're an anonymous collective of performance artists who take on the guise of a band. It's a group without a leader. If something happens to one of them, other people step up."
[Images: Evgeny Gladin | Maxim Pozdorovkin | Courtesy of HBO]