As much as we'd like to think the industries inhabiting Hollywood and Silicon Valley are melding, the two worlds are governed by different rules. In one, projects can take years to come to life; in the other, being fast and iterative is the Holy Grail. In one, a lot of money needs to be generated up front before a project gets the green light; in the other, funding is raised at stages to meet specific needs. In one, connections and pedigree are essential; in the other . . . well, there are similarities and differences. A new Canadian film accelerator called CineCoup aims to mash up the principles of the startup and entertainment worlds in an effort to disrupt the way that sub-$5 million indie films are made, financed, and distributed in Canada (for now).
Founded by J. Joly, who is also the founder of Vancouver-based digital agency dimeRocker, CineCoup is a 15-week program that applies the startup world notions of minimum viable product and staged financing to filmmaking, with elements of social networking, gamification, and crowdfunding thrown in. Rather than follow the typical movie-making pattern–which goes something like: script, funding, production, distribution, audience building–CineCoup's program requires participants to start with a two-minute trailer (see the top five in the slide show above), akin to the tech world's minimum viable product, before a script is even written, build an audience, crowdsource funding once support is strong, and finally make the film.
Open to anyone with a team of three, the first intake of the program began in February. Each week, participants were given a challenge related to the creation and marketing of the film, from pitching their projects to creating film posters to hyping their film and re-cutting their trailers. At the same time, filmmakers built support through social media, competing for audience votes. Participants that made it to the top 10 were asked to start crowdfunding and had their scripts optioned from CineCoup. Finally, from over 90 entrants, the team behind Wolfcop was named the winner and was awarded a $1 million development deal from CineCoup and will receive guaranteed distribution in Cineplex theatres, Canada's largest theater chain, once the film is complete.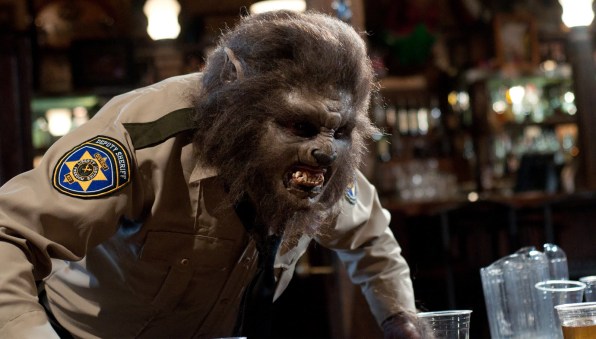 The idea, says Joly, came from watching his filmmaker friends struggle to fund their independent ideas. With film being a high-risk investment, the lack of private money–particularly in Canada, where film is largely funded by grants and the industry is miniscule compared to the United States–meant that many film projects never get off the ground. Having spent years in the film industry and having developed dimeRocker–which itself was born from a tech accelerator–Joly saw an opportunity.
"All of my friends were like, 'Everything's broken. It's so hard to get films made. There's no money.' And I realized it was because they look through the world with a filmmaker's point of view. I saw it with an entrepreneur's point of view. I was like, 'Hmm, I think there might be an opportunity here.'
Joly says he hopes this project will help uncover new filmmakers, allow different types of stories and new franchises to emerge, establish a way to build audiences faster, reduce discovery costs, and create a process that measures engagement to help better market niche, indie films.
The first step in all of this was to flip the script, as it were, on a film's starting point. Rather than focusing on a completed script, CineCoup has filmmakers first build an audience around their idea, represented in a trailer. It's a bottoms-up approach, completely opposite to Hollywood, that encourages people to feel personally connected to the final product.
"A lot of people believe the script is like the blueprint. Well, it starts with the script–that's absolutely right. It starts with a great story and you have to know how to tell a story," says Joly. "But filmmaking also involves knowing how to use a camera, how to move and tell a story with a lens. And one of the things that I've always believed is that the script is actually just a map. Once you get actors involved, the story changes; the intent of the script changes. Then you start shooting the script and you start losing the day; the script changes. You edit; the script changes. The script is just this thing."
Which is why CineCoup focuses on the audience. If viewers can't be sold on the idea in two minutes, why spend the time and money on making something that no one wants to see? Audiences, in the CineCoup sense, are akin to a first round of venture capital funding. The more people who invest in an idea, the greater the value. "We believe in this term called audience equity," Joly says. "We ask our filmmakers to go out across the social web and into the real world and start building your audience equity. Just like with a startup, you start with friends and family. Then you go to kind of your angels, which could be in your town. Then maybe you go to your series, which could be your province and region. And then you kind of build it out on a national or an international level." Throughout, data is used to measure engagement, reach, and sentiment, which Joly says "help us make better decisions in terms of how to strategically deploy the hard P&A [print and advertising] spend."
Brad Pelman–CineCoup's president of distribution and sales, and former president of film distribution company Maple Pictures–says that CineCoup and the analytics technology behind it is "poised to rewrite the playbook for film marketing".
"As a film distribution professional for almost 25 years, I know that knowing your audience has been a fundamental must-have. The issue has always been how to reach that audience. The strategy around P&A hasn't changed for years," Pelman says. "What CineCoup has to prove is that through social media, sticky engagement and fan-based evangelizing of the films, we can bring a feature to Cineplex theaters knowing exactly who the audience is, where they live, and what they like."
The activity throughout indicates CineCoup might be onto something. In the first 15-week pilot, it generated more than 2 million views on cinecoup.com, and visitors spent an average of more than 5 minutes viewing over 18 hours of filmmaker video content. The project garnered in excess of 115, 000 Facebook fans, 75,000-plus Twitter followers, and over 200,000 earned-media impressions. Given that this is Canada, where 73% of online traffic originated, the numbers are impressive.
While ambitious, Joly is fully aware that a small accelerator from Canada will not measurably disrupt the Hollywood system. "It's a fool's game to think you can take on Hollywood. You can't actually disrupt Hollywood."
But that doesn't mean you have to play the established game. "There are no gatekeepers. You don't have to have permission. You can build an audience now. There are different avenues to distribute," he says. "But you have to start thinking like an entrepreneur."