You don't have to do much convincing to get women to buy skin care products.
As for men, they're coming along. In fact, males make up one-third of the customer base of Kiehl's. Still, the skin and hair care products brand, which eschews traditional advertising, felt it needed to make an extra effort to get guys interested in its new antiaging moisturizer. So Kiehl's hired Marvel Custom Solutions to create Captain America: Transformation & Triumph, a limited-edition comic book designed to promote Kiehl's Facial Fuel "Heavy Lifting" Firming, Lifting, Anti-Wrinkle Moisturizer for Men.
The comic book, which is currently free at Kiehl's stores with the purchase of any product and available online, too (it was also distributed via an issue of The Wall Street Journal), finds the evil Cobra descending upon Kiehl's flagship store determined to get his hands on a serum as well as machinery rumored to have been used back in the day to turn scrawny patriot Steve Rogers into the mass of liberty-loving muscle known as Captain America.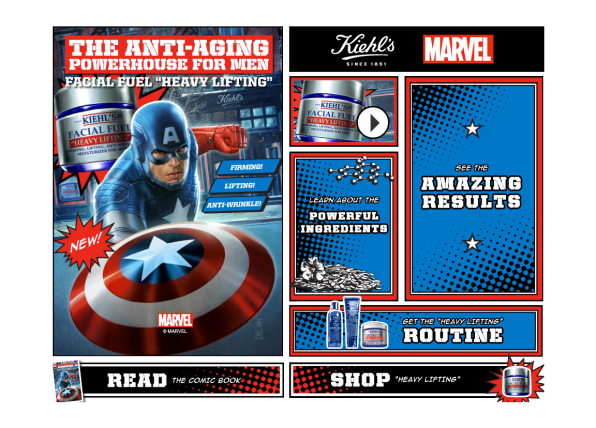 The idea to create a comic book came from Chris Salgardo, president of Kiehl's. Enamored with X-Men and The Avengers, he has boxes of comic books in his Manhattan office. (And like any good fanboy, he has made sure each one is safely stored in a plastic sleeve with a sturdy cardboard backing.)
Initially, Salgardo envisioned Kiehl's producing a comic book on its own, but then he decided to go to the experts, meeting with Marvel Custom Solutions, which regularly works with brands to incorporate its characters into customized products. "Talk about tapping into your inner child–I cleared my schedule for that meeting," Salgardo says.
The conversation began with talk about which one of Marvel's characters would be a good match for Kiehl's. "When we do a Marvel story, it needs to be personal. If the hero doesn't have a personal connection to the action, then the story has no weight," says Marvel Custom Solutions editor Bill Rosemann, noting, "Each Marvel character speaks to something different. Spider-Man is about responsibility. Iron Man is about using your brain, using technology to help others. Captain America is about one person doing the right thing against the odds to protect the innocent."
It didn't take long before both sides agreed that Captain America was the right superhero to represent Kiehl's.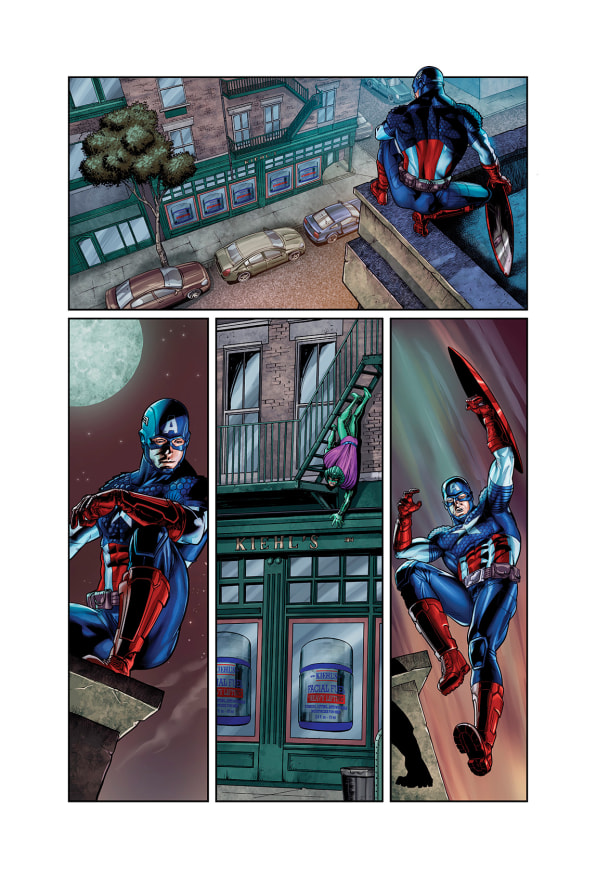 The character and the brand have a few things in common. For starters, Kiehl's is an American company that actually makes its products in America, and, well, you can't get more American than Captain America, Salgardo points out. And in a fortuitous coincidence, Steve Rogers, the man who would become Captain America, is from Manhattan's Lower East Side, while Kiehl's was founded in the neighboring East Village. So both Captain America and Kiehl's have strong ties to the same community.
Also, like Kiehl's, which was established in 1851, Captain America, who was introduced to comic book readers in 1941, has been around a long time—and, to Kiehl's benefit, he still looks great after all these years.
Once it was decided that Captain America was the right character for the project, the next step in the creative process was for Kiehl's to bring the Marvel team into its flagship store in Manhattan's East Village for a tour and history lesson that would serve as inspiration in developing a story line.
The store, which has been on the corner of Third Avenue and 13th Street since the company's inception, famously displays vintage Indian and Harley Davidson motorcycles and skeletons as well as other memorabilia, and the Marvel team was inspired to take advantage of the unique retail setting and Kiehl's history and make it an integral part of the tale told in Captain America: Transformation & Triumph.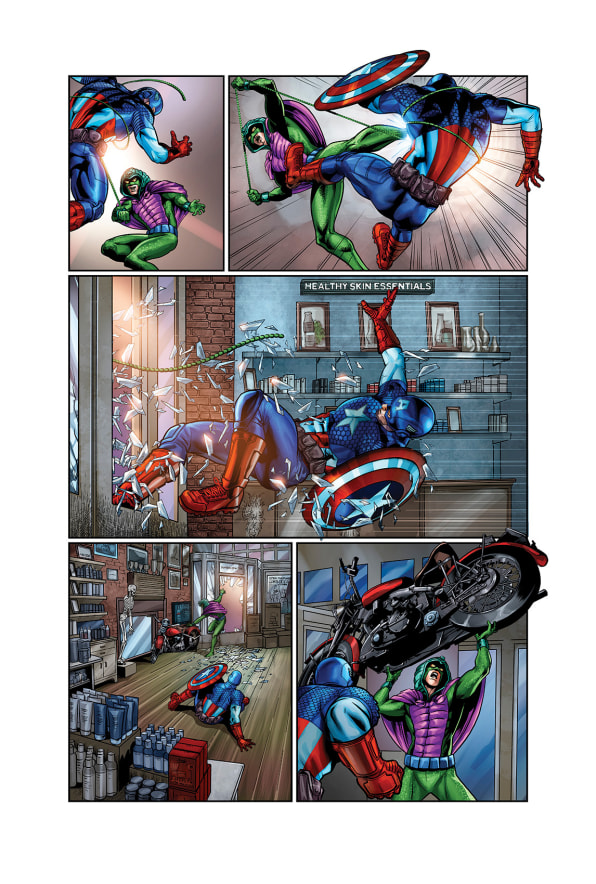 "As we toured through the store, I was thinking to myself: The fight can start here! We can see the motorcycles! We can see Dr. Bones!" Rosemann recalls. "The more I saw of the store, the more I realized how cool it would be to see it and all of these interesting items."
Schooled in Kiehl's lore, the Marvel team got to work. "Everything in comics is divided up," Rosemann says. "There's a writer who just writes the script, and that's their expertise. Then there's a penciler who just pencils. Then there's a colorist who just colors. Then there's a cover artist who just creates covers. It's like a band."
Rosemann hired Ty Templeton to illustrate sections of the comic book that contained flashbacks to the 1940s. "He has a very classic style. He's able to capture the era of World War II, so when you look at it, it feels of that time period versus the [work of] artist Angel Unzueta, who did the modern scenes. His art is much more modern and a little more slick," Rosemann explains. "Creatively, when you're putting together a comic, editors should know what artists excel at certain things. You always want to put your artists in the best position to create the best work."
Marvel sent pieces of the story and the art to Kiehl's for comment and approval as it was coming together, and there wasn't much back and forth. "We probably [approved] each piece within an hour because they were so spot on in terms of messaging, story, imagery," Salgardo says.
It took just over a month from conception to completed comic book. "My department is very nimble because we're always trying to create something when the client needs it," Rosemann says. "Oftentimes, when you must move with a certain velocity, you catch lightning in a bottle. You have to create with your gut, and that works to our benefit."