"We have a very tough product to sell." That's Mindy Tarlow, the CEO of Center for Employment Opportunities. You can't tell by the name of the organization, but that "tough product" is people–men and women recently released from prison. The New York-based nonprofit specializes in helping them transition into the work force and stay employed.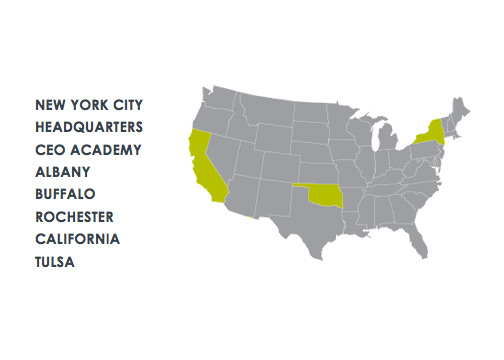 After two decades at CEO, Tarlow can rattle off staggering statistics about why this work matters. More than 90% of 615,000 young people ages 18-24 in prison will return home. Some 67% of those paroled will be rearrested within three years and more than half will return to prison. Failure happens fast, often within six months of release, and it's expensive. Each year of incarceration costs New York State more than $27,000 per inmate, but a study found that CEO's program saved taxpayers up to $8,300 per participant.
The problem isn't that the program doesn't work. It's that, even though Tarlow and her team can make a case for CEO in their sleep, volunteers and donors just aren't motivated to write a check or spend an hour after a PowerPoint data dump that illustrates how their state is saving tax dollars. CEO needed a better way to tell its story.
At Co.Create, we've expounded on the virtues of storytelling to elevate products, ideas, or personal brands by allowing people to make an emotional connection. Unfortunately like most nonprofits, CEO staff is great at what they do, but Tarlow says they struggled with balancing fact and emotion, especially as they started to grow beyond New York. "We are data- oriented and we feel good about that, but we knew we needed stories," she tells Co.Create. While there has never been a shortage of well-intentioned people offering to do pro bono work, says Tarlow, she didn't want to accept a boilerplate branding effort tweaked for CEO, even if it was free.
Enter Catchafire, a New York-based organization that matches volunteers with nonprofits based on specific skills. Founder Rachael Chong not only had the formula for making successful matches down pat but also happened to be a mentee of MTV president Stephen Friedman.
Originally brought into the MTV fold 15 years ago to create and launch a pro-social department, Friedman was looking for an opportunity for his staff and for the MTV audience. "From our founding 30 years ago, it was so critical that we are not just entertaining but engaging and being advocates for the audience on social issues," Friedman tells Co.Create. He says that 80% of millennials prefer brands that have social engagement and do good in the world. Currently, MTV staff is about half (49%) millennial, a group that's more concerned about caring for those in need than collecting a fat paycheck, according to Pew research.
Chong says that when Friedman asked for MTV to be partnered with a nonprofit, she received about 70 applications from organizations looking for a fresh way to raise awareness. The applicants were asked to write and tweet why they thought MTV should work with them. CEO's winning tweet said it best: "@MTV, taking it to the next level gives us a chance to make second chances a reality. CEO, Change That Works."
Over the course of three months, a squad of 15 MTV staffers including Friedman, Senior Vice President of Public Affairs Jason Rzepka, and the heads of marketing and social media (who oversees MTV's 160 million-strong social presence across all social platforms) worked closely with CEO to "make over" the nonprofit using Catchafire to guide the process.
MTV dug into creating a new corporate video, redesigned CEO's corporate presentation template, repurposed its storytelling assets from photos and interviews with the participants, did a full social media audit, and created a tool kit and strategic plan for the CEO staff to follow going forward. Two of MTV's social media staff also conducted a hands-on, full-day social training session.
This wasn't a cakewalk for either team, despite the talent and desire to succeed. Friedman points out that while social media is the lingua franca of his team, the folks at CEO needed to be schooled in some of the finer points of social networking. "For our team, it was like, Whoa, we need to start from the beginning and cover the basics. There is a big difference between a message on Instagram than one on Tumblr," he observes.
And though MTV has 30 years of bearing witness to how songs can have a huge impact in storytelling, what comes easy to artists is a skill you have to work at, he says. So storytelling basics were incorporated into the meetings with CEO staff.
For it's part, MTV couldn't just crank up what Rzepka likes to call the company's "superpowers," either. MTV has had success developing a custom social product for Cover Girl as a tab on the MTV Facebook page (current fans: more than 45 million) called the Timeline Tracker. It was the largest such effort in Cover Girl's history and significantly increased the number of millennials who follow the brand on Facebook. Likewise, a multi-platform social initiative with Pepsi last summer kept the brand trending all summer, with over 100,000 retweets of program calls-to-action and netting nearly 900 million impressions.
"Our people were inspired by meeting [the former prisoners] helped by CEO. Those stories seem to shout out loud," Friedman says. "We are leaning on the organization to help us preserve the privacy of the individuals. It is tricky, but the essence of a great story is creating an authenticity that will enable the audience to connect."
 
"Not every word they chose were ones I would want to use," says Tarlow, but the ideas were always organic and thoughtful. "We were not looking to rebrand, we were looking to simplify our story for multiple audiences," she explains. "If all roads lead to the donor," Tarlow says, creating a clear message about why they should be interested in CEO's programs was the ultimate goal. And sometimes the fix was simply showing only one fact per slide in the presentation deck.
Tani Mills, CEO's chief of external and legislative affairs points out that the team was always available to work through challenges in real time. Adrienne Schmoeker, Catchafire's talent solutions lead kept weekly tabs on the two teams to make sure that no one was promising something they couldn't ultimately deliver.
MTV was also able to point out another potential audience for CEO that went beyond the traditional support group among government agencies and wealthy philanthropists–youth interested in supporting social causes. "We saw that we could build a volunteer army cutting across all those different disciplines. It seems so obvious, but it was really good for me to see that," Tarlow says.
The result: a full-spectrum social media initiative set to launch this month. When asked about key metrics to determine its success, both Tarlow and Friedman declined to give numbers. Rachael Chong of Catchafire agrees. "We have concrete measures and one we track that only tells half the story is how much money we saved the organization. For MTV, the long-term impact is hard to measure in simple stats," she says.
Rzepka says that MTV isn't going to walk away after the project is over and plans to go back and connect with CEO to get a sense of how satisfied they are with the makeover. "Certain organizations place a bigger burden on pro-social initiatives," says Rzepka, "But a project like this, being Friedman's brainchild, there's not as much pressure to show that employee morale went up 11 percent by doing a pre- and post- quant study," he says, laughing.
That's not to say employee morale hasn't already been affected. Friedman says he had a conversation with an MTV team member in the elevator who "couldn't believe he got paid to work on the project." Mills notes that Friedman's presence for two and a half hours at one meeting, not only boosted staff but got CEO's clients in the classroom of the program excited, too.
Says Tarlow: "The unintended consequence was that it made everyone feel really good about what we do." And it's hard to put a price on that.
[Photos Courtesy of CEO Works | MTV]