When the most delicious cheese in San Francisco tumbles into the sewer, panic ensues.
Biotech company Genentech and global design company Ideo have teamed up to make a free educational mobile-gaming app that imagines such a preposterous scenario. Instead of calling superheroes to solve the citywide problem, in Ralph's Killer Muenster, players use the science of genetics to restore the killer cheese to its former edible state. It's all in a bid to make medical innovation enticing and accessible to youngsters.
It's kind of a San Francisco thing. "It had to be something that felt relevant to this area," says Josh Rogers, Ideo project lead for the Ralph's Killer Muenster work. "And there are few things that people get as excited about here as cheese."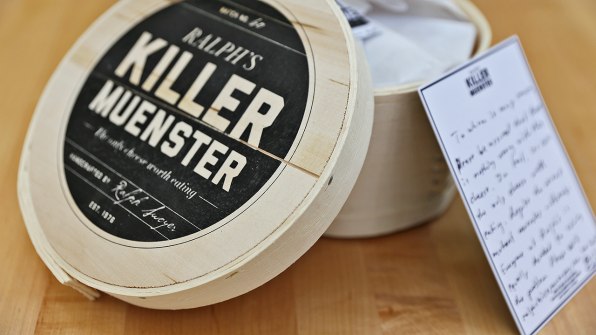 The idea of monster cheese overtaking a city may require some suspension of disbelief, Rogers admits, but there is a biological component involved that makes it a good "platform for a believable mutation story–more than water, obviously, or something that's synthetic," he says, adding, "We wanted it to be something that started as very innocuous."
This isn't the first time that the two companies have partnered on a project (check out the recent genetic symphony they created for the TED2012 conference), but this one was a no-brainer for Ideo. Genentech treats "people like people rather than patients," says Rogers.
Together, they constructed a whole site dedicated to the fictional cheese monger Ralph Swoyer and his family company, which "may or may not have something to do with the recent mutant cheese epidemic." Ralph's parents raised him in a dairy-friendly environment, according to his biography, and he happily shares his knowledge of all things cheese on Wikipedia. Muenster is, of course, his favorite.
Ralph describes the current crisis on his blog, which details the accident and consequential epidemic, links to his Twitter account, and notes that "Jennifer, my attorney, has advised that we probably not blog for a while."
"We liked the play on muenster obviously," says Rogers. "And we loved the idea that someone could be so passionate about muenster and muenster alone, because it's not considered to be the highest-end cheese."
Under the jovial tone is serious science: puzzles that challenge players to look through a microscope and reconstruct phylogenetic, aka evolutionary, trees. That's fitting since the release of the app commemorates the 60th anniversary of the discovery of the double helix structure of human DNA.
"We know that if you want to get people–especially young people–really stoked about science and teach them something about that, you have to do that through play," says Rogers.
In the game, these trees resemble triangles, squares, and other shapes with minute variations, like lines and dashes, which represent traits. Players pair these designs by changing each shape to a more closely related one–a single-generation removed–until they match.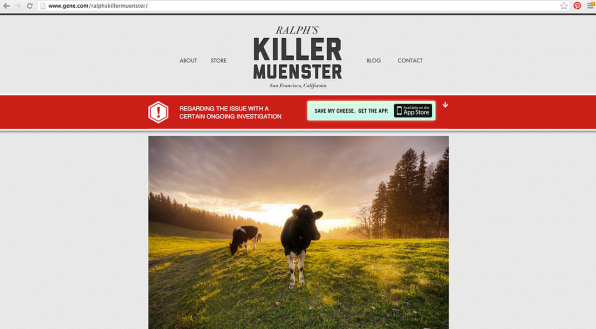 Following the origins of the cheese parallels scientists' efforts to trace the path of cancer cells in the human body. That's the basis of cancer research: "If you track it back to its source then you can understand it in a very specific way and then you can develop treatments for it very specifically," says Rogers. He adds, "Cancer can spread through the body and act like it's actually a particular kind of cancer when in fact it started somewhere else."
Learning these principles works better through play than a stuffy classroom approach, but Rogers says they're delighted that teachers are actually trying to adopt the game into their lesson plans. Creating it wasn't easy, though.
"I think it's hard to break all the concepts down into a game, and it's certainly hard to without taking a certain creative leap a little bit away from the science–abstracting the science a little bit," says Rogers. "That has to happen, I think, for it to be an engaging experience and for us to kind of imagine a sci-fi layer on top of the real science."
The marketing elements–the social media presence, blog, and even a real food truck that drives around San Francisco serving Ralph's Killer Grilled Muenster Sandwiches–all work to strengthen the real-world intent behind the whimsical cheese story and make the game more accessible to people. "We're joining in with Ralph and Genentech to solve the problem," says Rogers–whether that's fighting cancer or, well, helping a simple cheese lover save his business.