On the day JR found out he'd won the $100,000 TED Prize, the French pasteup artist found himself in China being questioned by police for doing his thing on the streets of Shanghai.
"I've been arrested a lot of times," says JR, who started out as a teenage graffiti artist and later stuck up "thug portraits" throughout the streets of Paris in the wake of 2005 riots. Museums now feature his large-format image manipulations, but even with High Culture's seal of approval, the anonymous artist continues to work with glue and paper to add humanity to empty slices of urban space with stunning black-and-white portraits.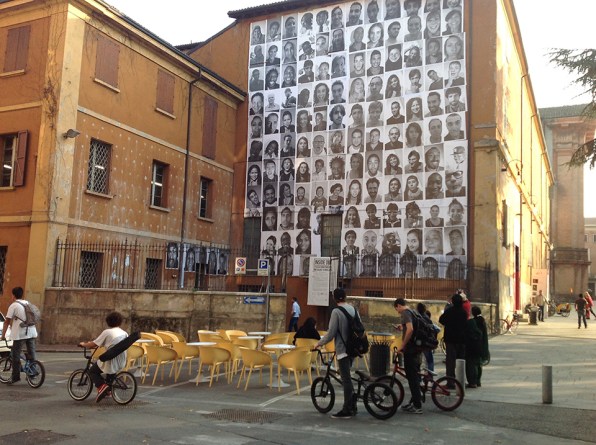 As detailed in new HBO documentary Inside Out (debuting May 20), JR designed his acceptance speech at the 2011 TED Conference in Long Beach, California, to launch an art project that would, in effect, empower thousands of junior JRs around the world.
He recalls, "I knew the TED speech would be seen really widely over the Internet, so I took that chance to explain my work and to basically say: 'Look, you've seen what I've been doing for years, now I'm going to hand it over to you. If you say, you need money to print, you need this and need that,' I'm going to prove you don't need any of that– you just need the balls to go outside and do it."
To crowdsource the globally scaled outdoor portrait gallery, JR created the insideout.com website where people can upload photographs taken on everything from smartphones to high-end cameras. In Paris, JR's team downloads the pictures, enhances the quality with a polka-dot background to ensure a consistent look, and prints out large-format images. These posters are snail-mailed back to contributors who exhibit locally on freeway underpasses, abandoned buildings, junked cars, and derelict billboards.
Inside Out director Alastair Siddons filmed paste-up portraiture propagated by Sierra Leone street kids, Thailand villagers, North Dakota Indians, Haiti slum dwellers, and dozens of other self-appointed community curators.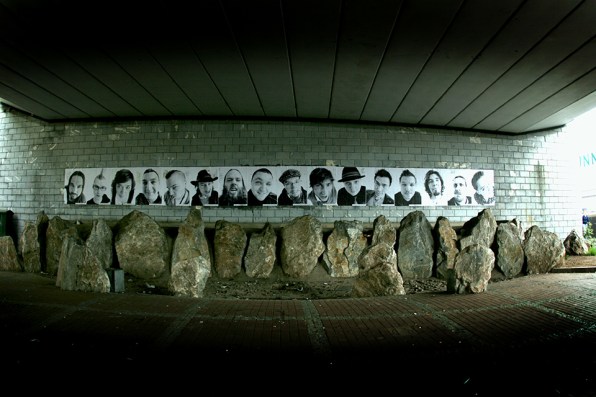 By design, most Inside Out installations take place without in-person involvement from JR, but as seen in the documentary, the 30-year old instigator did pay a visit to Tunisia shortly after dictator Ben Ali had been deposed. When two local photographers got cold feet about plastering their work on Tunis's historic landmark, the Porte de France, JR nudged the fledgling subversives to go for it. "These photographers went through the same problems that I've had in other countries throughout my life, going into private zones where you have to confront different kinds of people. I said: 'You have to keep pushing–I can't do it for you.' "
Under cover of darkness, JR assisted as the artists brushed wheat paste on the Porte de France walls and put up their photographs. The next morning, disgruntled citizens tore them down. Debate ensued. As one bystander noted "This is democracy." JR says, "That's my favorite moment in the movie."
Nearly 140,000 Inside Out posters now populate 108 countries and continue to turn up in new locations. In April, JR set up a photo booth in Manhattan and staged a three-week art intervention. "It was crazy," JR says. "Thousands of people pasted their faces on the floor and covered the entire ground of Times Square. The project keeps adding new dimensions."
JR, who spoke to Co.Create after he spent the day pasting posters in a French village, sees more than headshots when he goes to work. "For me the real thing happens within the pasting," he says. "The more social media we have, the more we think we're connecting, yet we are really disconnecting from each other. With Inside Out, no matter how good the photo or how big the pasting, people will like it or they won't. But what you see through any of these actions is that there's going to be discussion and it's going to bring people together."
[All Images from Inside Out Series | Copyright and Courtesy of JR]