It's not exactly the Occupy movement, but Networked Insights is trying to inspire revolt at the television upfronts in Manhattan this week.
The upfronts–that enduring, seemingly anachronistic tradition whereby networks pre-sell the bulk of their TV ad inventory (this year, roughly $10 billion worth) to advertisers and their agencies–are a juicy target. And Networked Insights, which provides social data for use in media planning and buying, is trying to convince brands through an "Outsmart the Upfronts" campaign that it's not sensible to commit billions in ad dollars based solely on limited impressions of shows that in most cases–65 percent of the time, according to Networked Insights–will be cancelled by Christmas.
"People are making financial bets, if you will. They're putting their money to work before knowing anything. The risk is certainly not worth the reward," says Networked Insights founder and CEO Dan Neely, who equates buying ad time at the upfronts to gambling.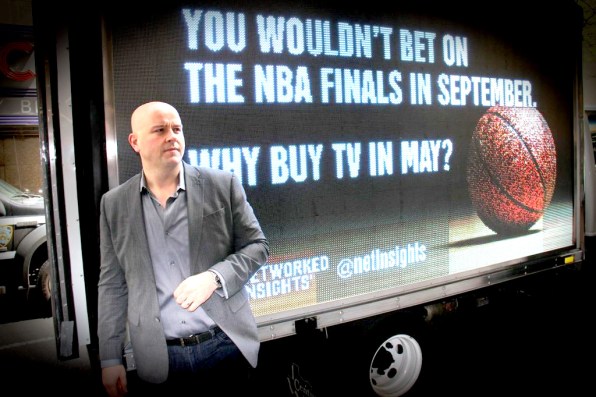 To reinforce that notion, the Networked Insights Outsmart the Upfronts campaign (#OutsmartTheUpfronts), orchestrated with help from RevisionNYC, has street teams handing out Lotto tickets to attendees as they enter the venues hosting the events. "It's symbolic of the big gamble people are taking," Neely says.
A truck equipped with giant electronic billboards is also part of the effort, cruising around upfront locations bearing provocative slogans like:
"You wouldn't bet on the NBA finals in September. Why buy TV in May?"
"In Vegas, they call it gambling. Here, we call it the upfronts."
"What do casinos and networks have in common? The house always wins."
It's not exactly high marketing art, but the point is made. There is self-promotion involved, too, of course. The electronic billboards are also a source of predictions of which shows will be hits this fall and which will fail based on SocialSense, consumer insights gleaned by Networked Insights from analysis of real-time social data. "We've been doing this for the last three years now, and we've been over 85 percent accurate as to which shows would succeed and which shows would fail," Neely says.
According to Networked Insights' findings, the "Buys" among the current crop of pilots include Fox's Almost Human, Sleepy Hollow, and Brooklyn Nine-Nine; NBC's Blacklist, Believe, and Crisis; and ABC's Agents of S.H.I.E.L.D. and Super Fun Night.
The shows pegged as "Don't Buys" because of weak social engagement include NBC's Ironside and Sean Saves the World; Fox's Us and Them and Surviving Jack; and ABC's Mind Games and Back in the Game.
In an ideal world, according to Neely, brands would use social data to make informed buys, and they would make those buys not in the spring but much closer to fall premiere dates.
The networks can't be thrilled about Networked Insights' critical–not to mention in-your-face–campaign. Neely reports that the event staff at the Fox upfront was trying "to move [our street team] out of the way." Meanwhile, the electronic billboards truck was able to park in front of the NBC upfront for about an hour before police told the driver to move along.
Despite the resistance, Outsmart the Upfronts will soldier on. "Legally, we can do this," he says, noting, "It's our way of disrupting the upfronts."