Will it be the corporate rulers or Liber8 that prevails?
Fans of Continuum, now in its second season on Canada's Showcase, will determine the outcome of this season's finale by choosing sides via a digital and social extension of the cerebral sci-fi show about a time-traveling cop from the future pursuing Liber8, a group of rebels determined to quash the corporate overlords.
Developed by Showcase in association with Toronto-based interactive agency Secret Location, the initiative incorporates Vine videos–released on Showcase's Continuum site after each episode–that go deeper into the story being told on air and provide insight into the thinking that motivates both sides of the conflict.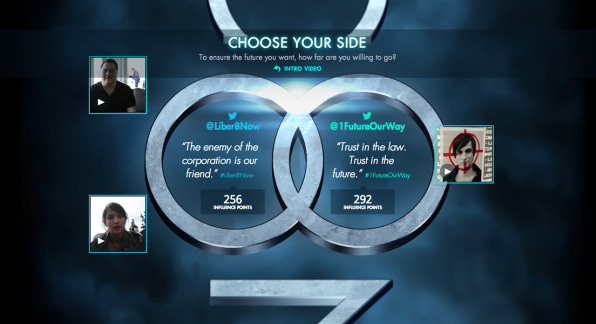 Fans are encouraged to share these videos via Twitter and Facebook and even create their own pieces of six-second video propaganda through Vine, furthering the storytelling as well as the conversation around the show. Fans can pick a side, add their commentary, and ultimately influence what happens in the season finale by tweeting @ContinuumSeries using the hashtags #Liber8Now and #1FutureOurWay.
It's hard to figure out which side to root for on Continuum–the series produced by Vancouver's Reunion Pictures starts its second season in the United States June 7 on Syfy–because both the governing corporations and Liber8 are guilty of terrible things. In fact, this moral complexity made for vigorous debate among fans during season one of the show. "We really wanted to keep that dialogue going but then also give the fans a payoff on the linear side," says Chris Harris, head of social media for Showcase's parent company, Shaw Media.
Continuum creator Simon Barry was invested in the project from the beginning. "We have a show that was already appealing to people who were wired–sci-fi tends to attract a fan base of people who are tech-savvy." Barry says.
"I also knew that there were opportunities to do more storytelling about the mythology online that we couldn't do through the broadcast version of the show," he continues. "There were so many different layers that made it not just appealing, not just from a strategic point of view but also from a holistic approach to the show."
Having the show's creator and writing team involved ensured that the digital content, which was shot specifically for the project, truly ties in with and feels authentic to the on-air Continuum. "It's really built from the same DNA that the show is," says James Milward, founder and executive producer of Secret Location. "It's built from it, but at the same time, it's specific to digital."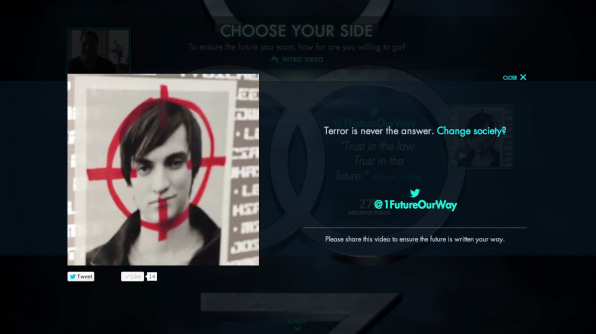 While the initiative's use of Vine is to promote a television series, it is a notably original use of the app. Milward points out, "We didn't start out picking Vine. It wasn't a platform decision. It was really a story decision. We wanted the best way to tell the story and eventually settled on the micro video format and Vine. It seemed like the right way to be on top of a new and emerging format that we could really be innovative with."
The effort is in its early stages, but it will ramp up in the coming weeks. Barry teases that as it develops, fans will see that the digital story "is connected to a character and [that character's] specific story. Without giving too much away, we thought we would have greater stakes if somehow that character's digital experience and the interaction with the fans actually had an impact on the way the story played out on the television show."
The finale has been scripted with an "A" storyline and a "B" storyline. Both will be shot, and which one is incorporated into the show will depend on Continuum fans. "We have created a scoring algorithm that will allow us to [make that determination] very late in the season," Milward says. "So every day, every hour of this will have as much of a meaningful effect on the outcome as possible."