After winning an Academy Award, it's important to choose your next project wisely. Not everyone can follow up Philadelphia with Forrest Gump, and there are countless missteps. For most Oscar-winning screenwriters, it might seem like a somewhat lateral move at best to write an episode of the sitcom Community afterward. It's a task Jim Rash is uniquely suited for, though. He's been a cast member on the show for four years.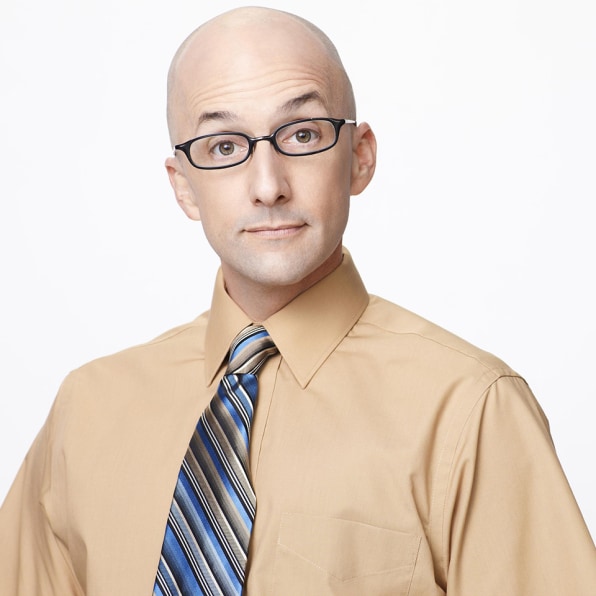 Along with writing partner, Nat Faxon, Rash began his career with the star-making Groundlings improv company in Los Angeles. Before his major acting breakthrough as the slight, bald, short sleeves-and-tie-clad Dean Pelton on Community, Rash had popped up in smaller roles for years. All the while, he'd also been honing his writing craft.
When Rash and Faxon wrote a screenplay called The Way, Way Back, it didn't get produced, but it got a lot of attention. Soon, the duo was tapped to adapt a novel called The Descendants. It was their first major opportunity as writers and they succeeded far beyond what they'd anticipated. The movie was a critical and financial hit (earning Rash, Faxon, and Alexander Payne an Oscar for adapted screenplay), and it led to even more promising opportunities.
The Way, Way Back will be the duo's directorial debut. It comes out in theaters on July 5 with a cast led by Steve Carrell. Additionally, Rash and Faxon are working on two screenplays, one of which is going through the drafts stage at Fox Searchlight. The other is a vehicle for fellow Groundlings alum and friend, Kristen Wiig. Before any of those projects sees the light of day, however, Rash's first post-Oscar test as a screenwriter–the episode he wrote for Community–will air on April 25.
"I almost didn't dare," the actor says of writing an episode. "I'm obviously a huge fan of the show that I'm on. I love and admire Dan Harmon and the writers, and where they've taken us, and I didn't want to mess it up."
Somewhere between the third and fourth seasons, though, while the series was on summer hiatus, the idea of Rash penning an episode started getting kicked around internally. When the show runners presented the opportunity to the actor, he happily agreed.
"Of course, when they mentioned it again in the latter half of this season I got stressed," Rash says. "Because now I actually have to do it."
The actor went into the writers' room a few weeks before the table read date for episode 4-10 and pitched a few ideas. The people who'd been putting words in his character's mouth for years were now his peers, and together they polished Rash's idea for an episode that would work within the seasonal arc and stand on its own. The episode would be a play on the Freaky Friday body-switching concept, something that would fit in on the perennially pop culture-infused show.
It was the most time the actor had ever spent in a writers' room before, despite having done punch-up work for friends' scripts and participating in table reads during pilot season.
"Breaking a story with a group and then going off and writing on my own and getting notes from them—that was all new," Rash says. "But I really enjoyed that process because I already knew the writers just from being on set, and it was so collaborative. Then you go off and do your draft."
Although some of the actors on the series, particularly Donald Glover, are encouraged to improv lines occasionally, Community treats its scripts as canon. Rash knew that his would have to be airtight. Fortunately for him, it's impossible to inhabit the skin of a fictional character for four years without picking up some insight into that character and the world built around him. In this way, Rash was able to lean on his acting experience when it came time to write a script.
"It really is a ballet between Dan's creative mind and the writers and the actors. It's all sort of feeding off each other," Rash says. "A lot of the mannerisms I might do in real life start to work their way into some version of the character. After a while, it just becomes second nature. You know the character so well, and so does the writer."
One thing Rash is acutely aware of about his character is Dean Pelton's desire to be as close to Joel McHale's Jeff as humanly possible. This trait manifested itself in the writer's b-plot for the body-switching episode–with the dean pretending to have switched bodies with his hero-nemesis.
The running gag offered the actor something of a rebuke for McHale's scenes in last season's "Documentary Filmmaking: Redux" episode, when he donned a bald cap to play an even goofier version of Rash's character. In the newer episode, we get to see Dean Pelton embodying Jeff.
"For the dean, it's wish fulfillment," Rash says. "For me, it's a chance to give Joel shit."