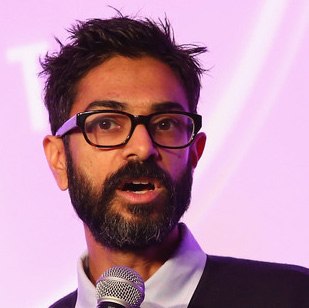 Unless you're a video game fan, the name Machinima isn't the first name on your lips when you talk to people about online video. You might say YouTube, the main platform where Machinima videos are seen, or you might say Hulu, Netflix, or Amazon. It's a fact of Internet life that Sanjay Sharma, the company's executive vice president of strategy and business development, wishes were a little different.
"Um, yeah!" he says when asked if he's frustrated that services like Amazon and Netflix soak up all the press in the online space, despite the fact that the Machinima YouTube channel has omore than 8 million subscribers and the videos on that channel have been viewed over 4 billion times. "I think we're the new kid on the block, and this is an area where Netflix has been killing it," he tells Co.Create.
Sharma calls Machinima the "new kid," even though it's been providing original content online for 13 years, because people seem to be discovering it for the first time now that other online video services like Amazon and Netflix are entering the original content arena. "So comparisons between us and Netflix and HBO and cable networks, those are coming along more naturally now," says Sharma. "And that's great because that's exactly how we see ourselves, and that's how we believe our audience sees us, and that's certainly how advertisers see us, including TV studios who leverage our platform to advertise tune-in campaigns for their own TV shows."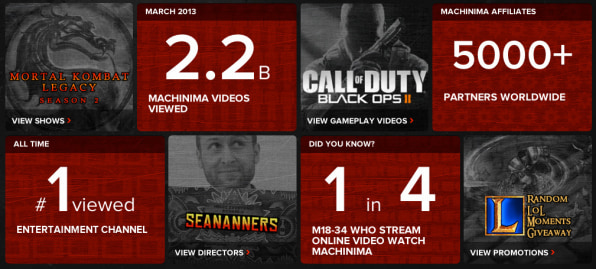 While they're loyal to the fans who watch their how-tos and other game action videos on popular channels like Respawn, the people at Machinima know that expanding into scripted programming is the best way to grow their audience. This assumption has been borne out by the size of the audiences that went to Machinima Prime to watch Mortal Kombat: Legacy, a scripted series based on the legendary video game; the premiere has generated 19 million views to date and the rest of the episodes are in the 4 million to 7 million view range. Even less popular shows, like the prequel Battlestar Galactica: Blood and Chrome, produced in conjunction with the Syfy network, generated well over 10 million total views. The first episode of well-received live action Halo series, Halo 4: Forward Unto Dawn got 5 million views in its first two weeks and has over 11 million views (on the YouTube channel alone) to date. Machinima wants to tap into the viewers who binge-watch shows like BSG and The Walking Dead, many of whom are also gaming fans.
"We feel like we're in the right place in terms of genre; we feel like we're in the right place in terms of audience," says Kevin Doohan, the company's executive vice president of marketing. "Our audience is one of the most likely audiences to watch this scripted episodic stuff. So as long as we keep the content true to the audience, and in this genre that is Machinima, heightened reality, sci-fi action, not sci-fi fantasy–like Terminator versus NeverEnding Story–then we'll be successful."
To that end, Machinima has started to sign production deals with companies that will help develop this programming. The biggest splash they've made so far is signing a deal with Ridley Scott's production company RSA to produce 12 short films that have the potential to become ongoing series. Whether any of these pilots will become a series will be determined more by the viewers' reaction than just sheer numbers.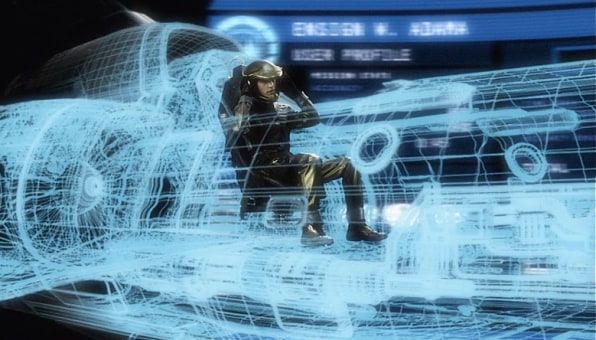 "We're able to drive big viewership for anything that is the right type of content for our audience just because of the scale that we have, and then we have some real rocket science when it comes to driving views on the YouTube platform and beyond," says Doohan. "So we're able to drive viewership really, really well, but then some shows kind of pop beyond that. Or the fans just absolutely adore it, and those are the things that we focus on."
Sharma takes it a little further by saying the company's development protocol "is going to be sort of equal parts art and science. What we'll look at are things like, what was the total viewership, what territories were strong, what was the audience's feedback like, the comments, was it favorited and shared a lot? So a short that may have smaller technical viewership than another one, but clearly demonstrates a kind of passionate committed audience, is probably one we bet on over one that didn't have that but had slightly more views."
Further evidence that Machinima wants to expand past its gaming roots came with reports that the company is seeking a major round of new funding. According to a report from AllThingsD, the company is looking to double the reported $35 million it got in its last round of funding, in an effort to "help the company advance its content ambitions." Along with the new funding come assumptions that the company wants to move beyond its YouTube home and look into starting a Netflix-like subscription service, which would run on devices like Xbox, as well as its own site, Machinima.com. As of this writing, the company has already released apps for iPhone, iPad, Android phone, XBOX, and the Roku and Boxee set-top streaming devices.
"The direct-to-consumer strategy has been something we've always kept in mind even from our earliest incarnations of our direct iPhone and iPad apps," said Sharma, before the news of this funding push was released. "We're putting a little more steam around them this year as we grow the audience and make sure we are everywhere our audience is, and have interactivity with the devices that they're connected to, whether that's Roku or Boxee or other set-top boxes."
In the wake of the funding news, the company's official response was to simply reiterate its commitment to YouTube: "YouTube is a key component of Machinima's strategy (and is) the best platform upon which to build a global media brand," said a spokesperson.
By focusing on scripted content, Machinima is hoping that the brand can expand into international markets, much the same way movies such as The Transformers have had worldwide appeal. "One of the reasons we find the space we're in very compelling is because it gives you the opportunity to actually speak to a global audience, whereas certain formats are very territorially restricted, and certain genres are very territorially restricted," says Sharma. "The overlap between the kind of the content we care about, that our audience cares about, and the content that we invest in kind of match perfectly to really global film and TV franchises."
With this focus on international expansion, however, came some growing pains. The company went through a restructuring in December, with many layoffs coming in the content production area. Included in the layoffs was much of the staff of one of Machinima's signature shows, Inside Gaming, which combines goofy charm and low budget-style production to talk about the world of gaming.
The executives at Machinima explained the reasoning behind the restructuring mainly in terms of wanting to focus resources on developing higher-quality programming. So far, according to Sharma, they haven't received much pushback from their millions of loyal fans. "We tried to communicate pretty well with the audience, but this really was an internal shuffling around to align a very rapidly growing company around kind of different areas of competency and interest, and not really much more than that."
Executives emphasize that the channel won't leave its core audience behind, though, even as they delve deeper into the scripted content area. "We still cover all the major gaming conferences, and even the minor ones," says Sharma, "and we still program our internal team that does our day-to-day magazine-style programming, really with the gamer in mind. I don't think we'll ever leave that core base. Our goals have never been to leverage the core base to go somewhere else. It's been to layer on top of that using that as the foundation."
It's no coincidence, however, that Machinima is jumping into the deep end of the original content pool at precisely the same time its major competitors are. Sharma even called the story of online content in 2013 a "Malcolm Gladwell story that will probably be written three years from now," referring to Gladwell's book The Tipping Point. Because the cost of producing quality content for the Web has gone down so much in recent years, he says, "we see this renaissance in filmmaking and storytelling, which is what's very exciting to us."