The journey to dramatize Thor Heyerdahl's famous Kon-Tiki voyage for 21st-century consumption relied on a hellaciously complicated consortium of 24 financiers from seven countries. But when it came to rounding up creative talent, Kon-Tiki turned out to be an easy sell. Norwegian filmmaker Joachim Rønning, who codirected the movie with childhood friend Espen Sandberg, likens the team-building for Kon-Tiki, which just opened in limited release, to Heyerdahl's own efforts.
"When Thor assembled his crew for the raft, he sent a telegram from New York to Norwegians that he wanted to come with him, and it basically read 'Crossing the Pacific on balsa wood raft to prove theory. Need crew. Are you in?' And the answer from all of them, was 'Yes.' That's what it sounded like for us," Rønning recalls. "Everybody jumped in and wanted to be a part of it. Everybody in Scandinavia has a relationship to that story."
Rønning, Sandberg, and the film's producers took extraordinary measures to make sure English-speaking moviegoers could relate to the saga without having to hassle with sub-titles: They shot Kon-Tiki simultaneously in Norwegian and English.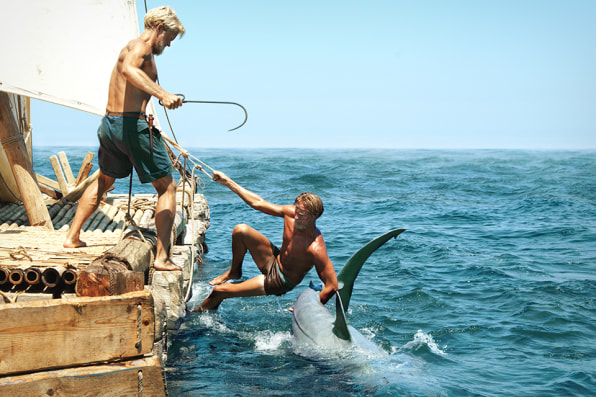 Kon-Tiki producer Jeremy Thomas explains, "We hired dialogue coach Constantine Gregory from England's National Theater to work with actors on the set every day and get them word perfect. Joachim and Espen would shoot the Norwegian version in three or four takes, then straight away go in with the same camera setup and shoot the scene in English. They weren't fumbling around. It was done efficiently."
Delivering dual versions of Kon-Tiki satisfied financiers and Heyerdahl himself, according to Thomas. The British indie producer visited the explorer at his home on Tenerife in the Canary Islands three times in the late '90s. Before Heyerdahl died in 2002, he finally agreed to authorize a scripted drama about his trip, on one condition. Thomas says, "I promised Thor that I would make the film in English. He had not given the rights out to any Norwegians because he wanted the film in English. Thor wanted the movie to be seen by people all over the world."
One challenge for Kon-Tiki 2.0: Heyerdahl had already told the story of his 4,700-mile trip across the Pacific in a 1951 Oscar-winning documentary and best-selling memoir. What more needed to be said? Rønning tells Co.Create, "When Thor made his documentary, a lot of it was about the science part of the trip, but the thing is, he did not sell 50 million copies of the Kon-Tiki book because people are so into migration theories. It was an adventure."
Sandberg adds, "I can assure you that the movie would have been very different had Thor Heyerdahl himself directed it. It was important for us to create a new Kon-Tiki chapter by making a movie about Thor as a human being. We wanted the film to have that emotional core."
Petter Skavlan's script addresses the personal cost paid by Heyerdahl when he left his wife Liv and two sons alone in Norway to raft across the Pacific. As producer Thomas notes, "There are some parts of your personality that make you a great scientist or explorer, but they do not necessarily make you a great husband or father. We wanted to show a bit of that."
Rønning and Sandberg, recruited by Thomas to direct Kon Tiki on the strength of their anti-Nazi saboteur biopic Max Manus and expertly crafted TV commercials, cast Pål Hagen as the Man Who Would Be Heyerdahl. Rønning says, "He obviously looks the part, but what is also very interesting is that Pål was accepted at school to study biology at the same time he got into the theater school. He has that weight with him and that interest in science, so he mirrored Thor marvelously."
The filmmakers wanted Hagen to come across as a believable leader on screen so they put him in charge of auditions–for real. "Pål took over some of the casting sessions by himself to really create that feeling of him being the captain of this raft," Sandberg notes. "That gave him the authority. It was a very calculated preparation from our side."
Shooting Kon-Tiki on real open-water locations that incorporated computer-generated effects on a strictly as-needed basis, Rønning and Espin hit their goal of making an "epic at a cost," picked up a Best Foreign Language Oscar nomination, and caught the eye of Legendary Pictures, the production company behind blockbusters like The Dark Knight Rises. Early this year, Legendary brought on Rønning and Espin to co-direct supernatural action thriller Spectral.
By Scandinavian standards, the $16 million Kon-Tiki cost a fortune, setting records as the most expensive movie in Norwegian history. Stacked up against a $120 million CGI-driven spectacle like Life of P, that's a pittance. Embarking on their first big Hollywood picture, the filmmakers plan to apply the discipline they practiced as masters of efficiency in their native land. "We do our films in Norway with a tenth of the crew and half the production time," says Rønning. "That's not all bad, I must say. It forces you to distill your vision down, and that's something that we're bringing with us to Hollywood. When we look at the story, we really distill it and ask 'How can we amplify this and bring our Scandinavian sensibility to this film?' "