If it's dancing babies, it must be…Evian. But in a new twist in the French-owned mineral water brand's "Live Young" campaign, the latest spot, breaking via social media today (Friday, April 19), features grown-ups taking part in a joyous dance-off against pint-size versions of their younger selves.
In the new commercial "Baby & Me," created by BETC Paris and directed by We Are From LA through production house Iconoclast, a man walking down a street glimpses his reflection in a bus wing mirror only to see himself as a child gazing back.
Surprised to find the baby mimics his movements and expressions, he starts to dance–to a punchy remix of "Here Comes the Hotstepper"–and as he does, other passersby join in to dance with younger versions of themselves reflected back from a nearby shop window.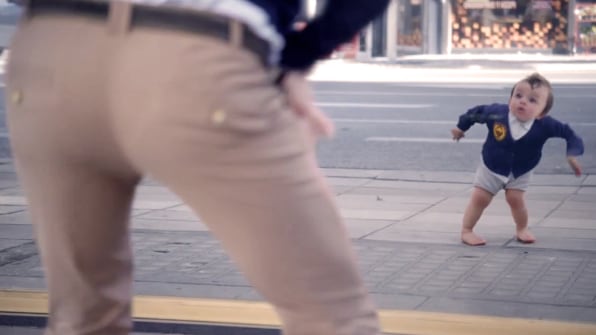 It's all about being connected with your inner baby–a sensation that creates "a feeling of freedom, of letting go, a spontaneous and communicative frenzy," according to Evian global brand director Laurent Houel. And as the frenzy takes hold, the group begins to dance.
"The babies are an essential part of Evian's culture and history," says Rémi Babinet, BETC's chairman and global creative director. "In France, it's the water distributed in maternity hospitals and recommended by doctors for mothers to give their babies–something that dates back as far as 1935!"
He adds: "For this new campaign, we thought it would be fun to let the babies meet their adult selves, and figured a reflection in a mirror would be the perfect way to do this. The encounter becomes a symbol for the vision of youth that Evian represents: a positive attitude and an open mind, even when it comes to the unexpected."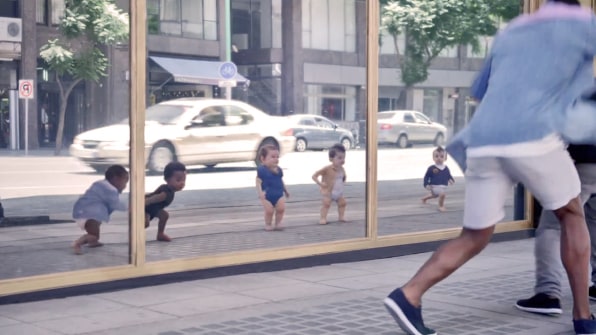 One of the toughest challenges in realizing the creative idea was casting. In total, more than 400 babies were cast as a result of the agency's hunt for adults and babies that looked alike.
"Another challenge was to manage the reflection in the mirror with all the optical incidences," Babinet confides. "And, of course, the obvious one that we start getting used to: working with babies who don't necessarily do what you want them to."
As well as the commercial, which launches this Sunday (April 21) on TV in a dozen countries including France, Belgium, Switzerland, Germany, the U.K., and the U.S., "Baby and Me" poster ads will continue the creative theme from mid-May onwards.
Meanwhile, BETC Digital and B-Reel have developed a free "Baby & Me" app for Facebook, Android, and iPhone that uses advanced facial recognition software to reveal the user's baby face. Through a partnership with photo booth operator Photomaton, the interactive experience will also be made available Paris-wide in branded "Baby booths."
"Baby & Me" is the latest installment in Evian's "Live Young" creative strategy, which has ranged from "Waterbabies," BETC's first TV work for the brand, featuring an Esther Williams-inspired baby water ballet, to the 2008 spot "Rollerbabies," which, according to the Guinness Book of Records, became the most viewed online ad ever with almost 250 million views.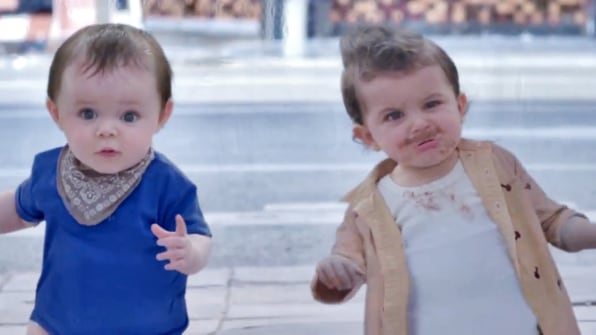 In 2011, "Baby Inside" featured adults' T-shirts printed with a headless baby's body dancing on the front and back.
Throughout this period, music has played an important part in the Evian creative strategy. For "Rollerbabies," BETC remixed the hip-hop song "Rappers Delight." For "Baby & Me," up-and-coming French artist Yusek's new version of "Here Comes the Hotstepper" gives the hybrid dance/hip-hop track a young and fresh feel.