You did what to your pants, exactly? Ooooh, ship! If you've been online at all in the last week or so, you've likely seen this amusing and suggestive play on words circulating via social media and traditional news outlets. Who can resist a double entendre that alludes to the gold standard of embarrassing situations? Surely not the Internet.
The fact that a clever one-line concept racked upwards of 13 million views on YouTube in one week is hardly surprising. The fact that it's a commercial for Kmart, however, is. One hardly expects such boundary-pushing work from the conservative retail sector.
But that, says Bill Kiss, chief digital marketing officer for Sears and Kmart, was the point. The company was looking to promote its integrated retailing approach, one where customers can seamlessly decide whether to have items shipped for free to their homes or to any store they choose. It's a fairly dry topic–if very important for the retailer–and Kmart wanted to bring this to life in a memorable way.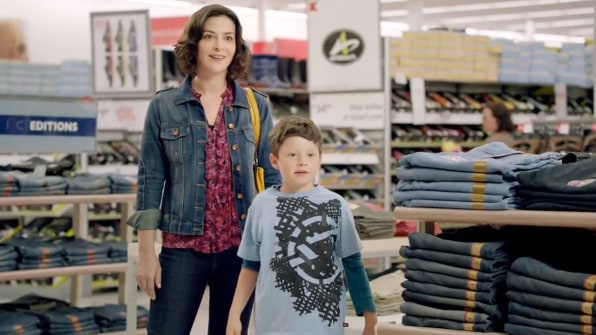 "As of today, we've got almost 70 million items online and we've got a very aggressive goal to go way beyond 100 million items. We wanted to make this really clear and compelling to our customers, so we felt that notion of 'if you can't find it, we'll ship it to you free,' was a sticky, breakthrough idea," says Kiss.
With a catchphrase like "Ship my Pants," it's easy to see why the spot, from agency Draftfcb Chicago, quickly went viral. What's more interesting is the strategy behind the launch.
Kiss says that rather than start with a print or TV idea to communicate the idea of integrated retailing, they decided to "build some content and put it out there, and let America react." With a dedicated in-house, data-driven, social media team, they closely monitored reaction to the spot. "We're very nimble and when we push something out there we watch very carefully how America reacts to it. We were tallying sentiment, which was overwhelmingly positive. That's where we knew, without relying on some sort of software package, hey, we're onto something. We did that deliberately. We wanted to make sure that this wasn't off-putting to our customers."
In fact, the spot's been so successful that Kmart has decided to run it on TV starting this week. "It's a formula," says Kiss. "You put things online, you get reaction, you get real-time feedback and data, and then you can make the decision on how big and bright you want to go with it."

According to the statistics from YouTube, the formula worked extremely well. Ted Souder, head of industry, Retail, Google, says that the spot succeeded in taking a rather dull topic–online shopping–and turned it into something people wanted to share. "Reaching 12 million views in a week puts this video on the same scale as this year's Super Bowl ads on YouTube. And if you look at the search data, the video drove a spike in searches not just for the ad, but for the Kmart brand as well," says Souder. "We're in an age where a single video can put you on the map, and with this one video, Kmart was able to reach millions of people with a really clear message about their brand."
It's easy to say in hindsight that building a spot around the shipping of pants–or drawers or nighties–was the right call, but was there any hesitation as the idea was being hatched?
"I wouldn't call it hesitation," says Kiss. "I would call it healthy and direct conversation and debate. There was a lot of that. But I'm a marketer at heart so I know that if you really want to disrupt and get the point across, sometimes you need to break some paradigms."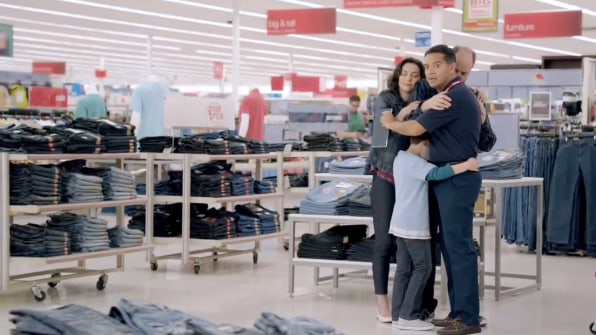 The success of this campaign means there are certainly more iterations to come. Kiss says that there are plans to create similar messaging around back-to-school goods and suggests that there will be new work that addresses gas prices in America.
"This is just the start–we're going to continue the notion that if you're online, in store, or on mobile and want to ship your pants, so to speak, you can do that."