The success of Puzzle & Dragons boils down to one word: luck.
At least, that's the over-modest attitude of the principals behind GungHo Online Entertainment, a Japanese publisher that planted its roots in Buena Park, California, last year. Its mobile hit Puzzle & Dragons is bursting through the cultural layers and idiosyncrasies that usually yield success for video games in one country and failure in another–and finding a global audience. Celebrating its first anniversary, Puzzle & Dragons soared from 7 million downloads to 10 million from January through March. It's now reportedly earning more than $2 million a day on iOS and Android, and GungHo (part-owned by Japanese telecom SoftBank) is now valued at $4.4 billion (in comparison: Zynga is valued at $2.7 billion). And the game only reached the West in late 2012.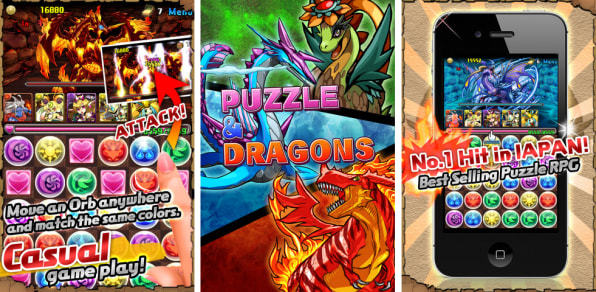 Kazuki Morishita, the president and chief executive officer of GungHo, told us that the company's Western presence could soon undergo a huge change. "We've not yet begun our promotional campaign in the U.S., but we have watched our ranks gradually increase along with a surge of positive reviews on both the App Store and Google Play," says Morishita. "We believe that once we begin our marketing push, we will see a similar increase in brand recognition in the U.S. as well."
Puzzle & Dragons exploded in popularity after GungHo aired a TV commercial last October in Japan. "We saw a huge spike in user recognition once that campaign went live," says Morishita.
With numbers like this at such an early stage, Puzzle & Dragons could be the next Pokémon. Only this game diverges from the typical elemental monster-collecting and battling formula. Instead, players fuse creatures into new ones and fight them in match-three puzzle-style combat–a take on popular game Bejeweled.
That's a promising combination as both properties have taken off in the United States. Match-three games like the hugely popular Candy Crush Saga are flourishing worldwide. "For Candy Crush Saga, it seems as though the same game mechanism is valid for both the Asian and the Western market," says Tommy Palm, the games guru for publisher King. "Players are getting equally hooked all across the globe."
Because core mechanics normally remain the same, nailing localizations takes a lot more work than text translations. It means heeding trends like Facebook–which is "picking up a lot of momentum in Japan right now," says Palm–and determining whether a game has universal appeal.
GungHo is more focused on creating a widely enjoyable experience than evolving its business strategies. Boosting active user rates, for example, is more important than optimizing monetization, or earning cash from games. The bigger priority now is connecting with audiences across territories.
Morishita says the company is taking "careful measures to culturalize our game operations," like coordinating in-game events with regional holidays.
Globally, gamers prefer different styles. Morishita says that the Japanese like games with detailed information and guidance. That can bore American players, who value quick tutorials and the fast pace of action RPGs. Puzzle & Dragons straddles the two.
"There is a fine line between the two genres that's been getting more and more ambiguous as of late," says Morishita.
Ken Berry, the executive vice president of Xseed Games, mentioned that cultural differences–like the prevalence of sexuality and violence in society–also play a role in determining performance. Xseed publishes GungHo's action RPG Ragnarok Odyssey, which has exceeded expectations. Platform matters, too, and GungHo is well equipped to handle the challenge.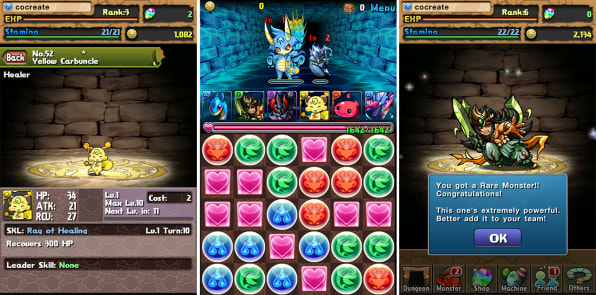 "We have been developing for handheld devices like the PlayStation Vita, PSP, and Nintendo DS, so we are used to coming up with screen layouts and [user interface] designs that can apply to smaller devices" like smartphones and tablets, says Morishita.
GungHo is bringing the game to the 3DS in Japan, and we may see a similar release in the West. But handhelds are more popular with the Japanese, who commute by train, while console gaming thrives here, says Berry. GungHo's experience as a multiplatform publisher may breach that divide. Mobile provides a strong starting point.
But a game has to be fun, and that takes dedication. Otherwise, it's easy to fall off the charts. "According to (analytics company) App Annie, Puzzle & Dragons has the highest global revenue on the App Store and Google Play, but we don't think it's wise to be too attached to these kinds of numbers," says Morishita. "We also feel that we haven't done enough, and we should continue to strive for greater success. Our true goal still lies ahead of us."