Think you can't predict the future? Amazon just announced the launch of 14 new original show pilots. Of the eight adult comedies (the others are kids' shows), two will succeed.
At least according to New Media Metrics, a "content-investment and brand-alignment" company that claims to know with 67% accuracy whether a new show will be cancelled or renewed and can assess with 79% accuracy what its Nielson rating and rank order will be. Now they're applying these powers of foresight to the world of online entertainment.
Amazon's Zombieland and The Onion, along with Hulu's original show Prisoners of War, and Lilyhammer from Netflix will draw and sustain significant audiences. But most of the new shows—including Amazon's Browsers, Those Who Can't, Supa-Natural, and Dark Minions; Hulu's Pramface, The Only Way is Essex, The Awesomes, Fresh Meat, and Mother Up!; and Netflix's Orange Is the New Black–are destined for the dustbin; that is, they won't find the necessary viewers. Meanwhile, Netflix's Hemlock Grove, Amazon's Alpha House, and Hulu's Behind the Mask, The Wrong Mans and Braquo are "on the bubble."
"There's a lot of hubris in Hollywood," says NMM cofounder Gary Reisman. "We can't gut what shows and brands people in Kansas City are going to be highly attached to. You need an analytical framework to determine which shows are viable."
Using its "LEAP" system, New Media Metrics makes its determinations based on the psychology of attachment theory: the idea that how secure a toddler feels with its parent will determine how that child behaves when the parent is temporarily absent. Insecure toddlers cry continuously when their mothers leave; secure toddlers play contently, because they instinctively know that their parents will return.
New Media Metrics believes that we're all insecure toddlers when it comes to the shows we watch and the brands we buy. According to Reisman, people who are highly attached to a brand contribute 47% more to sales, are less price-sensitive, and will pay two and a half times more attention to brand ads. "If you're highly attached, you're 43% more likely to talk about the brand, instead of [the baseline likelihood of] 10%," he says. "The same goes for media consumption."
For the last eight years, NMM has sent a questionnaire to 3,000 people with a short synopsis of each new show in development. Subjects are asked to rate their emotional pull toward each show's premise on a scale of 0-10. Zero means you couldn't care less about the show. Ten means you'd finish watching it even if your house was on fire.
NMM averages the responses and assigns each show an "Emotional Attachment" ranking. Shows ranked 110 or above will likely be renewed. Shows that rank below 90 are almost certain to be cancelled in the first season. Amazon's Zombieland received a emotional attachment ranking of 160; The Only Way is Essex, a Jersey Shore-esque program set in London, received a score of 40. Bollocks!
NMM also sorts the information it collects into 40 demographic segments, including age, gender, and region. They can determine which shows will be popular with women ages 18-34 on the West Coast as opposed to women ages 18-34 in middle America. This knowledge, says Reisman, can be useful to networks. "It can help them determine whether a certain show needs a star or should have more special effects or needs a new producer," Reisman says. But the metrics can also help advertisers know where to direct their dollars.
Take the restaurant chain Denny's. The NMM database shows that people who are emotionally attached to Denny's are most likely attached to the following new shows from fall 2012:
1. Anger Management (FX)
2. Beauty and the Beast (CW)
3. The Moment (USA)
4. Revolution (NBC)
Programs at the bottom of this list include Bethany Ever After (ranked 256th), Bristol Palin: Life's a Tripp, (263th) and dead last, Wilfred, which is about a guy whose imaginary friend wears a dog suit. In short, if Denny's was looking to reach its target audience, the company would gain nothing from buying a product placement, script mention, or ad time on these properties. Which seems obvious for any brand. Less obvious, however, is the a direct brand/media alignment between lovers of the Grand Slam and a supernatural romance on the CW.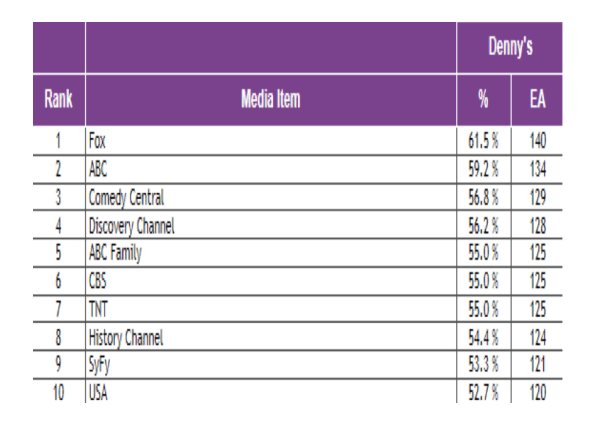 Based on NMM's most recent survey, viewers of Zombieland are more likely to be men and to have strong attachments to Apple and Pepsi. It should be noted that Reisman ran the numbers on these particular brands for a presentation his team gave to Pepsi reps–i.e., he didn't actually run a search for other soft-drink companies. Which means that Zombieland viewers could very well have a strong attachment to Coke. But unless Coke calls up NMM, they won't know.
I remember being excited about Revolution. It appeared to be an adventure-mystery in the vein of Lost. But after a couple of episodes, I gave up. The acting was terrible and the mystery wasn't all that compelling after all. According to NMM, I'm in the minority. When the company first tested the concept for Revolution, it received an Emotional Attachment score of 166—well above the 110 cut off. On the other hand, I really like Denny's, so the metric clearly isn't fool proof.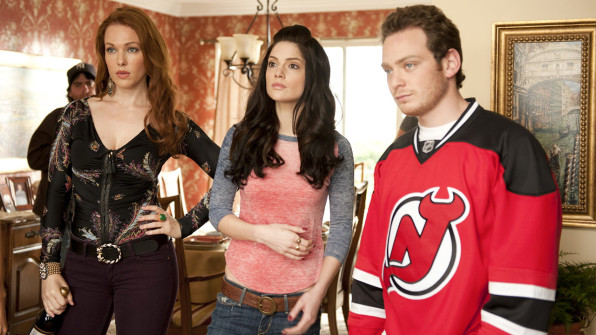 And there's still a 30% chance of error. Terra Nova had an emotional attachment ranking of 136, but was cancelled. On the flip side, the right talent and investment can turn a borderline concept into a great show. But Reisman warns networks to proceed with caution. Why risk time and money on a show that's likely to fail? "You need to know where to divert your dollars," he says. "And if you're a network looking at 40 shows, you need to know which two need loving care."