On March 23, part of a project that Kurt Braunohler had been working on for years made its way into the sky. Like many ideas comedians tend to have, though, this one started in the toilet.
"I was writing this really long joke about the smell of poop, and I was like, 'What am I doing with my life?'" Braunohler says. "I started to think about why I was a comedian and then I came up with a reason for existence, which is: inserting absurdity or stupidity into strangers' lives in order to make the world a better place."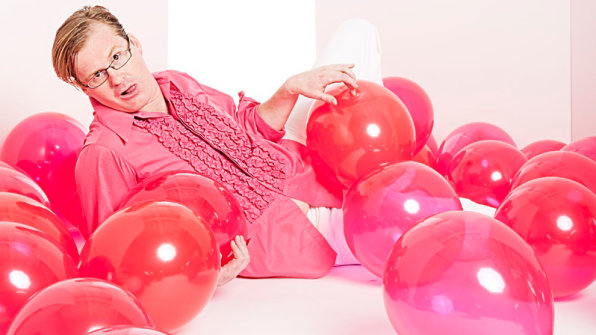 The comic, who moved to Los Angeles from New York six months ago, has been adding absurdity to strangers' lives in dribs and drabs for years–way before his bizarre game show Bunk aired on IFC last summer. His latest endeavor, though, took absurdity to dizzying new heights–specifically 30,000 feet in the air. Dubbed the Cloud Project, Braunohler's new mission involved raising money through Kickstarter to skywrite a joke so that a large chunk of L.A. would see it at once.
The comic's adventures in absurdity began when he first got to New York in 1999. He was doing a silly project with a friend that required both of them dressing up like nine-foot hybrid chicken mutants and prancing around outside. Braunohler was "Chunk" (part-chicken, part skunk.) His friend was "Chengwin." New York media described their battles as "street performance art pieces." Braunohler and cohorts began showing up on the street in stealthily promoted events every year, eventually with over 1,000 people attending.
"I wanted to redefine public space so that a person going to work sees this weird chicken fight and all of a sudden has this space redefined from walking-to-work space into chicken-fighting-arena space, which I always thought was very cool," Braunohler says. "Then we'd just disappear so no one knew why we were doing it."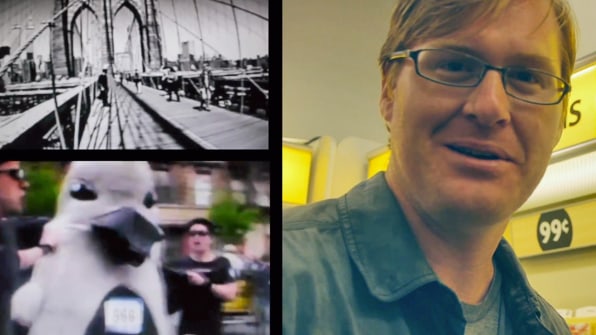 Aside from his Chengwin outings, the comic, who had begun doing shows with partner Kristen Schaal, began to supplement his absurdity ambassadorship with a new project that took him inside bookstores. He would go into Barnes & Noble, take books off the shelf, and sign them as the author. Then he'd put them back on the shelf and hope for their eventual discovery.
In addition to just signing the books, though, which might border on cruel, Braunohler left a funny little message, the kind that an author might only write if he or she were on strong meds. For a copy of The Girl with the Dragon Tattoo, he wrote "I hope you like my book! Sorry about all the rape!" In a Clive Cussler novel, he simply added: "Jive hustler, Clive Cussler."
Next, he used greeting cards to shake up people's days. He would go into pharmacies, buy greeting cards, take them home, and give them alternate endings, and then bring them back and put them on the shelf again. (One card, made for a 4-year old, featured a cartoon dinosaur and the words "I'm 4" on the front. The inside was left blank, until Braunohler penciled in, "Only one year until memories!")
By the time he got to Los Angeles, the comedian began to wonder about the next step of his quest. How could he expand it? With greeting cards and books, he'd affected a small number of people, but with the Chengwin battles back in New York, he'd interrupted the lives of thousands with weirdness. He wanted to do the same, but on an even larger scale. Eventually, he came up with the skywriting idea. He would put a joke in the sky where the people of L.A. couldn't miss it.
Braunohler had been invited to chip in for no less than six friends' Kickstarter accounts in 2012, but he had never done one of his own before. He wound up impressed by how legitimate and thorough the service was about approving his not-100%-serious stunt. He was equally surprised with how quickly he reached and exceeded his goal of $4,000 and was able to hire a skywriter to tell his joke to the masses. (The joke, as decided on by contributors: "How do I land?")
"I never understood using Kickstarter for commercial purposes," Braunohler says. " If you want to raise money for commercial purposes, I think you should give someone a dividend. They make money, then you make money. It should be an investment, whereas I think Kickstarter's true purpose is raising money for things that are in and of themselves justifying."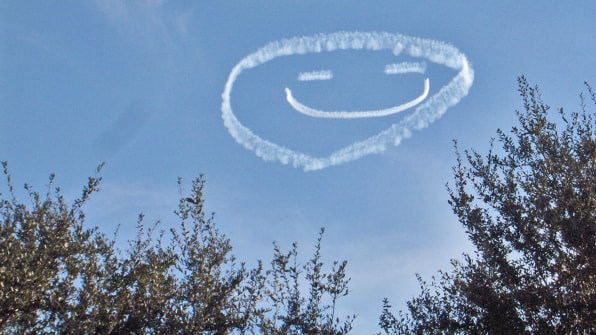 Although the idea of flying a joke into the eyeline of an entire city may not seem like a justified act to some people, it fits right into the comic's oeuvre thus far. Braunohler's comedy, like that which he enjoys when others are performing it, is rooted in the unexpected. It's the simple and utterly pointless thing that happens on the subway ride to work that people end up tweeting about. It's comedy as disruption.
"I think we get stuck in routines so easily that when an absurd moment in life seems to be there for no reason, it wakes you up out of your everyday pattern," Braunohler says. You pull back and look at life a little bit wider because of that one weird thing you weren't expecting. And I think that it's a really useful experience, because we can so often just be tunnel-focused on what's ahead of us and then realize, or remember really, that there's this whole big, crazy fucking world out there."
Watch Kurt's episode of the new web series Modern Comedian below.
[Images: Right On PR!, Photos by Eric Michael Pearson, Seth Olenick, and Flickr user Peter Dutton]