Features studded with product placement and off-screen brand tie-ins are commonplace in the film world. A movie–funded by a brand and created by an ad agency–as the centerpiece of an ad campaign, less so.
Toronto-based agency Grip recently brought to theaters The Movie Out Here, a feature-length film for western Canadian beer brand Kokanee that served as the gravitational center for the brand's marketing efforts.
Much more than a film with product placement, The Movie Out Here was conceived as a solution to the brand's goals of engaging its enthusiastic fan base and contributing to overall brand health. And it is wholly and unabashedly part of a campaign. "While the movie is the sexy part of it, this has always been very much the marketing," says Grip creative director Randy Stein. "It was a means to an end, to engage fans and galvanize western Canadians around a beer."
As a movie, it's pretty much everything you'd expect from a beer-ad-as-film: a buddy flick about three dudes who throw a party to save their friend's flailing ski-waxing business. It's full of frat-boy humor, decorative ladies, and lots of opportunity for in-context beer drinking, of course. Based on the brand's long-running campaign line, "the beer out here"–which represents its status as a scrappy, regional beer brand–The Movie Out Here also incorporates Kokanee's venerable brand characters: Sask the sasquatch and a pair of dopy, fun-loving rangers.
To understand how a film became the apt solution to Kokanee's marketing challenge, it's useful to look at Kokanee's recent history. Stein says that over the past several years Kokanee has been intensely focused on engaging its fans. The brand sought input from its Facebook fans when it redesigned its packaging and put the decision whether the ranger character in its ads should live or die to an online vote. When fans decided to kill the current rangers, fans voted on a new one.
"We already had this narrative that was built into the brand," says Stein. "We needed to engage fans, and the brief from the client was, 'Come back with an idea that's big.' It was literally that big." While a movie for a movie's sake wouldn't have flown, Stein says, "We realized that anywhere we want to be, from packaging to in-bar promotions, we could make this idea work."
The idea also allowed the brand to invite its fans to be part a bona fide theatrical movie, which is like loyalty crack for a generation with a penchant for self promotion. "Film buffs around the country shudder when I say this, but motion pictures are the last untouched medium," says Stein. "Yes, they've been polluted with brands paying to have product placed, but they haven't been in reach for the average person. The average person can be on The Amazing Race. The average person cannot be in a movie." Social media efforts in the lead-up to the film's release allowed fans to audition for the five leading roles, bars could put themselves up as possible locations, people could submit props, and the music was fan-sourced as well.
All of this was happening long before the script was even written, which Stein acknowledges is totally "ass-backwards." "A normal movie starts with a script, you get funding, and you go from there. We had funding before we had anything else," he says. There were also the ancillary marketing efforts that couldn't wait for a finished script, things like custom cans, in-case T-shirts, promotional items such as beer glasses, and of course, the fan input.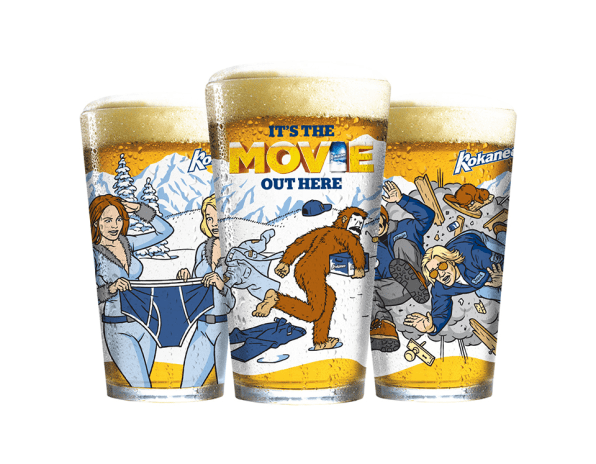 With all of the marketing pieces falling into place, Grip set out to engage key talent to make the movie come to life. Stein says that while everyone was on board with the core marketing idea, there was still doubt as to whether the team could pull off a feature-length movie. The first thing the agency did was hire experienced executive producer Jeff Sackman, whose film credits include Buffalo 66 and American Psycho. For the script, Grip relied on its in-house creative team, Dave Chiavegato and Rich Pryce-Jones; in-house producer Laurie Maxwell produced the film. The film was directed by commercial director David Hicks, who's collaborated with Kokanee on many of its previous ads.
Scriptwriting took several months and Stein says that after the first draft, which the client liked, the agency decided they could do better and scrapped it for a different direction. "To their credit, the client said OK, we trust you, even though we were running out of time," says Stein. "A few weeks later we had a new script that they liked much better."
The film premiered at the Whistler Film Festival–a relative neighbor to the town of Fernie, where the film is set–and hit theaters in western Canada in early March. And while some might question the artistic merits of the film (indeed, the few film reviewers that deigned to acknowledge the film were less than charitable in their assessment), Stein says that doesn't matter. "We always thought a hardcore film reviewer would go in wanting to hate this film. A lot of them didn't touch this," he says. Instead, by targeting its core consumers–and giving them input in the film–Kokanee has a built-in audience willing to shell out $12 for a chance to see the movie they had a small part in. Along with more involved fan engagement opportunities like casting calls, Grip also allowed fans to sign up to be listed in the credits of the film–the ultimate low hanging fruit. At the end of the film, the names of nearly 3,500 people scroll by.
This shrewd understanding of how to get fans involved early, which is job one in the marketing world these days, helped make the campaign successful. Stein says the overall campaign resulted in a 6% increase in market share. "In the beer business, 1% is a big deal," he says. And the movie was also picked up in 30 theaters–far above the average of four for an indie Canadian film, and more than their target of 20 theaters. "In Vancouver, our largest market, we ranked number four of 12 movies on opening weekend, behind Argo and Silver Lining Playbook, which saw renewed interested after the Oscars, but ahead of Lincoln, The Hobbit, and Les Miserables," boasts Stein.
And how did fans, the people for whom this film was created, react to it? Well, says Stein, citing positive reviews on Facebook and Twitter and offering a possible mantra to those consumed by critics' opinions: "You'll be rewarded if you listen to fans."