Steven Spielberg famously first demonstrated his potential by making movies with an 8 mm camera as a kid. Imagine what those early filmmaking attempts might have looked like, though, with better production values. Oh, wait–you don't have to imagine it.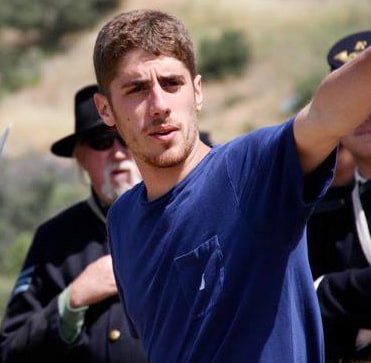 Timmy Muldoon and the Search for the Shadoweyes Bandit is a nine-minute film that revels in what happens when little kids dream big. Created by Woodhead Entertainment, Shadoweyes establishes its MO immediately, with 12-year old "director/actor/writer/editor" Timmy Muldoon introducing the film we're about to see. His voice is poorly recorded, paving the way for the drained color palette, shoddy cuts, and classic kid acting to come. After a few minutes of Timmy's ramshackle filmmaking experiment, however, everything starts to change.
Without any explanation, the quality of the film stock suddenly improves. The camera techniques are more innovative. Where once there were charmingly poor special effects, like sitting in a parked car and pretending to drive, the chase scenes are fleshed out, the acting is less wooden, and one of the actors is even revealed to be Academy Award-winner Cuba Gooding Jr. Each change happens gradually, like a song whose beat develops as more instruments are thrown into the mix.
Tony Yacenda, the director of the film, talked to Co.Create about faking a big-budget look, wrangling Cuba Gooding Jr., and what's next for his company, Woodhead Entertainment.
Co.Create: So, Woodhead Entertainment–who are you guys?
Tony Yacenda: Dan Perrault, and I went to film school together. A while back we had this idea for a Brett Favre parody of a Lebron James commercial. Dan saw Sean Carrigan doing stand-up, and he looked like Brett Favre. We made the short and it went viral. We've been making content ever since.
Most of our crew is pretty new out of film school. Feature and TV projects have always been the goal. The first project Dan and I produced after graduating from film school was a feature called Funeral Kings, which was written and directed by Kevin and Matt McManus (who we went to school with and also helped produce Shadoweyes). It premiered at the SXSW film fest and is now available On Demand.
What was the inspiration for Shadoweyes?
I always loved the Calvin and Hobbes strips with his imaginary alter egos like Tracer Bullet and Spaceman Spiff, where we see these awesome genre strips written in the voice of a child. I think that might have been part of the inspiration subconsciously.
Can you give me any examples of how you were able to make things look big budget?
Well, the biggest "trick" was getting lots of talented people to donate their time to this project. We're incredibly grateful. Aside from that, we stole a lot of shots without permits. In retrospect, we could have gotten in a lot of trouble for driving an unlicensed cop car in Downtown L.A., lights flashing, without any permits or police escort. Pretty sure that's a felony or two. Can I still get in trouble for this?
A lot of people were involved in making this film. Was everybody just psyched to get to work on a fun project, or do you have an underwriter of some kind?
Well, pretty much everybody in the credits donated their time, which is amazing because they're incredibly talented working professionals who just liked the concept. We still needed money for light rentals, production design, food, etc. For that, Sean Carrigan, Dan Perrault, and I pitched in money, along with a few donations from friends and family. My Uncle Bob loves the title Executive Producer.
Cuba Gooding Jr.: How did that happen?
Sean Carrigan, my producing partner (who also plays the crooked cop in the film) knows him and showed him a bunch of our other videos. Anyway, Cuba's just a surprisingly down-to-earth dude and he just told us, "I'll be in the next one." When he said that, we realized this Shadoweyes idea might really work.
What's next for Woodhead? Any plans for features?
Our ultimate goal is to use our young talented crew to create projects for film and TV at a low price point. We're currently developing two feature projects that we're really excited about. We're hoping to use our young, talented crew and our track record for creating popular web content to our advantage and get these projects off the ground in late 2013. We also just released a spoof trailer this week, which is called Average Party.