If software is eating the world, AgLocal CEO Nait Jones is betting that it eats meat.
Launching today for New York chefs like Park Avenue's Kevin Lasko, Swine's Phil Conlon, and City Grit's Sarah Simmons, AgLocal brings the farm closer to the table by connecting vouched-for producers with quality-demanding restaurants, making the whole supply chain more transparent for the eater at the end of the supply chain. It's a model powerful enough to earn funding from Andreesen Horowitz and others a year ago–with plans to go after a Series A in May.
To hear Jones tell it, the Kansas City-based, United States of Innovation-featured company operates in three simultaneous spheres: by being high touch, high quality, and delivering product the next day, AgLocal feels like Zappos for farmers and chefs; with high gloss visuals and in-depth profiles, it functions as a consumer-facing About.me; a B2B third piece assists distributors in making those deliveries happen.
"We're creating software in a place where software doesn't work right now," Jones says, and in doing so is creating value for restaurants, suppliers, and the people that want to eat.
Chefs, of course, are not the most time-rich, low-stress people; AgLocal assists them by doing the due dilligence of searching out suppliers and vetting their humane and sustainable practices, outsourcing the long trust-building, network-making process, plus connecting them to suppliers they may not have otherwise known.
In turn, the artisanal, speciality family farms that AgLocal collects find themselves in Rolodexes that they might have been left out of in analog times. Essentially, AgLocal is instilling a network effect in one of America's oldest, most network-dependent industries: dining.
"By enabling the marketplace (and) causing there to be more transparency," Jones says, "we will make margin a lot more liquid to get back to these farms."
But perhaps the most important part of this virtuous cycle is eater at the end of the supply chain. Call it the Michael Pollan effect: After dog-eared copies of the Omnivore's Dilemma started getting passed around kitchen tables across the country and "foodie" has become as much a hipster merit badge as "geek," food culture has experienced a rising demand for transparency.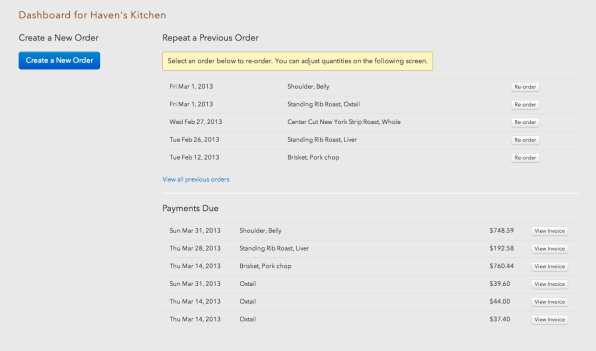 If you're reading this, you may be part of the target audience: Recall the soothing satisfaction of happening upon an X ingredient comes from Y farm at the bottom of your nearest gastropub's menu.
AgLocal wants to help solve that trust-building equation, using the web to catalyze–and capitalize on—our country's increasingly mainstream conscious eating movement.
"It's always been latent inside of me," Jones says, recalling how his now-a-chef brother would take him to farmers markets when they were young. As Jones grew up, he began a career in tech, working his way up the corporate ladder at Sprint and then moving to Gartner Research, before joining the Kauffman Foundation for Entrepreneurship and catching the startup bug.
Kaufmann brought Jones to Silicon Valley, where he saw how technology was enabling commerce, and he thought to himself, "Why couldn't this happen in food?" So he came back to the Midwest and pitched his wife's family–a clan of western Kansas suppliers and farmers–on the idea and they ate it up. One relative, a professor of agronomy, liked the idea so much she wrote him a check so that he could quit his job and start the company. Seems like it was a worthwhile investment: While the startup's launching in New York to fine-tune its fit to the market, the goal is to loop back to the rest of the country and its nearly 2 million family farms.
"Fifteen years from now, when people say, 'Wow, America really went back to its roots' and technology, ironically enough, took us back to our roots," Jones says, "I want AgLocal to be a part of that story."