Even by Iron Age standards, the Vikings had peculiar day jobs: They'd board a dragon-headed Long Boat, row to a faraway land, kill everybody in sight, grab treasure, then return home to Scandinavia and split up the swag after the local chieftan took his cut.
Beating Game of Thrones's March 31 season 3 premiere to the beards-blood-weird gods punch, History Channel's Vikings series (debuting March 3) puts its own fantasy-free spin on primitive spectacle by following the eighth-century adventures of real-life Norwegian warrior Ragnar Lodbrok and his Christian butchering crew.
Vikings, like creator Michael Hirst's previous period drama The Tudors, dishes out plenty of savagery. SPOILER ALERT: Norsemen slaughter monks, toss a boy in an open grave to safeguard treasures for Earl Haraldson (Gabriel Byrne) in the Valhalla afterlife and dunk a blacksmith's face in a bowl of fire. Later in the season, Vikings fictionalizes the ritual human sacrifice that historically took place in Uppsala, Sweden.
But Hirst argues that pre-literate Vikings, who never got the chance to write down their side of the story, weren't all bad. "Vikings were more democratic and treated women much better than the Saxons and Christians did," he says. "Women could divorce their husbands. They could fight."
Further, Vikings may have been tough, but they were not slobs, Hirst observes. "A comb is found in every Viking grave. We also know the warriors carried a change of clothes in a waterproof bag on every raid. They cared about their appearance."
Hirst first became fascinated with Vikings while researching an unproduced screenplay about their enemy, England's King Alfred. Even though he'd just finished writing the Oscar-winning film Elizabeth, Hirst says, "No one was interested… No one." And now? "When I tell people I'm doing a show about Vikings, there's this visceral 'Wow!' response. It's definitely in the zeitgeist.'"
Nearly as curious as they were ruthless, the ancient Norse revered nature, minted no currency of their own, and valued treasure by bulk weight, Hirst points out: "It's primal. The series deals with love and children on a personal level, and it's also about why we have gods, and why we want money and treasure. The Vikings stripped all that back to this very basic society. "
Hirst believes that Vikings probably viewed savage attacks as word-of-mouth advertising. "Their reputation for extreme violence was very useful as propaganda." Referring to an infamous AD 793 assault depicted early in the series, Hirst says, "I think that's why the Vikings were so brutal when they raided the Lindisfarne Monastery. Traveling with one boatload at a time, they had a finite number of warriors to face people on their home turf with a lot more soldiers. Walking into these heavily defended situations, the Vikings did whatever they could do to create shock and awe."
Filmed partially in Iceland, Vikings unfolds against an authentic-looking landscape filled with fjords and forests. But what's up with Ragnar's buzzcut-meets-ponytail coif? Hirst says,"I was dreading the usual long hair biker look, although I didn't know how we would escape it." The solution came when star Travis Fimmel showed up in a crew cut to begin filming. "He hadn't grown his hair long enough to have extensions so we couldn't have long hair of an orthodox kind," Hirst recalls. Enter costume designer Joan Bergin, who won three Emmys for her contributions to The Tudors. "Joan said 'Leave it to me. I'll come up with a look.' "
Hirst hypothesizes that Vikings might have shaved their heads as a health precaution. More important, he explains, "You have to have a look for the show. It's a signature thing, like Mad Men. And In the end, how the fuck do you know what the Vikings looked like! Did they have tattoos on their heads? Nobody knows. Would they have had impressive heads? Probably. Would they have shaved their heads? Of course. Why would they have done that? Because of lice."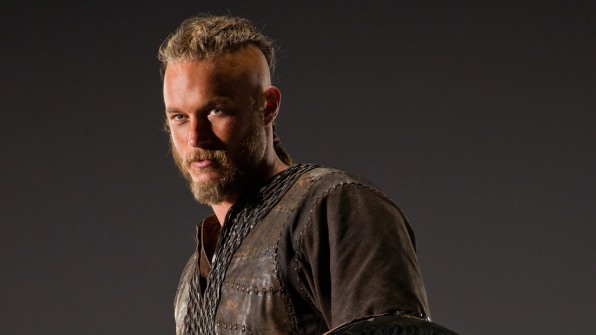 Former Calvin Klein underwear model Travis Fimmel snagged the role of Vikings' alpha male Ragnar after shooting a video of himself doing scenes from the script in his Australian home. Hirst, fed up with hammy auditioners, gravitated to the actor's "rock-solid confidence" and unmannered performance. "We were almost at our wit's end," he says. "A lot of English lead actors are very pretty and young and everything, but you couldn't imagine them holding an ax. Travis was the only one who didn't try to 'act' like a Viking. Behind his eyes you can see thought going on. It was an intelligent reading. A lightbulb went off: I think we can work with this guy."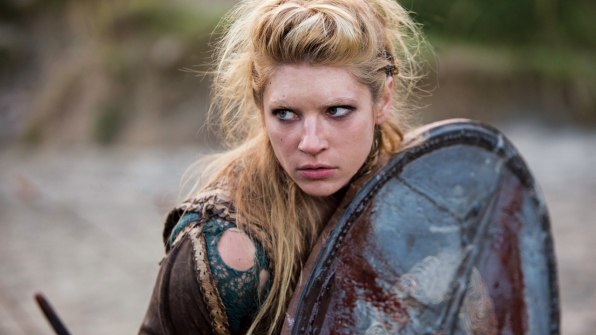 Canadian blackbelt Katheryn Winnick plays Shield Maiden Lagertha who fights alongside husband Ragnar when he leads a Viking invasion of England. "We were looking for a slightly different heroine," Hirst says. "Lagertha has two kids, she's a fighter, she's clever, and awful, awful things happen to her. I think we cast her well because Katheryn is physically very much at home when she's fighting."
As in The Tudors, religious conflict underscores much of the violence in Hirst's new series. He says, "Vikings were very conscious of attacking this new god, Christ, and defending their own much more ancient gods."
Pagan divinities include Odin, god of curiosity and slain warriors. "Odin sacrificed an eye to look into the well of knowledge, so I thought Ragnar should have the same impulses." Embracing "new" technology–sundials–Ragnar leads his seafarers west for the first time and becomes intrigued with a captive monk. Says Hirst, "He's not just going on raids to plunder and steal and kill. Ragnar's actually curious about the world."
Mythic Norse troublemaker Loki also makes his presence known. "Loki was this kind of serious mischief-maker," Hirst notes. 'He's a clown, and most cultures have a figure like this." To embody that spirit, Hirst created the clever but unstable shipbuilder Floki (Gustaf Skarsgard). "What develops through this season is how dangerous people like Floki can be."