From the threats of nuclear weapons to larger-than-life dictatorial leaders, North Korea is without a doubt one of the least understood, most notorious countries in the world. As either the butt of pop cultural mockery or source of legitimate political concern, the outsider's view of the country is largely reduced to a detached caricature bearing the faces of Kim Jongs Il and Un. Rarely do we see a portrait of real North Korean life, which for those who've not ingratiated themselves with the political elite is often a picture of deprivation, isolation, and abuse.
Korean-Canadian filmmaker Ann Shin has gone where very few have before in her quest to pull back the curtain on North Korea in her feature The Defector: Escape from North Korea and its companion online web doc. The documentary follows the perilous journey of two women as they attempt to defect to China. While hundreds of North Koreans attempt to flee their country each year (and with Kim Jung Un proving to be more ruthless that his father to those who are caught), only a handful make it to neighboring China, risking imprisonment and torture. Once in China, however, the story is still bleak: The majority of women who escape their homeland are forced into the Chinese sex trade, while many others are arrested by the Chinese government and sent home. If they don't die along the way.
"While developing the documentary I realized no one understands what it's actually like to live inside North Korea, or the risks involved in attempting to escape," says Shin. "Of course not, it's a crazy rogue state that only allows carefully guided tours of the country. I wanted to create something that would take people inside North Korea and give them unfettered access to their reality."
To tell this story, Shin centers the film's narrative on Dragon, a human smuggler, who, along with a string of shady underground figures, guides defectors along the 3,000-mile journey to freedom in safe haven countries like Laos. But as with any documentary, there's far more to the story than can fit in a feature-length film. To further the narrative, Shin along with Toronto cross-platform digital shops Fathom Film Group and Jam3 created an interactive experience that tells the story from the point of view of the defectors themselves.
"You can only do so much in film, but in an interactive web doc, you place the user in the point of view of a defector–they see, hear, and experience what a defector goes through," says Shin, who's also executive producer at Fathom. "It's an incredibly powerful way of letting people understand experiences that are completely out of their realm."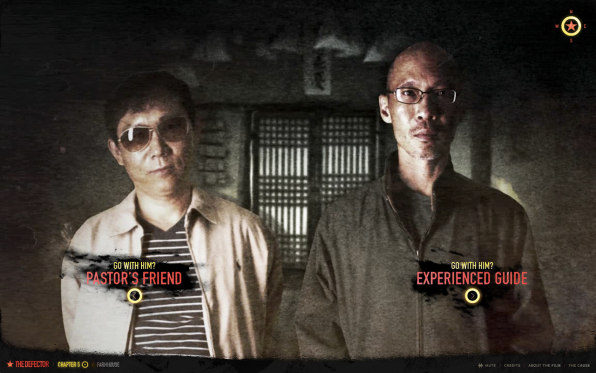 Adrian Belina, partner and creative director of Jam3, says that the digital concept came very early in the planning process, allowing the film and online narratives to tightly complement each other. "Too often with transmedia projects the digital concept comes in after the film or broadcast version has already been filmed," he says. "So coming in early was fantastic because we had carte blanche to really create an interactive piece that was completely unique. By watching both the film and the online you get a broader understanding of the subject matter."
Belina says one of the greatest creative benefits to collaborating with Shin early on was that they could request that she capture specific assets while on location in Korea, China, and Southeast Asia, such as jungle footage, shots of the Tumen River–the deadly thread of water that many defectors pass–and bright city lights of China, all of which figure strongly in the online narrative.
The online experience itself is composed of several legs, each starting with a hyper-stylized video or animation (created by Pysop) before morphing into lonely, 360-degree locations that includes video, pictures, and narration. The story–based on true accounts of North Korean Defectors–starts with an escapee being caught in a jungle and being thrown in a prison, and moves to Pyongyang, where the two sides of North Korean life are shown, the Tumen River crossing, a farm house in China, a safe house and brothel, and then finally, back to the jungle. "The end of the experience is indeed somewhat somber as you realize that the story is all one terrible cycle," say Belina. "We felt it was a way to represent how the issue of North Koreans defectors is ongoing and at the moment without an end."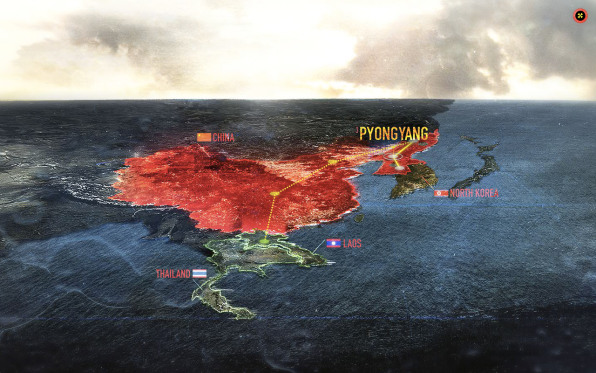 While Jam3 came to prominence in recent years for its role in web docs Bear 71 and Waterlife, both of which relied heavily on unique methods of navigation and user interface design to take you through the story, Belina says with The Defector, the goal was to let the content speak for itself. "We didn't want to detract from the serious subject matter by forcing technology on the user, we wanted it to be more visual and imaginative," he says. "We wanted users to really feel just how difficult and messed up the journey to freedom has been for some of these people."
The site was built in Flash ("this project started quite some time ago," says Belina as if offering some sort of developer mea culpa) as the rich experience was intended to be viewed on desktops as opposed to mobile or tablet screens. "Flash is still the best tool for interactive story telling that relies on heavy use of video and animation assets," says Belina. "We wanted our heads to be focused on creating a compelling story on a subject that more people should be aware about."
It's in this need to build awareness–about human rights atrocities, abuse of power, and the plight of a suffering nation–where interactive storytelling conceived in tandem with a linear documentary can make a significant impact. As Belina says, at the end of a traditional doc, the credits roll and you hopefully feel educated or moved, "but that's usually where it ends for most people. With online docs you have the person in front of their computers and ready to act. Whether that is spreading the message, signing a petition, donating to the cause and so forth, you have the person engaged and able to act."
For The Defector, the desired action is to share the story. For those who want to get further involved there is an additional link to more information, aid organizations, and communities.