The average half-life of a web video meme is not very long. And it's getting shorter. There is a moment between when a fun video breaks and when the millionth iteration plops onto your screen, when much of the Internet is held in thrall. "Harlem Shake" hit that sweet spot and then tipped over it in about two days.
While dating back to the '80s as a dance, the current craze name-checks the Harlem Shake in title only. The newer songis a bass-heavy synth-jam by Brooklyn producer Baauer, released as a single in May of 2012. Despite earning plaudits from dance music aficionados, the song never broke through in a major way. It took a fan-made video to do that.
The first video to establish what we now know to be the Harlem Shake template was this one (see the first video in slide show above) which emerged on February 2nd. (Although it was preceded by this proto version.)
Since February 2nd, the Harlem Shake has exploded into a full-on phenomenon (and has already been declared dead by some outlets). According to YouTube, 12,000 "Harlem Shake" videos have been posted since the start of the month, together earning 44 million views.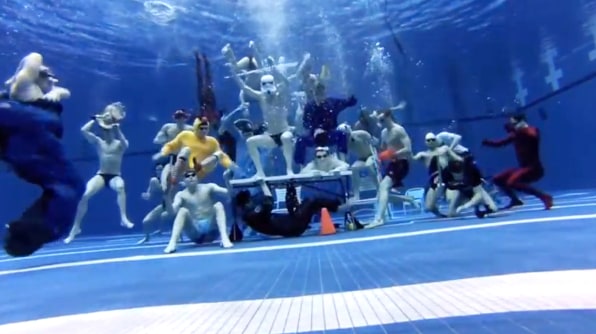 It's easy to account for the instant popularity of the form. For one thing, the video is short. At only 30 seconds long, fan-made versions are less burdensome to create than many other memes, and accessible viewing for those stumbling across the creations online. It's also simple. In order to make a Harlem Shake video, all one would need is someone with an obscured face dancing while at least one other person acts normal, and finally some kind of descent into uninhibited body-rocking.
"The beauty of this one is its sheer simplicity," says YouTube trends manager Kevin Allocca, who authored a blog post on the topic recently. "There are really only a few basic elements and it can be effectively reproduced with little technical know-how, but it also leaves enough room for people to make it their own. It's not dependent on language either, which makes its potential audience even bigger.
The built-in anticipation inherent in the videos has also no doubt contributed to the phenomenon–the fun is in seeing what settings, themes, and twists the videos take, and just who is performing them. Perhaps it will be a TV show host, in a pool, pouring milk on himself. Also, the template makes it easy for remixing existent videos and characters.
Plus, says Allocca, "it's pretty funny. Something that shouldn't be underestimated."
If you have an idea for how to improve on the Harlem Shake craze, though, you might want to get it done now, before it's too late or too lame. And have a look through some of our favorites in the slide show above.