Most creative people would use a $500,000, no-strings attached grant to do something practical for themselves: maybe pay off a mortgage, or fund a research trip, or otherwise enable their next piece of work. But when the poet Heather McHugh won a MacArthur genius grant in 2009, she used that largess to start an organization called Caregifted, which provides free vacations to caregivers of the severely disabled.
McHugh was inspired to start the organization when her godson's baby was diagnosed with a rare neurological condition that required him and his wife to drop their high-flying careers–he was an executive chef, she worked in the non-profit world–to return to the U.S. from Cambodia. That baby is almost two now, and according to McHugh, "They now struggle for money and time; many of their immediate professional and other hopes were extinguished; yet they act day in day out, instinctively and wholeheartedly, purely from love, to devote their efforts to the care of this child."
She wants to honor that care, and also to give people like her godson a break. "What I can't help seeing is how exhausted [he and his wife] may be in 10 years," McHugh says, since they spend time every day of the week doing therapy with the child. Part of the deal with Caregifted is that while care givers are on their all-expenses paid vacation to gorgeous locations like Vancouver, Coastal Maine, or Napa Valley, they must record their visits, either through writing, photography, or another creative medium.
We spoke to McHugh about why it's so important to give caregivers a platform, the documentary about caregivers she's working on, and which of the caregiver's stories affected her the most.
Part of the raison d'etre of Caregifted is to "give voice" to lifelong family caregivers–whose lives others can so seldom visualize. Most of the written testimonies have come from the caregivers' own self-descriptions before and after their getaways. These are, by some stroke of fate, uncommonly capable and articulate people, generally women, who have spent much of their lives negotiating for their children's welfare (especially with government and medical agencies).
Year in year out, they feel the loneliness and isolation of having been immersed in the kind of unremunerated caregiving they so faithfully do, every day of their lives. We have caregivers in their 60s who are still diapering non-verbal grown adult children (themselves in their 30s). Imagine their exhaustion. And the numbers are staggering. If you count family caregivers for severe-end autism (non-verbal, incontinent, with distinct behavioral issues) and for advanced Alzheimer's–those two conditions alone–the statistical increase in America year over year is breathtaking. Yet most people avert their gazes. I just couldn't do so any more. That it took me all these decades myself to wake up to this huge, heart-rending community of self-sacrificers (though we hear about their disabled relatives frequently) still astonishes me.
Adam Larsen, the young filmmaker who has joined me in wanting to document their stories [in their documentary, Undersung], is extraordinarily sensitive to the concerns of these family caregivers. He has joined us just this past year on three Caregifted getaways and expects to document three or four more next year. He shoots home visits before and/or after the getaways, so that viewers can get an idea what the usual daily lives of these caregivers entail.
From the first impulse, I had planned to document the caregivers somehow—and had had the good fortune to run into Adam's parents–his mom who was always a painter/sculptor, and his father who as Adam was growing up worked with families struck by autism. When those two said their son was making films, I asked to see his work and was touched by the art, heart, and smarts of his aesthetic. Best of all was finding out he was enthusiastic about the caregiver project. He's been a joy to work with. All art is editing. I find that conviction confirmed as I work with Adam.
I was particularly struck by Ramona Bell, an unusually gifted artist and silversmith, whose son Melvin has swallowed up most of her adult life and kept her from opportunities for self-realization the rest of us take for granted or squander. She's uncomplaining, practical, stoic; she asked only to be given one week in which to get up when she wanted, go for a walk when she wanted, read a book if she wanted, go to an art gallery or garden or just contemplate the sea.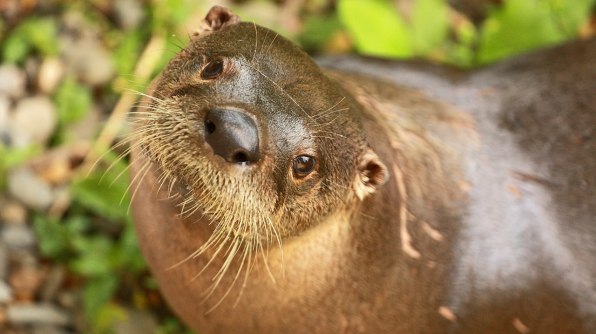 In Undersung, under Adam's sympathetic inquiry, she reveals for a moment the immensity of the strain of being responsible, day in day out, for a child who will never grow (except in size and hormonal outbursts); who will always be unpredictably incontinent; who as a pica puts every imaginable thing into his mouth, not only food but stones, mud, refuse; who has to be watched or contained continually because if he wanders he can't tell anyone who he is or where he lives; and whose behaviors (rocking, tics, mannerisms) make it difficult for her to go out in public.
Given a week-long getaway on and around Pacific Northwest islands, Ramona had time to reflect, choose how to spend her day, eat some great meals with sympatico fellow-artists, take some extraordinary photos–not your run-of-the-mill ones of postcard scenes, but photos of patterns of water surfaces, close-ups of rust on metal and chipping paint on a disused stairwell; the sheen on the kelp near her kayak.
Did you know that sea otters tie themselves together with kelp so they won't get separated at night, and sometimes drift far out to sea tied together like that? I feel some bond with these caregivers. They give us a way to understand our own parts in the human community–a way for artists (many of whom have leapt to offer help), philanthropists, and caregivers alike to feel their common drift.
So far most of the caregivers have been the women in the families, though of course the whole family is always direly affected, and we have sibling and spousal testimonies too. As a society we need to step up as members of a larger family and give some moral and practical support to these invisible communities. What they need is time to breathe, time to get out of their own houses, time to indulge themselves for a change, take a thought for their own needs and rest.
All of our caregivers have been at their labors for more than a decade. Many say their Caregifted week gives them the shift of perspective they needed to go on for another decade.
[Images: Flickr users Rami, Woodleywonderworks and Aaron Tubbs]