"I guarantee you, we're the best-smelling agency in the country," says Todd Tilford, chief creative officer of Draftfcb Chicago.
That's thanks to a supply of Archer Air Superiority in the office. It's a line of "quality room sprays" created by a trio of Draftfcb employees: John Bleeden, VP/executive producer; VP/creative director Berk Wasserman; and Todd Durston, also a VP/creative director.
Available in three scents, the air fresheners are designed to appeal to men, although ladies might like them, too.
European Sports Car makes a room smell like worn leather with a hint of aftershave, while Distillery offers hints of charred oak and sour mash. Hunting Lodge is reminiscent of hearth stone, gunpowder, and damp timber (sorry, we can't provide you with scratch-n-sniffs).
The idea for the Archer Air Superiority line came out of a conversation Bleeden, Wasserman, and Durston had about how much cleaning they do at home on the weekends. Bleeden bemoaned the fact that they aren't any cleaning products or air fresheners aimed at men, and Wasserman and Durston realized their friend had a good point.
"If you walk up and down the air freshener aisle, its all just products that are strictly marketed towards women," Wasserman says, noting that while the idea for an air freshener aimed at men might seem ridiculous to some people, there was once a time when body wash was only marketed to women. "Now, men use body wash religiously, but 10 years ago we wouldn't have known what body wash was. That would have seemed like something that was unmanly."
Out of that thinking came Archer Air Superiority. The guys went from initial concept in fall 2011 to the prototype stage in April 2012, and by the end of August 2012 the product was being sold in high-end men's clothing and modern furniture stores all around Chicago.
Today, Archer Air Superiority–the name Archer was chosen for the brand because it is simple and regal, and "Archers were the first line of air defense back in the day," Wasserman says–is sold in more than 35 retailers across the United States, Canada, and Hong Kong, and distribution in Spain is coming soon.
Draftfcb has been supportive of the enterprise from its inception. "We've been trying to set up a very entrepreneurial atmosphere at the agency," Tilford says, noting, "We have a lot of people at our agency who are great at what they do but also have interests outside their day job, and we want to be very receptive to that. We want to help people because we think that kind of energy and creative thinking only makes them even better at what they do at work, and we want to be there for them and do whatever we can to support their efforts."
To that end, Draftfcb is Archer's agency of record and just launched a print campaign for the brand with ads in UCLA's student newspaper (the product has a high level of distribution in Los Angeles) and more to come in other college publications.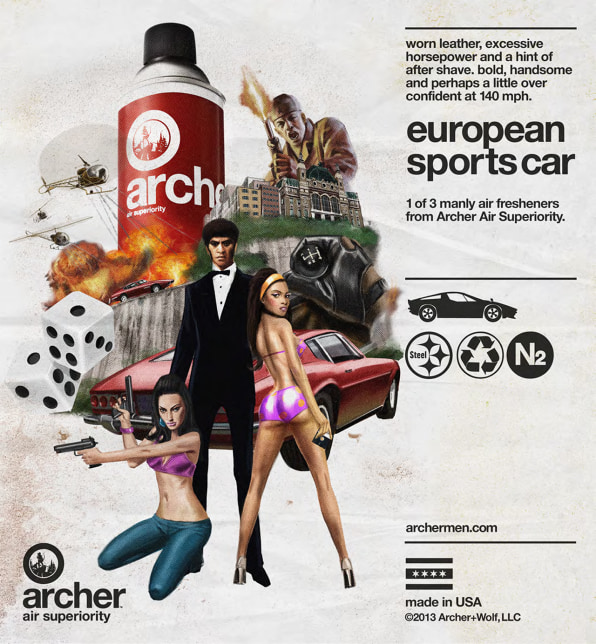 "The inspiration came from 1960s James Bond posters," Wasserman says of the ads, which present a collage of photorealistic illustrations. To wit: The poster for the European Sports Car room freshener features an image of a man in a tuxedo surrounded by hot women, a cool sports car, and dice. There is some danger thrown in, too, with helicopters, an explosion, and a bad guy with a gun in the mix.
Wasserman describes the ads as funny and tongue-in-cheek, "harkening back to a time when it wasn't really that ironic to be that masculine."
Originally, the expectation was that the Archer Air Superiority ad campaign would be based on a photo shoot. "But we just didn't have the money or the time, and that pushed us into this area of photo illustration, and we couldn't be happier about that," Wasserman says. "Sometimes it helps to have constraints."
Poster-sized versions of the ads have also been sent to retailers for POS displays, and there will likely be more posters to come and perhaps some online trailers with a B-movie feel.
As for the product line, two new room fresheners are slated for release in the next three to six months, and new Archer products, including a dish soap and a hand soap, are in the works.