Pablo Larrain was 12 years old when he first saw the TV commercial that changed his life. "I remember it was a sort of grey, sad environment in Chile at that time. What these ad guys opened up was a fresh, optimistic, bright mood. That was so shocking."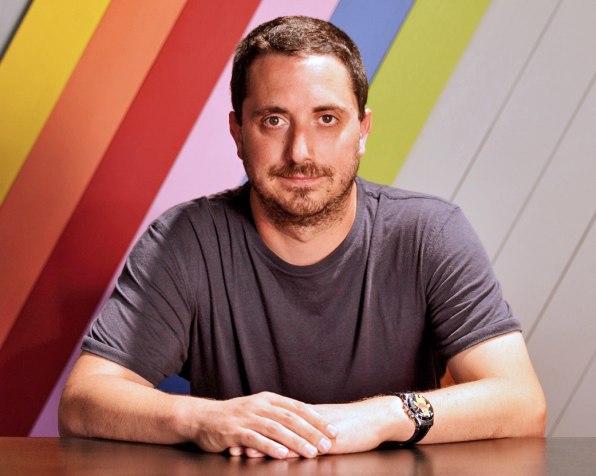 Shocking and effective.
24 years later, in his Oscar-nominated period piece No, Larrain revisits the advertising campaign that blew his mind as a child and, along the way, made Chile safe for democracy. Set in 1988, the fact-based drama casts Gael García Bernal as advertising whiz kid René Saavedra who orchestrates a feel-good TV campaign urging Chileans to give dictator Augusto Pinochet the boot.
Pinochet, who'd taken over the country 15 years earlier in a military coup, confidently responded to pressure from the international human rights community by staging a national referendum. For 27 days leading up to the plebiscite, Pinochet and his political opposition each had 15 minutes of free national air time every night to address the question: Should he stay or should he go?
Political activists who'd seen family members killed, tortured, or imprisoned under Pincohet championed attack ads that would expose his crimes. "How could you not use this free air time as a platform to go 'Okay, let's say who Pinochet really is so nobody would want to have him any more'?"
But campaign strategists, who a week earlier had been working on soda pop accounts, completely ignored Pinochet. Larrain explains, "These ad guys argued that they should never use a pessimistic point of view or spread bad ideas about what Pinochet actually did. That would only provoke more fear."
The subtext, as Larrain lays it out: "We're not going to spend one second of our time talking about Pinochet because that only makes him bigger. We're going to talk about our dreams."
It helped the "No" cause that Pinochet's ad campaign recycled boring political rhetoric. Even in the midst of tyranny, novelty evidently works wonders. As Lorrain remembers it, "The Yes campaign repeated Pinochet's propaganda they had been showing for years about how good the economy was, how dangerous the Marxists were, how everybody except for Pinochet was dangerous, blah blah blah."
The "No" TV spots, branded with a cheerful rainbow logo, featured happy people riding horses, running through pastures and singing "We Are the World"-type anthems that would have felt right at home in commercials for anti-depression medication, shampoo, or luxury cars. This was precisely the point, says Larrain. "I like the idea of democracy as a product. That's what they were aiming for and it worked."
Larrain, who made TV commercials himself early in his career, admires the models for Garcia's composite character, real-life advertising execs José Manuel Salcedo and Enrique García. "With commercials, you have to tell a whole story in 30 seconds. That's very hard to do right. The idea of going straight to the point is very valuable."
To honor the "No" campaign's original tone and texture, Larrain tracked down a vintage 1983 U-matic video camera to shoot sequences at the same pastoral locations that served as settings for the original ads. He then cut back and forth between faux-vintage footage and actual "No" commercials archived by Chile's state-owned television TVN.
These upbeat ads bear similarity to Hal Riney's legendarily successful "It's Morning in America" TV spots for Ronald Reagan's 1984 re-election campaign. Contrary to the scare tactics that define so much 21st century political advertising, the "No" braintrust gambled that a rosy-colored carrot would prove more persuasive than the black stick of history.
"Advertising needs to idealize and create some sort of perfect world that people want to be near," says Larrain. Populated with tall blonde models who bore little resemblance to the average Chilean, "No" commercials sold their positive vision of a future without Pinochet through an astute synthesis of pretty pictures, humor, and catchy music.
Decades after voters chose to remove Pinochet, the advertising campaign that restored democracy to Chile remains embedded in the country's collective memory, Larrain says. "The thing that people remember, the thing that actually made the change, was this super-fresh mood. People still talk about the rainbow, they still know all the words to the jingle."
No opens in limited release on Feb. 15.