Everything old is new again. At least that's the way it is at C.F. Martin & Co., according to its vice president of brand marketing Amani Duncan.
Founded in 1833, the acoustic instrument maker is beginning its 180th year of designing and manufacturing iconic guitars and signature strings that spawned legions of devotees like Hank Williams, Elvis and Eric Clapton to John Mayer, the Avett Brothers, and the Lumineers. But sometimes says Duncan, "You have to remind people why they fell in love with you in the first place."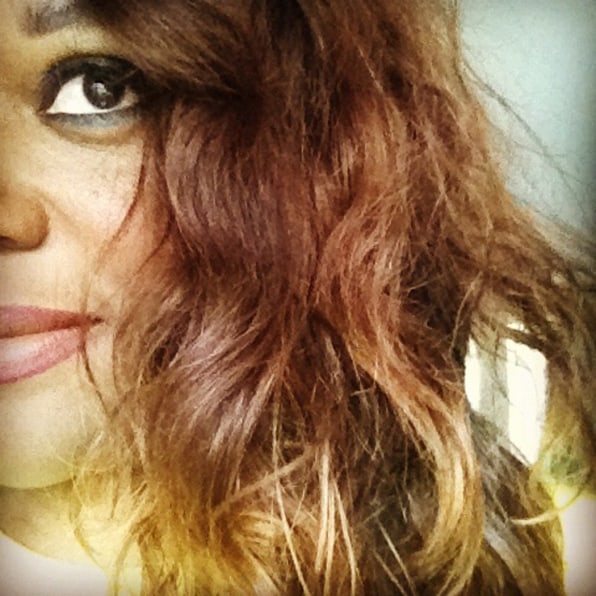 That's why, she explains, Martin is launching a collection of guitars dubbed the New Authentics at the National Association of Music Merchants (NAMM) show this week. Designed with historically accurate specs, the guitars play to Martin's lengthy history of innovation with techniques and features that have become industry standards including X-bracing and 14 frets.
Duncan says Martin will also be showcasing its recently introduced Retro series at the show, even though "We cannot make them fast enough." The Retro guitars are the result of a collaboration between Chris Martin (the sixth generation of his family to run the business), his production team, Fishman (for its pickups) and a recording engineer. Using guitars from Martin's museum, the group reconstructed the original sound of classic instruments from the 30s and 40s to craft modern equivalents. "No one in the market can do this," Duncan asserts, "No one has the history."
Though she's only been with Martin for two years, Duncan says she's never been shy about pushing and pulling the oldest surviving instrument maker in the world through new product launches and marketing initiatives. "My personal motto is be bold and the mighty forces will come to your aid," she says with a hearty laugh. "But it all comes down to your belief in the product. You have to have convictions, especially if you are trying to convince your boss or peers to do something unconventional."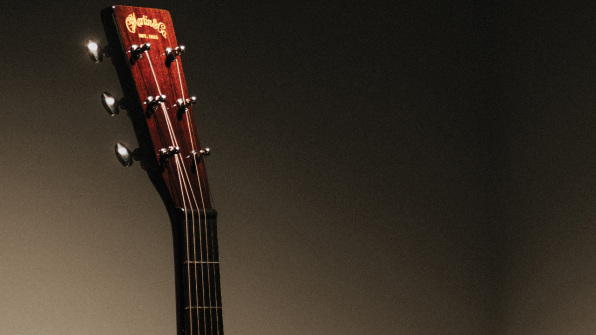 As a 17-year veteran of the music industry (who just took up guitar lessons herself), Duncan is well-versed in the art of persuasion. Like when she worked her way from Def Jam's office on the West Coast to a spot in the New York City headquarters. Duncan called Def Jam's Kevin Lile daily until he agreed to bring her east. Likewise, during her tenure as senior vice president of Marketing, Video Production and Content for the Capitol Music Group, she helped deliver new revenue streams through third party alliances that included myspace, Champion apparel, Chase, and Southwest Airlines. Duncan also managed marketing at Sean Combs Enterprises and integration of the corporation's different divisions. Of these efforts Duncan reasserts something she said in a previous interview: "The lesson here is that to be an innovator, you have to be a bit of an infiltrator."
Now ensconced in a family business that's employed some staff for as long as 40 years, Duncan says she needs to draw on her boldness mantra often. "Not only am I new to organization but the initiatives are also new and with that comes proving ROI and doing due diligence," she explains. "Not everything gets greenlit," she adds with another laugh, "But I have a pretty good batting average." Indeed in 2011, Duncan reports the company hit a major milestone with $100 million in sales. Though 2012 numbers aren't quite final, Duncan is confident that sales have grown 9 percent and the consumer base has expanded, too.
"Martin's biggest competitor is Martin," she asserts, but it's not always easy to leverage that. "We want to recruit a new consumer, not necessarily a young consumer but someone not intimately aware of the brand."
To do this, Duncan's reached into her toolkit and pulled out a trusty implement: the brand ambassador. "I've been working with artists my entire career and know the power of taste makers. They are able to seduce the mass audience." Duncan's only partly kidding when she says there could be a six degrees of influence chart on any Martin instrument and track how it influences other musicians.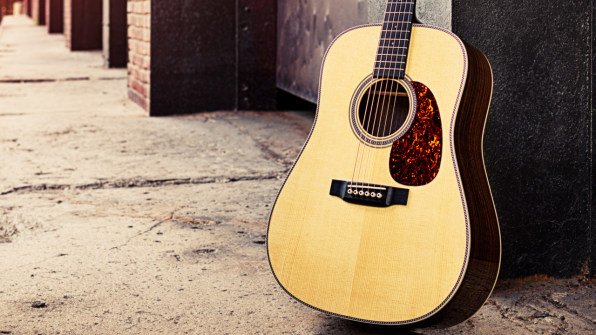 Combining this with the goal of attracting the next wave of devotees, Duncan put together a new list emerging artists to tap for the company's custom guitar series. "We kept it very small, with pretty notable players like Seth Avett and the Lumineers so it's really fresh and current across all genres of music," says Duncan noting that there's even a custom ukulele to commemorate Hawaiian musician Israel Kamakawiwo'ole made from sustainable wood. "It's a wide spectrum that covers a little of everyone," Duncan says and consumers have responded to the tune of $14 million in sales which represents a 25 percent increase from the previous year. Not to mention that six dedicated Martin players have been nominated for Grammys, including Ed Sheeran, who always performs with his paw-imprinted Little Martin.
Duncan's understandably excited by the reverberations of this devotion. "Music is a lifestyle. People love their guitars, it's like an extension of their families." But she's looking out well beyond Grammy night. "I am really keen on getting into the sports world," she says. Her vision is that Martin will take its place among big blue chip brands like Red Bull, Mountain Dew, and auto makers. As such, the company's already sponsored Surfer Magazine's Surfer Poll awards. It shouldn't be too hard to squeeze in amid the other brands, says Duncan, "People love music and all types play guitars."