You won't see Coca-Cola's iconic creatures anywhere during the upcoming Super Bowl.
The Polar Bowl second-screen experience, which had the animals watching and reacting to the Super Bowl in real-time, was a big hit last year, but Coke's marketing team decided to go in a different direction this time around.
It wasn't an easy decision to make. There was a lot of debate, admits Pio Schunker, senior vice president of integrated marketing communications for Coca-Cola North America. After all, those bears racked up 9 million streams as they cheered and waved their scarves through football's ultimate match, and frankly, it was tempting to try to repeat that success. But Coke decided to bench the bears to "avoid the trap door of doing a sequel," Schunker says.
"The whole idea of bringing something fresh versus a sequel was very important to us," stresses Alison Lewis, senior vice president of marketing for Coca-Cola North America, noting that as popular as the Polar Bowl was, "I think the world of digital today is one where people have relatively short attention spans, and you have to consider that."
Additionally, Coke wanted to allow consumers to play a more active role in its latest Super Bowl effort—watching the Polar Bowl was certainly fun but a passive activity.
So this year, Coke will "gamify" the Super Bowl through an integrated campaign relying on television, social and digital media that will allow consumers to decide the outcome of "Mirage," an epic, cinematic commercial that finds three teams of characters you'd typically see in the movies–rugged cowboys, glamorous showgirls and bad-ass badlanders–vying to be first to get their hands on some Coca-Cola.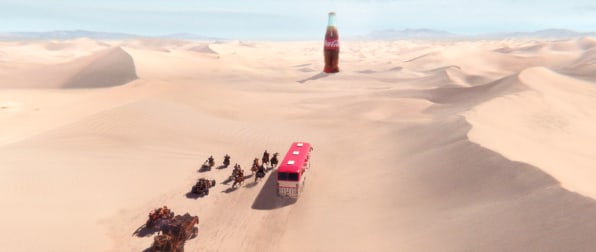 They're thirsty–and we're talking really thirsty–because they're traveling through a sunbaked desert in the spot conceived by Coke agency Wieden + Kennedy and directed by Bryan Buckley of Hungry Man. When a giant bottle of Coke appears in the distance, they all go rushing toward it (the cowboys on their horses, the showgirls on their bus and the badlanders on their motorcycles) only to arrive at a billboard informing them they have another 50 miles to go to find Coke at the local Oasis Mart.
Consumers will ultimately decide who gets to the beverage first, voting for their chosen team at CokeChase.com via mobile, desktop and tablet devices until the end of the Super Bowl. And beyond voting, consumers can play a role in the game by sabotaging teams, using all sorts of silly obstacles and distractions, ranging from stoplights that appear out of nowhere to a Domino's pizza delivery guy. The sabotages play out on video so they can be seen and shared.
Facebook, Twitter, Tumblr and Instagram will be used to deliver updates on how the race to Oasis Mart for refreshment is progressing, and Coke has customized the experience for each platform, creating hundreds of pieces of content. "Quite frankly, we produced more content with this campaign than I've ever seen us produce," Lewis remarks.
"Mirage" is live now on CokeChase.com and YouTube, and Coke will promote the spot and the game via a YouTube takeover tomorrow. A :30 trailer will also debut this week during American Idol, which Coke famously sponsors, and other television shows.
After the votes are tabulated (and points are deducted for each act of sabotage), the winner will be revealed during a :30 spot that will air right after the final whistle is blown at the conclusion of Super Bowl XLVII on February 3. (Coke has shot three :30 second spots depicting each team as the winner, and all three will be cued up and ready to go.) Consumers will also have access to additional content related to the campaign after the game, and the first 50,000 who voted and registered at MyCokeRewards.com will be rewarded with coupons for free Coke, Diet Coke and Coke Zero.
The idea behind the Super Bowl work—and this theme will carry through all of Coke's marketing in 2013—is to "emphasize the love of the liquid," Lewis says, explaining that the goal is to position Coke as the ultimate thirst quencher.