If Gloria Steinem hadn't said "no," Makers: Women Who Make America, the upcoming documentary about the women who have helped shape American history over the last 50 years, might never have been made.
"I went to Gloria in the hopes of doing a film on her life for HBO," explains Makers executive producer Dyllan McGee. "In her ego-less way, she said 'no.' Her point was that her story is part of a larger collective of stories."
Narrated by Meryl Streep, the documentary tells that larger story of the women's movement through the first-person stories of the women who were involved.
Judy Blume, Carol Burnett, Katie Couric, Ellen DeGeneres, Hillary Rodham Clinton, and Billie Jean King are just a small representation of the more than 100 women featured in the final documentary, which airs on PBS February 26.
After doing research, McGee found that, amazingly, nobody had ever made a definitive documentary about the women's movement in America and that there was no comprehensive online resource on the topic either. Steinem agreed to help shepherd the project along as an advisor.
This was back in 2005 when video was just beginning to explode on the web, so McGee knew that the big epic documentary she envisioned needed to have an online component.
"It was the whole 'digital first' concept," says McGee. "The idea to launch a website a year in advance of the documentary premiere and build the social audience leading up to the broadcast."
PBS and AOL signed on as partners and Makers.com, an AOL-developed interactive video platform featuring content curated by the filmmakers, launched nearly a year ago.
The multi-platform initiative set out with the lofty goal of becoming the largest and most dynamic collection of women's stories ever assembled.
When Unilever skincare brand Simple joined the effort as a sponsor, "it took us to the next level," says McGee. "At the beginning we were going to do maybe 50 interviews, but once Simple came on, we could do more than 100 videos. Then it became a filmmaker's dream come true."
The filmmakers lined up a scholarly board of advisors who created a screening criterion for selecting the "makers."
"There were role models, people who were leading by example, groundbreakers who were first in their fields, and activists," says McGee. "We also tried to screen for diversity–age, profession, race, experience, perspective. It was like putting a puzzle together."
The vast majority of the women who were approached agreed to participate, with a few notable exceptions.
"Tina Fey said 'no,' but we're still fighting for that one," says McGee.
Since more than 100 interviews were conducted for the Makers website, the film's director Barak Goodman had to wade through a "huge archive of interviews with amazing women," in addition to shooting 40-50 additional interviews for the film.
"The film benefits from the website because there are a lot of people I wouldn't have though to put in the film, but they bring interesting perspectives," says Goodman.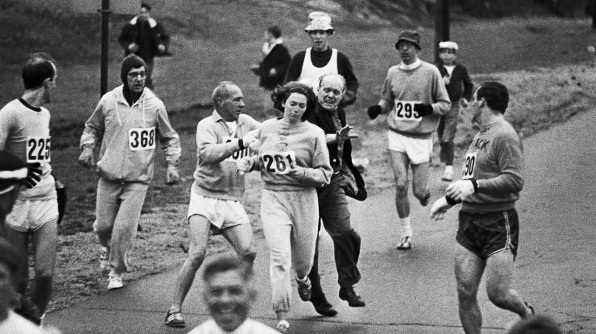 Although there are loads of household names featured, some of the most compelling stories come from women you probably have never heard of before, such as breast cancer pioneer Dr. Susan Love, Maria Pepe, the first girl in Little League, and education reformer Michelle Rhee.
In addition to the time required to sort through the extraordinary volume of material, Goodman found the biggest challenge was developing a clear narrative.
"The women's movement doesn't have the drama of the civil rights movement," says Goodman. "There weren't dogs and water cannons and violence. It was just a profound a revolution, but it didn't happen as much in the streets and in jails."
Even after the documentary airs on PBS, the Makers project will continue to evolve. PBS stations have partnered with women and girl empowerment groups across the country in order to spark dialogue about women's role in America. The website will also continue to add new stories.
"We are committed to using storytelling to help the next generation of women," says McGee. "There is still a lot more work to be done."