Sending a postcard to a potential publisher bearing the message "91% of staff at Penguin think you're crap" must surely rank as the all-time worst way of securing a book deal. But it did the trick for London-based illustrator Mr Bingo, whose Hate Mail has won him a growing following of enthusiasts since its publication–yes, by Penguin–late last year.
The book is a compilation of abusive postcards conceived by Mr Bingo, paid for by willing enthusiasts hungry for insult then posted to them direct via Royal Mail. "The idea came to me late one night while drunk in my studio," he explains.
With a respectable Twitter following thanks to 10 years' worth of work as a commercial illustrator working for clients as diverse as The Guardian, Doritos, Byron hamburgers, and British comedian Jimmy Carr, Mr Bingo sent out an invitation: "I will send a postcard with an offensive message on to the first person who replies to this," it read.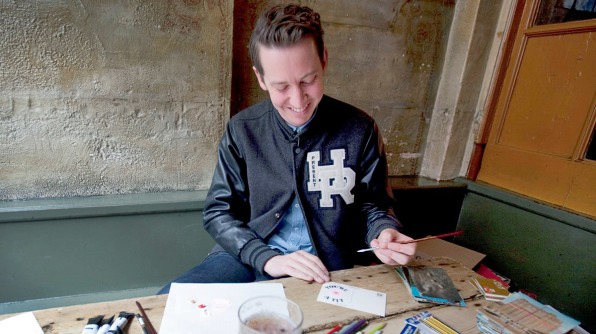 Soon after, the winner, one Jonathan Hopkins, received a postcard, the reverse of which depicted a pair of severed limbs and the message: "Fuck you Jonathan and fuck your shit legs."
And so a curiously British social phenomenon that fuses comedy and art was born. Having received 50 requests in just the first minute to his initial invitation, Mr Bingo offered visitors to his website the chance to commission a personalized, insulting hate mail postcard for an initial £5 apiece. Within three days, however, he had to stop taking orders due to overwhelming demand.
More than 400 postcards–and now a book–later, he opens Hate Mail for business only periodically (for last year's Royal Jubilee, for example, and Valentine's Day: he proudly claims to have helped dump 20 strangers via postcard last year) and even then for just 15 minutes a time, promoting it via Twitter.
"It was all a bit of a joke to begin with–to see how far it could be taken: whether people would pay £5 in the current economic climate to be sent an offensive message," he explains.
"I love vintage postcards and am intrigued by the small space format and playing around with that. I also like the idea of affordable art–which is really what Hate Mail is about. Though it doesn't really work as a business as I want to take the time to turn out nice pieces–I don't want to put too many out there or, due to lack of time, for the quality to come down."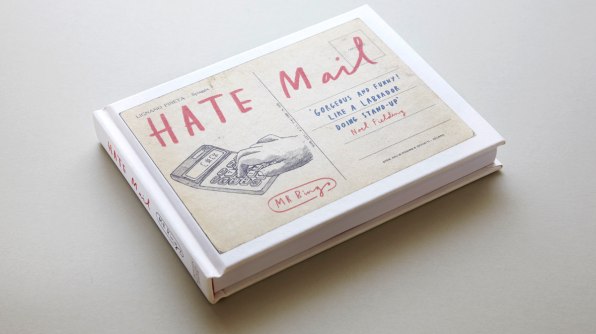 The end result is extremely funny, ranging from the lighthearted ("You look like Gaddafi in a wig") to the Anglo Saxon ("Fat handed c**t"); the cutting (an image of a fat guy staring at a book beside the message: "Give up your unrealistic dreams") to the down-right bizarre ("Dear Thierry, last night I dreamed you were killed by kittens with laser eyes").
"It's a very British sense of humor–the kind of banter most people, even the postmen, find funny even though it is also offensive," Mr Bingo adds. And given how many of his messages' recipients have photographed then re-tweeted their cards and, even, sent back messages of their own, it's also been what he calls "a really clever piece of self-marketing by mistake."
Moving forward, though still working predominantly for commercial clients, Mr Bingo now hopes to develop other personal projects. For more on what these will be, and when Hate Mail will next open–albeit briefly–for business, watch this space.