When Steve Jobs was laying the groundwork for Apple, it's said that he looked to Polaroid and its visionary founder Edwin Land for inspiration.
Once revered for its innovative technology, design sense, and business savvy, Polaroid has taken a hit in recent years, failing to exploit the digital photography revolution and declaring bankruptcy twice. And while Apple is the premier tech- and design-driven brand, Polaroid is struggling to retain relevance.
Now, the company is betting on an innovative new retail venture, Polaroid Fotobar, which emulates the Apple store concept, to help bolster the brand. Polaroid partnered with startup Fotobar to create retail stores where customers can print out their digital photographs and create finished museum-quality "artwork" in an "experiential" retail environment.
Like Apple stores, the Polaroid Fotobar stores will employ knowledgeable salespeople who help make technology accessible (and fun!). The same basic services will also be offered at Polaroid Fotobar's website and app (in the works).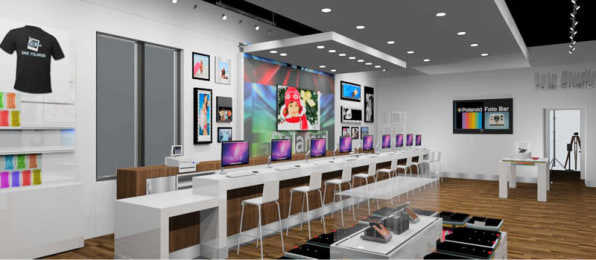 Just a generation ago, Polaroid pictures, with their now iconic white edges (since mimicked by Instagram and others) provided instant gratification and created an inherently social experience.
"We were the first social network," says Polaroid president and CEO Scott Hardy. "People could take a picture and share it with their friends and give them a physical copy of it." Now, we're accustomed to being able to see photos the moment after we take them. But, instead of sharing them in person, we share them on social media. In the process, we have sacrificed the satisfaction of a physical print to hang on our wall or preserve in a photo album.
Approximately 1.5 billion pictures are taken every day (most of them using camera phones), according to Fotobar founder and CEO Warren Struhl. But the majority of the pictures never leave the phone.
Struhl conducted an informal study, asking hundreds of people to show them their best pictures on their phone. Then he asked them if they ever printed them out. "Nine out of 10 people said they hadn't," says Struhl. "People were visibly emotional and upset when I asked 'Have you done anything with that money shot?'"
Struhl found that people wanted to print out their photos, but were too intimidated by the technology involved. Of course, it's easy enough to go to the local Walgreens or online at Shutterfly and other services to order digital photos, but Polaroid Fotobar is aiming for something more high-touch. For instance, customers will then be able to choose from an array of materials and framing options, including canvas, metal, acrylic, wood, and bamboo.
The first Polaroid Fotobar location will open next month in Delray Beach, Florida and will serve as a model for future locations, which are already planned to open this year in New York, Las Vegas, Boston, and other cities.
A proprietary technology will allow customers to wirelessly transmit their pictures from their camera phones, as well as from Facebook, Instagram, Picasa, and other social platforms, to one of the store's workstations. Well-trained "phototenders" will help guide customers through the process. With the exception of certain poster products made on-site, the rest of the products created at Polaroid Fotobar stores will be shipped from the company's manufacturing facility within 72 hours.
That's a far cry from the immediate gratification long associated with Polaroid. Back when it could take up to a week or more to get your photos developed, "Polaroid was unique. Polaroid did what no one else had ever done. It provided instant gratification," says Christopher Bonanos, author of Instant: The Story of Polaroid.
The Fotobar idea may provide a social experience, but it doesn't deliver instant gratification. Polaroid Fotobar stores aspire to create a unique experience that's less about just printing photos and more like entertainment.
"We are going to have something called 'The Studio' where we're going to offer free photography classes," explains Struhl. In addition, there will be gallery shows, parties, and other special events.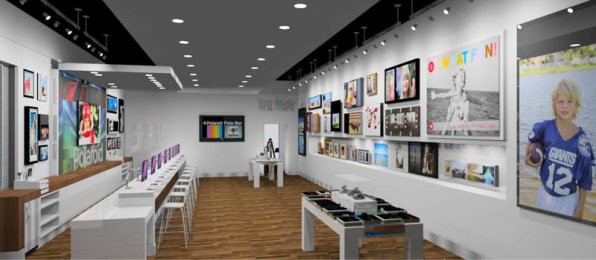 The stores will also serve as a marketing platform for the Polaroid brand.
"Polaroid Fotobar will give us the opportunity to curate and to tell the story about what we're all about as a brand," says Hardy. "It's a tremendous marketing opportunity."
It's also a chance to try to appeal to the Millennials who have no sentimental attachment to Polaroid. "Offering services like this will make Polaroid more relevant to them," says Hardy. "It will give that generation the opportunity to exercise their creativity. It will absolutely help strengthen the Polaroid experience and brand recognition.
Struhl believes the Polaroid brand is still strong enough to draw people to the new stores. "I partnered with Polaroid because I realized the iconic nature of their brand and what it means," says Struhl. "In the last couple of years, it's become a hip, cool brand. You go into Urban Outfitters and they sell shirts with the iconic Polaroid image."
Struhl, who envisions thousands of Polaroid Fotobar stores worldwide, says Steve Jobs inspired him to found Fotobar. "I'm inspired by the fearless leader of Apple who went against the grain," says Struhl. "He got so much abuse for wanting to open up stores. Look how that went."