The centerpiece of Nathan Sawaya's whimsical collection of Lego sculptures is Yellow–a so-hued torso of a man tearing open his chest to unleash a cascade of plastic bricks.
It's a kind of self-portrait by an artist at one with his medium; it's "about my transition opening up to the world," says Sawaya. Yellow has struck a pop culture nerve, landing on T-shirts, jackets, a European rock band album cover, and logo for a Philadelphia DJ. "Not all of them are licensed, but I was a lawyer, so it's all worked out very nicely," he laughs.
Since making the seemingly crazy leap from corporate attorney to Lego artist in 2004–while $100,000 in debt from student loans–Sawaya has garnered an international reputation, stints on the late-night and morning talk show circuits, and a consultancy on Mythbusters. He's picked up an eclectic array of celebrity clients–Donald Trump, skateboarding icon Tony Hawk, Fall Out Boy's Pete Wentz, and, most notably, Bill Clinton–a longtime fan whose desk sports a Sawaya Lego globe. For six years, his Art of the Brick solo show has toured eight countries in North America, Europe, and Asia. He's also compiled two books–Art of the Brick in 2009 and last year's The Art of Nathan Sawaya. His works command from $10,000 to six figures. At any given time, his New York studio houses 2.5 million Lego bricks.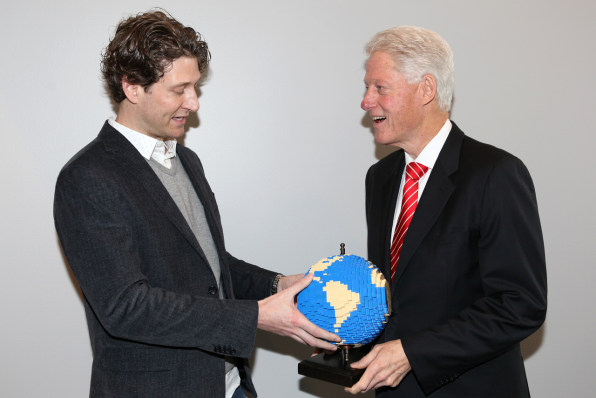 Sawaya's latest effort is In Pieces, a two-year collaboration with the Toronto-based Australian hyper-realistic photographer Dean West. West's seven photos subtly incorporate Sawaya's Lego objects, not to mention an artist cameo. The exhibit premiered Dec. 10 at the William J. Clinton Presidential Center Library in Little Rock, AK (which presented Art of the Brick last year) and will run through Feb. 1 before moving to a to-be-announced New York gallery. Sawaya and West will appear at the Clinton Library Jan. 14.
"There's a fun, nostalgic aspect to Legos–people connect to the art on a different level," says Sawaya. "But it's also a medium that lets me design anything I can imagine. I especially enjoy creating curvy forms using rectangular pieces. Up close, you notice the sharp angles, but when you back away, the corners blend into curves. There's a magic in the perspective."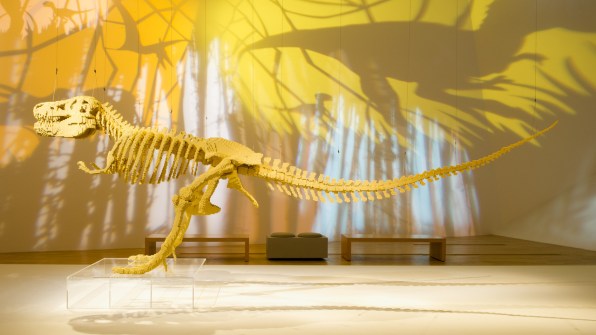 Sawaya drops some six figures on Lego bricks every year, with some statues–like the 20-feet-long Tyrannosaurus rex skeleton he built for Singapore's ArtScience Museum over a summer of 8- to 12-hour days–commanding 80,000 bricks.
Sawaya first sketches his sculpture ideas on brick paper, occasionally using Lego Digital Designer software, which has virtual bricks programmed with gravitational physics, for positioning. As he builds, he glues each piece in place. "I've done projects where I've had to chisel away days of work. But on the whole, it's really therapeutic for me; I go into a kind of trance. I'll often match the background music to where I am in the process.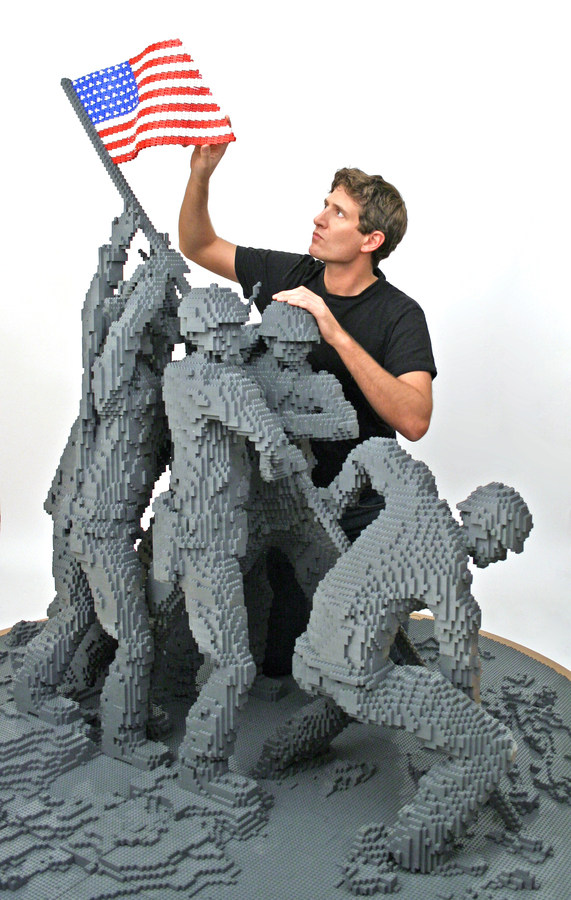 "Gravity is the most interesting part of this work," he adds. "A concept will look great on paper, but until I actually build it, there's a lot of engineering trial and error. One of the more difficult pieces was a replica of the Iwo Jima flag-raising statue for the National Museum of the Marine Corps in Quantico, VA, which wanted to use it to teach kids about history. In the photo, five marines are all leaning on the flagpole, which is great if it's made of bronze. It took a while to figure out, but I have an innate sense of what will and won't work, and at what point it's going to topple over. Don't ask me to explain it."
His art's dialogue with children is another integral element. "They're seeing the art world in a whole new way," says Sawaya. "Kids can't build a marble statue at home. But I've had parents tell me that, after an exhibit, their kids immediately dug out their Lego kits and disappeared for three days."
He returned the inspirational favor with a post-Katrina commission for the New Orleans Public Library that celebrated the city's rebirth. "I collected hundreds of drawings from children about what was important to them," he says. "They drew hospitals and fire stations in bright colors. The buildings were kind of crooked; the windows didn't line up; one of the hospitals was pink. I tried to capture the look of those drawings. It turned into a giant hand holding this colorful city."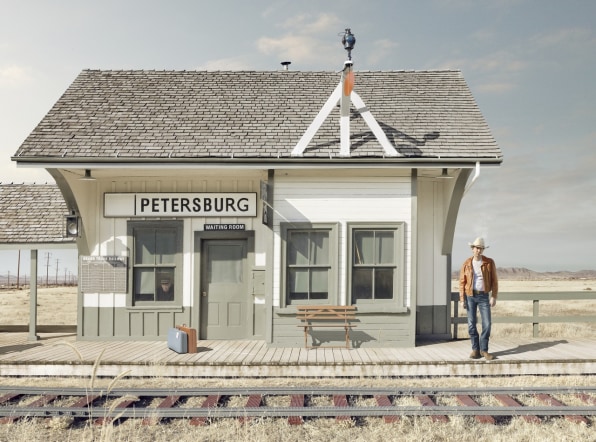 As a child, Sawaya engaged in drawing, painting, magic, cartooning and storytelling, but chose a safer route as an adult.
"What do young, budding artists do, but go to law school?" quips Sawaya, who graduated from New York University School of Law in 1998 and went to work in the Manhattan office of the international legal firm, Winston & Strawn. "I had creative periods now and again, but it wasn't until I was practicing law that I really needed a creative outlet. I'd come home from long days at the office and draw, paint, and sculpt from clay, wire–even candy. I liked the concept of something additive in nature–where small pieces lead to a larger form. That's when I thought, 'What about this toy from my childhood?'"
Sawaya began challenging himself with large-scale sculptures. But when he put together a website and commissions started rolling in from around the world, "that took it to a whole new level," he says. "I realized, 'I can make money from this.'"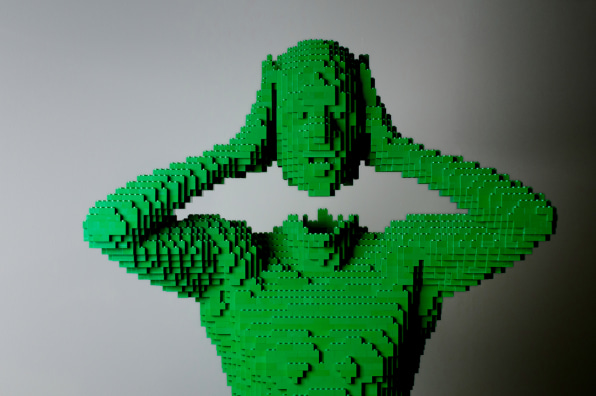 And so his dual life began: corporate lawyer by day; Lego artist late into the night. He carried on like this for 18 months until one seminal event in January 2004: "The day my website crashed from too many hits, I knew it was time to make some changes," he says. "I decided to leave the law firm."
Reactions were mixed. "My family was quite supportive–they had suffered through my being a lawyer," he says. "My colleagues were kind of jealous that I was following my passion. My bosses were confused. I was going from a very steady, secure life with a six-figure salary to one full of risk, not knowing if I'd be able to pay rent. The scariest part for me was still having over $100,000 in student loans to pay back. Every time I got a commission, I thought,'This will probably be the last one for the month.'"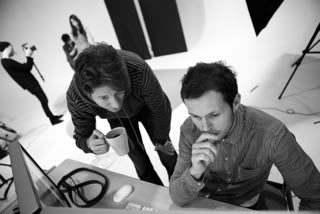 Despite occasional lean periods, there was enough work to keep him afloat without his having to take a part-time job. In 2007, the Lancaster Museum of Art in Lancaster, PA sponsored his first solo exhibition, Art of the Brick, and his art took off. The exhibit has continuously toured, often breaking attendance records. It also caught the attention of West, who approached Sawaya about collaborating. By 2010, occasional Skype and coffee shop brainstorms turned into four-day location scouting trips in the desert. "Collaborating came really easily–having him as an artist, understanding what I was trying to do," he says. "There are days when I really miss that."
Although his rent worries were long past, Sawaya realized he'd arrived while talking to Clinton during Art of the Brick's run. A little boy approached them and asked for a photo.
Clinton began to comply, when the boy blurted, "Not you–the Lego guy!"
Click through the slide show above for selections from Art of the Brick and In Pieces.