At a time when print magazines such as Newsweek and tablet publications like The Daily are shuttering, the team at 29th Street Publishing is betting on the future of magazines for iPad and iPhone.
"It should be that everyone who wants an app can have an app," says David Jacobs, cofounder and CEO at 29th Street Publishing, which developed a platform for independent publishing as a way for writers to make a living. The company's catchphrase? "Selling subscriptions is as simple as blogging."
Jacobs and Natalie Podrazik, 29th Street Publishing cofounder and CTO, have deep backgrounds in blogging. Jacobs founded Apperceptive, the blogging and social-software focused services company where Podrazik was an early employee.
After Six Apart acquired Apperceptive in 2008, Jacobs served as vice president of services and platforms and Podrazik was a product manager of the blogging platforms Movable Type and TypePad (before Six Apart was itself acquired…but that's another story). They began to brainstorm about collaborating on a new publishing platform that would enable writers to distribute content directly to readers without relying on advertising.
"We asked ourselves, 'What does it look like if a writer has a great audience and a great voice and a great product and wants to live a middle class life?' We thought maybe they could get support directly from their audience," says Jacobs. After Apple gets its 30% cut of app sales, 29th Street Publishing takes 15%, leaving 55% for the author.
Their first app release was V as in Victor, a weekly magazine from sportswriter Bill Vourvoulias. The app comes with two free "issues" and a one-week trial subscription. After that, a monthly subscription costs $3.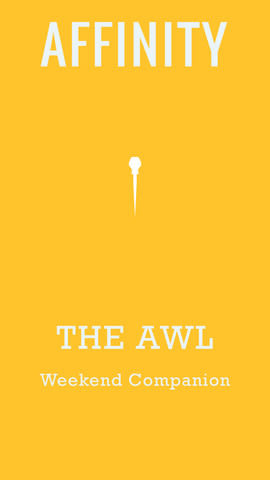 Next up was The Awl: Weekend Companion, which is basically a shorter, curated version of content from the Awl website. "Published" every Friday through Apple's Newsstand, the Weekend Companion costs $1.99 each or $4 a month.
"Unlike lots on the web, it's pretty, deluxe, fun, and it's also easy," Awl editor Choire Sicha wrote in a blog post about the new app. "Plus, the great joy of a web magazine is that it comes to you."
Using Starwatch, their own analytics system, the 29th Street Publishing team, which also includes Blake Eskin as editorial director and Tim Moore as creative director–is able to see how readers navigate each app.
"We're watching every single move that users are making in the app, which articles they're reading, average reading time, whether they're using iPhone or iPad, so we have measurable ways of knowing what our users are doing," says Podrazik.
At some point in the way distant future, the tool will likely be available as a self-serve product. But despite lots of outside interest, 29th Street is in no rush to fast-track such a setup.
"One of the major issues we're facing with these magazines is that we don't want them all to look the same," says Jacobs. "We want to learn as much as we can from our early apps, and that means that diversity–both in the product and the artists, authors and publishers–is really critical."
In addition to the two apps currently in the Apple store, 29th Street has 12 apps in the works, including one from Little Star Journal, Maura Magazine (from music writer Maura Johnston), and Emily Books. They are also working with several comic artists and photographers to showcase visual templates.
"What I love about 29th Street is first of all their commitment to writers and creative people and also the fact that their model moves the technology out of the exclusive hands of big institutions who can afford expensive development," says Ann Kjellberg, editor of Little Star, a journal of poetry and prose. While the journal comes out quarterly, Kjellberg envisions the app as "something that people check in with in the course of their day."
As voracious readers of the web and experienced bloggers, Jacobs and Podrozik "identify with these writers and their problem in getting their content onto mobile," says Podrazik. "We understand the potential for them. They are good at what they do and what they want is not unreasonable."
[Image: Flickr user Clifton Johnston]