You know the profile well. That lippy underbite. Those downturned jowls. But recreating the contours of director Alfred Hitchcock's face on screen for the movie Hitchcock involved months of trial and error–and some hurt feelings along the way.
"We did six different versions," says makeup artist Howard Berger, who began by laboriously crafting a near-exact replica of Hitchcock on the head of actor Anthony Hopkins. "The first one looked like Hitchcock, but it was super heavy."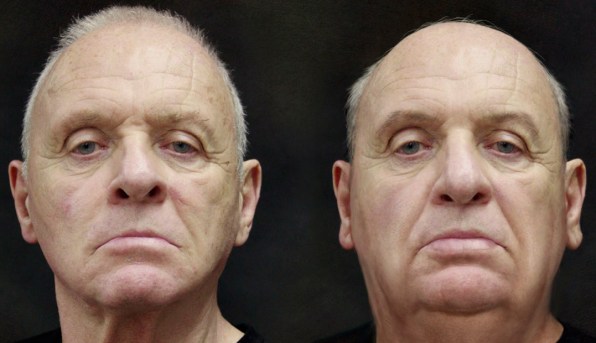 More than six weeks out from shooting the movie, camera tests were conducted and screened for the producers. "People were harsh," recalls Berger. "Producers nitpicked [my work] and, at first, I was offended." But Berger, a seasoned pro who has been doing makeup for movies since 1985, heeded the wise advice of his wife. "She said, 'Why are you offended? Wouldn't you rather have this happen now than first day on set?'"
His resolve was firm, at last: "We're all working towards the same goal." Still, he goes on, "Getting everybody to agree that we were going down the right path was the hardest part."
That's about the time when it became clear what everyone involved in this loving tribute to the work of Hitchcock absolutely didn't want. They didn't want Hopkins to end up looking anything like Leonardo DiCaprio did in J. Edgar, the 2011 biopic that has become an object lesson in how to overdo prosthetics and get in the way of a fine actor's performance.
"They're incredibly talented," Berger says, defending that film's makeup artists. He explains that their work is the inevitable result of the often painful interference of a committee of executives who often oversee the creation of a movie, especially one at a studio [J.Edgar was produced by Warner Bros.].
"We had to do prosthetics," Berger explains. Not every movie takes that route; see Lois Burwell's prosthetics-free transformation of Daniel Day-Lewis into Abraham Lincoln. "We knew we had to do appliances. But as we felt more comfortable we removed aspects." In subsequent tests, Berger pulled back, leading to a less-is-more approximation of Hitch. Smaller nose, smaller ears. They lost the dentures that had reshaped Hopkins' jawline. There had also been a strong center brow line Berger had created, "but it only made more problems for Tony"–that's Anthony to you and me–"limiting his performance."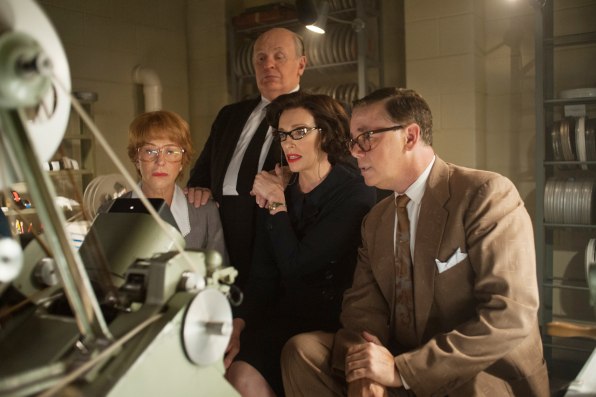 What had begun as an exacting likeness had become what Berger aptly deems "a portrait of Anthony as Hitchcock," which gets at the essence of the character rather than duplicating the real man. "We wanted to create a transformation, a combination of the two," says Berger. "There's a good mix there." And not a moment too soon: In the final makeup test–the night before production began–he abandoned the lip: "Tony decided to push out his lip into a pout."
Berger sings Hopkins' praises, not just as a person ("He's such a sweet man, with a wicked, wicked sense of humor") but as a canvas for his makeup ("He was very, very still. Some actors are like moving targets; you end up constantly chasing them").
Doing makeup for movies was a childhood dream for Berger. He grew up in Los Angeles, so he was well aware of the career possibilities. "At 8, I said, 'I'm going to be a makeup artist.'" As a teenager he started "stalking my idols." He skipped college and started working on movies as he finished high school.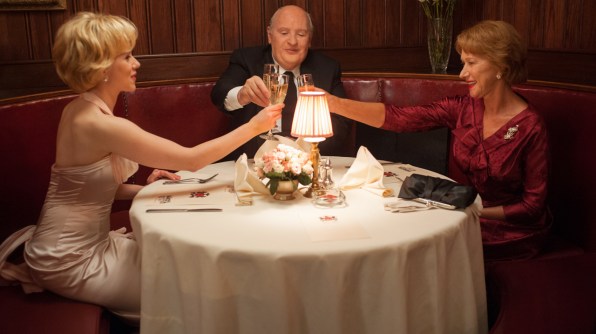 He started out doing horror, working on Day of the Dead, followed by Night of the Creeps. "That's what makeup guys did in the '80s and '90s," says Berger, who was eventually able to diversify, thanks to Kevin Costner, who came calling for Dances with Wolves. "He figured if we can do bloody people we can handle bloody buffalo."
"We" are Berger and his partner Greg Nicotero. Together they formed KNB EFX Group. Both are credited with work on The Walking Dead and Hitchcock, but in recent years Berger has let Greg take over the gory stuff while he's stuck to fantasy and reality. "I don't like it," he says of blood and guts. "I don't like having it on me, I don't like the sticky feeling. [Whereas] Greg wears it like war paint."
Berger realized there was more to life than blood and guts when he got to work on The Chronicles of Narnia: The Lion, the Witch and the Wardrobe, which came out in 2005. "I said, 'I'm done wrangling fake bodies and dragging them around.' I like the fantasy world, creating characters and creatures, and running giant makeup crews." Projects like next year's Oz: The Great and Powerful, Sam Raimi's reimagining of The Wizard of Oz, coming out in March 2013, have placed Berger solidly in the world of fantasy.
It's a world he's thrilled to inhabit as it brings him back to what first captured his imagination as a child: monster movies like Planet of the Apes. No blood, no guts. Just good, old-fashioned movie magic.
[Images: Fox Searchlight Pictures]