It's been described by one observer as a giant adult playground that behaves like a suspended trampoline crossed with a see-through bouncy castle. But for the Frankfurt-based Argentine artist Tomás Saraceno, his installation "On Space Time Foam," which is currently wowing visitors with a head for heights in the cavernous Hangar Bicocca in Milan, is all about quantum physics.
"'On Space Time Foam' is inspired from theories like Actor-Network Theory of Bruno Latour (an approach to social theory that maps relations between both material objects and concepts) and string theories that say that perhaps the universe came from large cosmic membranes touching and creating all that we know and see in the apparent cosmos," says Saraceno.
"In this installation space is actually created by people relating to each other maneuvering through social and cultural conditions of knowledge and expectations."
Visitors to Saraceno's installation, which last weekend (November 24/5 2012) alone attracted a record 3,000 visitors, achieve this by interacting with three levels of thin, clear plastic film hanging almost 20 meters in the air–a 1,200-square-meter construction, all in all, that allows visitors to scramble between the floor, or "earth," and ceiling, or "sky."
The levels of film that constitute the installation's core constantly change according to shifts in climate and the movement of people–a metaphor for how humans' interrelations affect the earth and other universes, Saraceno, inaugural Visiting Artist at the MIT Center for Art, Science & Technology, explains.
"The work is made out of people's relations, the air they breathe, and many hours of hard work, sweat, research and construction," he adds. "It's made out of over-lapping environments and amplification. It's very difficult to say how long it took as it incorporates years of thought–but on the practical side, about 40 of us managed to install it in only 10 days."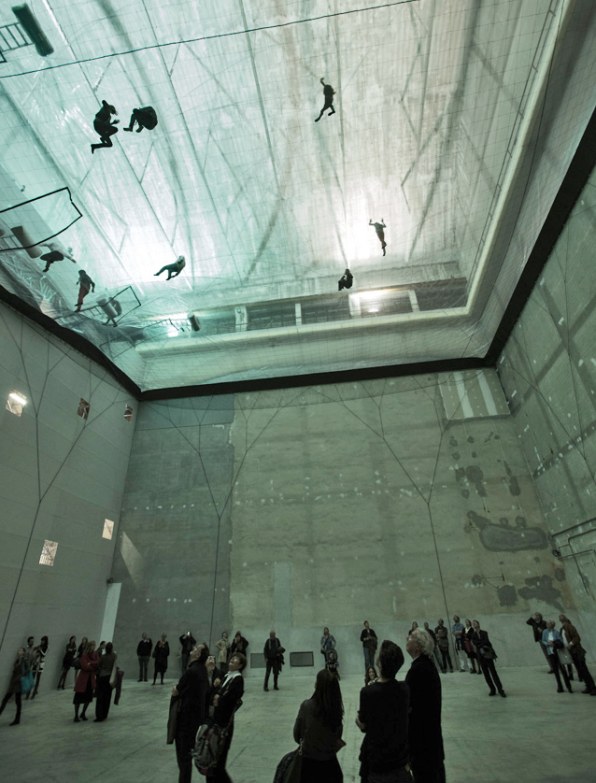 That's not to mention the five months Saraceno's studio worked on modeling and engineering both the construction and aesthetics. Oh, and the input of Lindstrand Technologies. The company, a specialist in research and production of aerostatic materials and products, hot air balloons, and space vehicles, was founded by Per Lindstrand, the Swedish aeronautical engineer and adventurer perhaps best known for his trans-ocean hot air ballooning exploits.
The net effect is a fusion of science and art that transforms architecture into a living organism that breathes thanks to those who cross it–visualizing the interrelationships that tie humans to the space in which they exist.
It's also the culmination of years spent by Saraceno on researching airborne systems such as platforms that can change shape and be transformed through public interaction. Another recurring theme is Saraceno's preoccupation with a future in which people live above the earth in mutating, cloud-like cities.
Earlier this year, Saraceno's "Cloud City" installation appeared on the roof of New York's Metropolitan Museum of Art, a 8.5-meter-high construction comprising 16 interconnected 12- and 14-sided polyhedrons the size of small rooms made from polished steel and clear plexiglass. His 2010 creation "14 Billions," a walk-in 3-D model of a black widow spider's web made with black elastic cord, was seen in Sweden and the U.K.
Recently, he undertook three months studying at a NASA-sponsored program at the International Space University (ISU)–the only artist among 144 engineers, during which he experienced a zero gravity flight. Looking ahead, he recently told another interview, he hopes to carry out experiments in the International Space Station with ISU life scientist Professor Gilles Clement.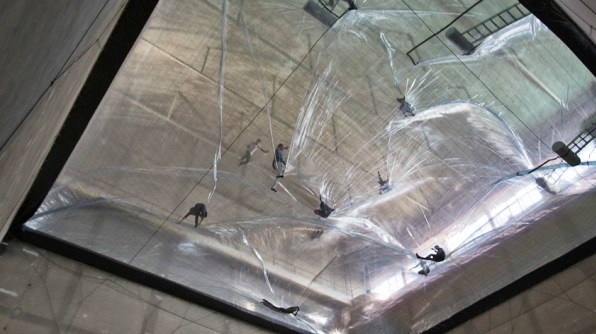 "We built 'On Space Time Foam' with the aim that it can also fly over the sea as a floating island," Saraceno tells us. "It would be fantastic if after showing this piece at the Hangar Bicocca it became a floating biosphere above the Maldives where we can host a symposium. I am currently the inaugural Visiting Artist at the MIT Center for Art, Science & Technology–maybe together with them we can make it possible for flying cities to take off once more."
"On Space Time Foam" can be experienced at the Hangar Bicocca, Milan until February 3 2013. (Admission open to those 18 years old and over).