Alan Madison's wife recently asked him to stop buying beans.
"I was like, 'What do you mean?' " Madison recounts. "And she goes, 'Every time you go to the supermarket you come back with a couple cans of beans. I don't know if you're doing it consciously, but you have to stop. We have three-thousand cans of beans.' "
That's a bit of an exaggeration, Madison says with a laugh. But he does admit that he was unconsciously stocking the pantry with lentils and garbanzos, and he knows full well it's because he spends so much time with the survivalists–a.k.a. preppers–featured on Doomsday Preppers, now in its second season on the National Geographic Channel.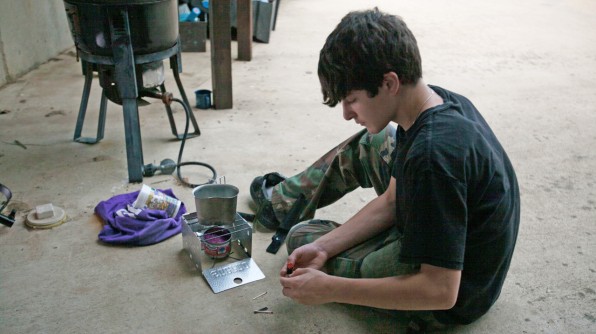 Madison is the executive producer of the series that takes viewers all across the country to meet folks who are digging foxholes and stocking up on everything from water to food to weapons in preparation for various doomsday scenarios, including terrorist attacks, economic collapse, and electromagnetic pulse (a sudden burst of electromagnetic radiation).
And while some people write off these hard-core preppers as paranoid wackos, there are likely a lot of residents of the New York City and New Jersey area who, in the aftermath of Hurricane Sandy, wish they had been more prepared for what was to come.
Three preppers from Manhattan and Brooklyn are featured on the December 18 episode of Doomsday Preppers, and one of them–a woman who lives in Harlem–is actually shown prepping for a hurricane. She had experienced Hurricane Katrina firsthand and was worried about what would happen in Manhattan, particularly downtown, if there ever was a massive storm. "We filmed her months before Sandy, and she turned out to be entirely right about the affects of a hurricane on the city," Madison says.
Additional season two episodes find preppers gearing up for other natural disasters, including earthquakes, tornadoes and tsunamis.
Madison says that all of the show's subjects have a desire to educate the audience, but he reminds them that he also has to make Doomsday Preppers fun to watch. "I explain to [the preppers] quite honestly that we're looking for 50 percent education and 50 percent entertainment. We have to attract eyeballs and make an entertaining show," he says, noting, "The shoots are great fun besides being a lot of work."
Madison's crews usually spend two or three days shooting with each prepper, following them around as they go about their daily routines. The pre-production process is lengthier and generally involves about a month of back and forth. By the end of that time, the producers know everything there is to know about the preppers, and the preppers understand what is expected from them.
The production crew also undergoes a thorough briefing before each shoot, including instruction on how to handle safety concerns. The potential threats are no joke given that preppers could have booby-trapped bunkers or be armed to the teeth.
It's safe to say that most of us likely don't feel the need to build bunkers or carry guns, but there are a lot of people, especially those who weathered Sandy, who would like to be more prepared the next time disaster strikes.
But where do you even begin?
Army veteran David Tobler, co-owner of survival consultation company Practical Preppers and a consultant for Doomsday Preppers, says, "We tell people, prepare for everything. There are basic things you would need in any disaster. You're going to need some water, you're going to need some food, and you're going to need a place to stay."
When it comes to water, the most obvious thing to do is stock up on bottled water, Tobler says, and if you know a storm is coming, fill your bathtub and sinks, too. If you live in the suburbs and have a pool, you can tap into it. "You might have thirty-thousand gallons of water that could potentially be a life-source for you with the proper 60-dollar filter," Tobler explains. "There are lots of water filters on the market now that do an excellent job."
You can also use bleach to purify questionable water, adding a few drops per quart, he adds.
As for food, beans seem to be the go-to food for most people stocking up in anticipation of an emergency, but Tobler recommends higher-calorie food like protein bars, canned meat, and canned tuna "that will give you a lot of bang for your buck."
While some experts say you will be fine with three days of food on hand, Tobler says you should stockpile much more. "Going off disasters like Katrina and the storm that just hit, you should have at least a two-week supply," according to Tobler. "That way, you can take care of yourself, and you're not getting in a food line when other people could use it."
For more doomsday prep tips from Tobler, click through the slide show above.