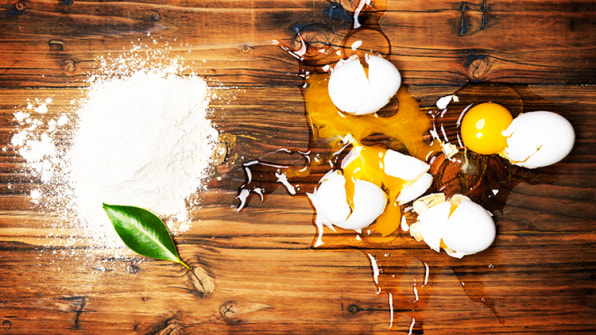 When I step into Hampton Creek's airy warehouse space, I'm greeted by a dog, a couch, and a handful of researchers hard at work on refining the company's products–in this case, that means they're doing everything from making cole slaw to mixing up mayonnaise. CEO Josh Tetrick sits me down to tell me the story behind why the company is honing in on the egg market. It's not an appeal to vegans–though of course, they're welcome to eat Beyond Eggs products, too.
There are the environmental issues, of course. 18% of greenhouse gas emissions come from agriculture, and much of the arable land and fertilizer in use today goes towards feeding and dealing with factory farm animals. And then there's food safety–something that has recently been shoved in the spotlight by the new bird flu scare in China. Animals in close contact breed disease, and it doesn't take much for a seemingly harmless bird virus to take hold in the human population.
But the big thing for Hampton Creek is the size of the market. About 33% of eggs end up as ingredients in food products like muffins and mayonnaise. There's a $6 billion market for egg ingredients globally, and production costs are rising around the world. Beyond Eggs costs 18% less than real eggs. So it's not unreasonable to think that big food producers would want to slip a cheap and convincing egg substitute into their products (both of the companies that Hampton Creek is about to work with plan to disclose that they use Beyond Eggs). Tetrick believes that Hampton Creek can thrive as its own consumer-facing brand as well.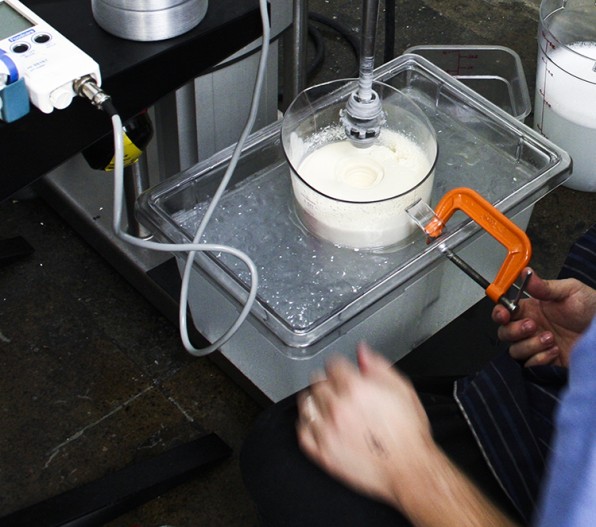 Hampton Creek has only been in existence for about a year, but its 17-member team has already created 344 fake egg prototypes and studied 287 types of plants that could be useful in production. On the afternoon when I visited, the company had already created eight mayonnaise prototypes. "Plants can bind like an egg in a cookie, hold oil and water in mayonnaise, scramble like an egg, and puff out in a muffin," says Tetrick. You just need to know which plants to use and how. That's what Hampton Creek's lab members work on figuring out every day.
Megan Clements, the Director of Emulsion Innovation (yup, Director of Emulsion Innovation) at Hampton Creek, is devoting many of her waking hours to creating the perfect eggless mayonnaise–one that has the optimal stability, mouthfeel, and taste. She shows me a closet lined with hundreds of jars, all filled with mayo prototypes. After going through a number of tests (droplet particle size, thickness, etc.) every single test batch is jarred and stuck in the mayo library (that's right, mayo library) to check for shelf stability.
Hampton Creek's extensive testing seems to be paying off. Clements tells me that the company took samples to a nearby university campus, fed the mayo to over 200 students without telling them it was eggless, and then asked them to compare it to one of the most popular mayonnaise brands on the market. The eggless mayo won.
Making the perfect egg substitute requires, as we mentioned earlier, the perfect balance of plants. And so in addition to a mayo library, Hampton Creek also has a plant protein library. "We want to find ones that act like egg proteins," explains senior scientist Joshua Klein. One protein might work best for emulsification, one might work better in baking, and still others may have other egg-mimicking uses. Hampton Creek wants to find them all. It's a daunting process; few–if any–companies are trying to do what Hampton Creek does, so the company has to create its own plant flours.
So what do Hampton Creek's best batches actually taste like? The fake ranch mayo I tested was rich, creamy, and light years ahead of the leading vegan mayo brand I also sampled.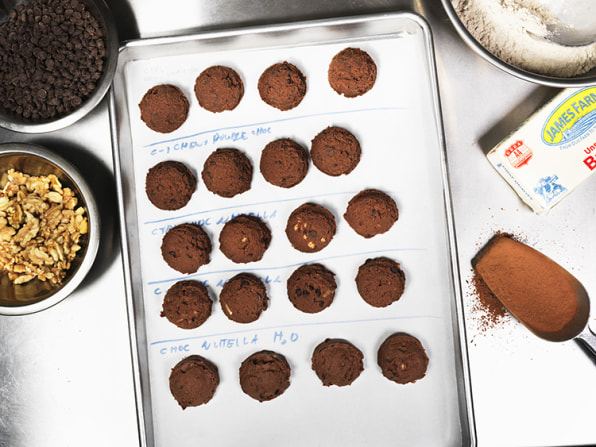 Mayo creation is just a piece of what happens in the Hampton Creek lab. The company's researchers are also working on multiple eggless baking products, including one called "Eat the Dough" that's a replacement for people who like to eat cookie dough, but don't want to deal with all the Salmonella that can come along with it.
During my visit, Hampton Creek had gathered a group of community members to taste test cookies made with the Beyond Eggs baking product (a separate product from Eat the Dough). Hampton Creek's first baking product contained a GMO ingredient–something that health-conscious customers didn't appreciate. The version tested while I was at the lab had the GMO ingredient swapped out with another plant source.
I joined in the testing and sampled three cookie samples without knowing which ones were made with the Beyond Eggs product. In the end, I chose the two cookies made with Beyond Eggs as my overall favorites. The control cookie made with egg was, in my opinion, worse by far. But I'm no cookie connoisseur, and unfortunately, I didn't get to ask the other testers what they thought. But I know that Bill Gates agrees with me–he has publicly endorsed the company, and in taste tests, reportedly couldn't tell the difference between a Beyond Eggs muffin and one made with eggs.
Shweta Rao, the Director of Bakery Innovation at Hampton Creek, also prefers the eggless cookies. "The palette gets used to it tasting a certain way," she says. "The flavor profile is cleaner, not as overpowering."
Interest in factory farming alternatives is growing rapidly in the venture capital world. Hampton Creek has $2 million in seed funding from Khosla Ventures. As BusinessWeek points out, Khosla and fellow Silicon Valley VC firm Kleiner Perkins Caufield & Byers have backed 12 startups in the past year that are "trying to engineer healthier and cheaper alternatives to eggs, chicken, cheese, salt, and candy."
One of these startups, Beyond Meat, is backed by Twitter's cofounders. And like Beyond Eggs, the company's product (vegan meat, in this case) is virtually indistinguishable from the real thing.
There are people who will protest loudly that these products are examples of the artificial crap pumped out of a broken food system, but they're mostly just made out of plants. And the world needs alternatives to the factory farming industry before our population gets even larger. There is no time to wait for the one perfect solution–there won't be one, anyway.