In general terms, the bulk of advertising in China has traditionally tended to be loud, brash, and hard sell. But "Key Auntie," a three-minute video for online payment company Alipay, takes a subtle approach, quietly sharing the moving story of a woman, nicknamed Key Auntie, who looks out for her mostly elderly neighbors, helping them up the stairs, bringing them fresh produce, and hooking up their televisions. She is the unofficial caretaker of her apartment complex, and people have entrusted her with their keys. In fact, you can always hear her coming because she carries a ring full of keys that jingle as she makes her daily rounds.
"Key Auntie" is the third in a series of videos created by Lowe China that depict everyday heroes and are designed to get consumers to view Alipay, the world's largest online payment platform, as a trustworthy brand. "Before we started to work with them, Aliplay had been considered a tool but not a brand, and their core values and belief system were unknown to customers," explains Lowe China chief creative officer Norman Tan, noting, "Trustworthiness is of pivotal importance for financial organizations. Hence, the brand campaign."
To create a sense of authenticity, all of the stories told in the campaign, including that of Key Auntie, are based on the good deeds of real people. Lowe China worked with Alipay to uncover the tales, and the agency interviewed the actual Key Auntie and got her permission to dramatize her story.
Director Littichai Siriprasitpong, a native of Thailand who is represented by Bangkok-based Phenomena, shot "Key Auntie" in a small community just outside of Shanghai this past summer, using a combination of actors as well as neighborhood residents who "helped the film to be even more true," he says.
"Key Auntie" has certainly resonated with the intended audience of online shoppers who already use Alipay as well as potential customers. Since its September 13 release via major Chinese video sites, including Youku (the Chinese equivalent to YouTube), Tudou, and the social platform Sina Weibo, on which Aliplay has a microsite, "Key Auntie" has amassed more than 11 million views.
People are also talking about "Key Auntie." There are currently more than 100,000 comments on Sina Weibo, and Tan reports that people are lamenting the lack of trustworthiness in society and calling this story a breath of fresh air.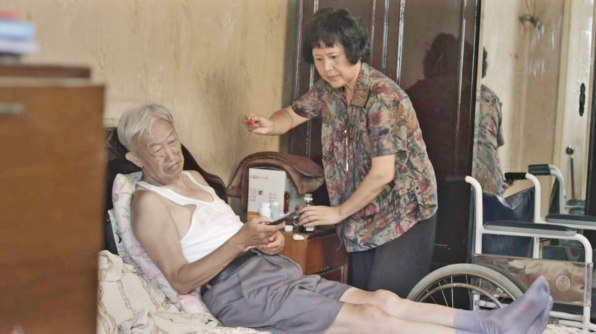 Trust is a major issue in China, Tan maintains. "Nowadays, when China is getting more affluent, people keep hearing about stories of counterfeits, fake and pirate goods, cheating people, companies with no conscience. Negative stories flood the media, however, there are still a lot of good people who do good deeds," he says. "If we are able to help tell more of such positive stories and enhance the positive energy in our society, it will be for the greater good."
And work such as "Key Auntie" is part of a developing new era in advertising in China, according to Tan. "Within the mix of brand and product advertising, traditional spots and online efforts, many brands are realizing that influencing people by subtle value stories is important," Tan says. "Hard sell product messaging is still needed to push sales and reach financial targets, but companies are looking at influencing the general public with both brand messages and CSR [corporate social responsibility] and recognizing the importance of their behaving as responsible corporate citizens."
Looking at other types of advertising seen in China these days, "Humor works, but we do not see a lot of that kind of work, or at least good ones. There are a lot of celebrity-endorsement led campaigns, a shortcut to immediate awareness for many fast-moving consumer products, but only a small portion use celebrities well. Storytelling works well, but again, there aren't a lot of good storytelling campaigns," Tan muses. "Viral, online, and Internet word of mouth are gaining importance, but many campaigns are very straightforward and lack insights or intriguing ideas."
Still, Tan sees a promising spark in overall creativity in the Chinese market, and he expects it to continue to grow. There are now "efforts by clients and agencies that focus on work that resonates with popular culture but is also creative enough to stand out–the 'I wish I'd done that' type of creative ideas," Tan says, noting, "Chinese consumers are very quick and very open to adopt new ideas, so it is a fertile creative ground."