It is not an advertising category known for its sense of humor. But in the past few days, sanitary-protection (sanpro!) brand Bodyform has broken with convention to show not only that it has big enough balls to respond directly to Facebook comment in public, but that it also has an impressive taste for irony.
The story began a little over a week ago when a Facebook user called Richard Neill posted a comment on the Bodyform Facebook page lamenting being lied to for years about the "wonderful time of the month" women appear to be having–if sanpro advertising clichés such as white-clad women pirouetting on rollerblades are to be believed.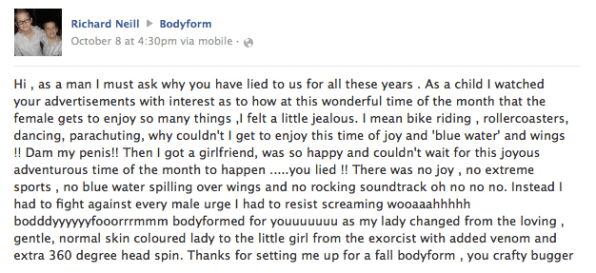 "Thanks for setting me up for a fall, Bodyform, you crafty bugger," the posting concluded.
Then, after the comment went viral–over 80,000 people have Liked the post and thousands have commented–Bodyform's owner, SCA, responded 24 hours ago (Tues. morning, Oct 16) by posting a video response to Neill's comments on YouTube.
The one-minute, 45 second-long film, "The Truth, Richard," features pretend Bodyform CEO Caroline Williams sitting at a desk in her office beside a jug and glass containing blue liquid–a visual metaphor long used in sanpro advertising. As the film unfolds, Williams, in a tone that's no-nonsense-verging-on-paid-assassin, thanks Richard for his input and apologizes for lying for its "flagrant use of visualization" and the illusion it perpetuated for the good of man. The film is funny and strikingly raw for a sanpro brand, or any brand–it features, for example, dialog like "the blood coursing from our uteri like a crimson landslide," and the indelible image of the CEO drinking the blue liquid and passing gas.
The idea for the tongue in cheek film arose after Bodyform Brand Controller Yulia Kretova noticed Neill's post last Monday. "I found it funny, and by lunchtime it was clear social interest in it was building so I suggested to our marketing director we should do something, as the tone of his posting felt in tune for our strategy for the brand," she explains.
Though a challenger brand in the U.K. market, Bodyform has a cultural resonance that extends beyond its core market thanks to a series of ads since the early '90s which have used the theme song "Whoa Bodyform, Bodyform for you!"
In recent years, the brand has explored a number of ways of standing out in the category by being bolder and a little bit different–eschewing cliches in favor of honesty, Kretova explains. It has run charity-based campaigns, advertorials with Cosmopolitan and tried TV sponsorship–sponsoring Sex in The City and The Hills.
"The opportunity we had came from the fact that because of the song, Bodyform is seen as a less serious brand which is a powerful lever to tell it like it is in a different way without being patronizing," she says. "By lunchtime on the first day, we put a call out to our agencies for suggestions about what we could do and from this came the idea of making a YouTube film."
The biggest challenge was striking the right tonal balance. "We wanted to be lighthearted and honest, but we did not want to make him look like an idiot for what he'd said," Kretova adds. Then, of course, there was whether they could respond fast enough to capitalize on the Facebook momentum already brewing.
Production of the video was coordinated by Bodyform's media agency, Carat, which also managed social amplification and lined up London-based boutique agency Rubber Republic to write and produce the script, which was greenlit on Wednesday morning. The film was then shot on Saturday in an executive suite in Carat's offices close to Regents Park.
Additional promotion for the film, which was posted online on Tuesday morning, was done by SCA's U.K. PR agency Myriad and quickly secured national media coverage.
Neill's original posting, meanwhile, has so far generated 88,000 Likes and been viewed more than 200,000 times. The YouTube video earned over 170,000 views in the first 24 hours. There were 35,027 tweets (generating, according to the brand, 130M impressions in that time, er, period).
"Of course I was worried how it might be received," Kretova admits. "But the response has been overwhelming. And perhaps my biggest relief is that Richard Neill got back in contact and told us he loves it."
Inevitably, perhaps, there are some who have suggested Neill's original post was also a manufactured part of the social marketing campaign. But Kretova is quick to counter this: "He is real. It's not staged," she insists.
The spontaneity of the social strategy is further underlined by the fact that a new TV campaign for Bodyform featuring a completely different creative approach, produced by Dutch agency BSUR Amsterdam, had already been scheduled for launch in the U.K. next Monday.
"The new advertising will go ahead, unchanged," says Kretova. "However, we are now monitoring the social activity closely and considering potential spin-offs."
Already, SCA has received requests in the last few days for copies of its old ads and the music downloads of "Whoa Bodyform" song.
Meanwhile one Facebook user has suggested re-employing "Caroline Williams" for a lobbying campaign to persuade the British Government to look again at charging VAT on sanitary products–which in the U.K. are currently officially designated luxury items.