There was a point when director Julian Jarrold didn't feel so comfortable shooting The Girl.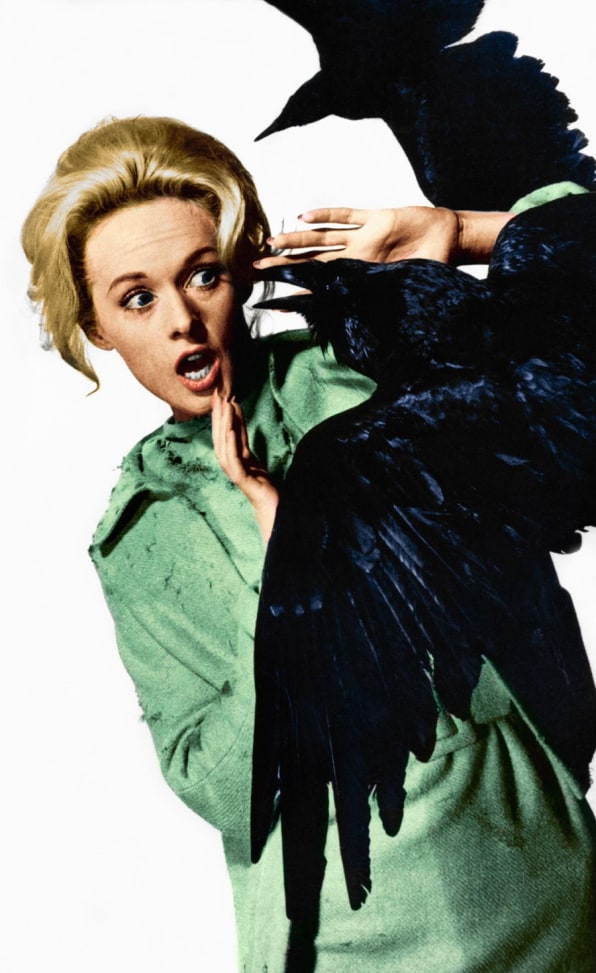 Based on Donald Spoto's book Spellbound by Beauty: Alfred Hitchcock and His Leading Ladies and written by Gwyneth Hughes, the film, premiering on HBO Saturday, October 20, chronicles Alfred Hitchcock's obsession with leading lady Tippi Hedren during the filming of The Birds and Marnie. Hitchcock was relentless in his pursuit of Hedren and vindictive when she turned down his sexual advances, punishing the actress by forcing her to endure all sorts of unnecessary discomfort, according to Spoto's book and Hedren's recollection of that period.
Take the filming of the famous attic scene from The Birds. It needlessly stretched on for days as Hitchcock sat in his director's chair dispassionately observing Hedren being pecked at and scratched by real birds.
And it was when he was recreating this scene for The Girl that Jarrold found himself sitting in his director's chair "squirming and feeling a little bit like Hitchcock" as he watched Sienna Miller, who plays Hedren, crouching on the floor fending off an onslaught of birds continuously shooed at her by a bird wrangler.
"Sienna was fantastic. She just went on and on, but at a certain point we had to stop because it was absolutely exhausting and very unpleasant for her. It's difficult as a director. You get very close to a line," says Jarrold, who unlike Hitchcock, spent less than a day shooting the difficult scene.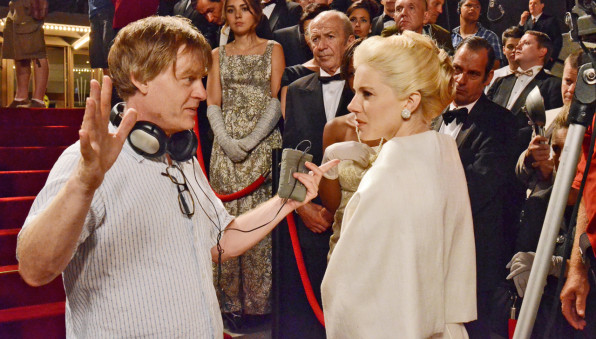 "There's no doubt this experience did make me more sensitive to my role as a director," Jarrold adds, noting that he is collaborative with actors, letting them in on his plans, while Hitchcock was known to be less communicative.
A British television and film director whose credits range from a modern television adaptation of The Canterbury Tales to the feature film Kinky Boots, Jarrold has, like any director, studied Hitchcock's work. "I was sort of puzzled and fascinated by his later films because they often have a slightly strange relationship between the man and the blonde," he says, citing Vertigo. "It has been a favorite of mine, but I never completely understood it. It was made before the instances [with Hedren] we're talking about, but there are some strange similarities in the way Hitchcock treated her and in the way that the blonde in that movie is sort of created from scratch in the guise of what the man wants."
As familiar as he already was with Hitchcock's work, Jarrold wore out his DVDs of Hitchcock films preparing to shoot The Girl, which he says was daunting to cast. Miller entered the casting process late in the game, and the director recalls being won over by how she instinctively understood how to play Hedren. "A lot of the time she doesn't say a huge amount in the movie, but what she does say has a lot of subtext to it. It's a tricky part," he says.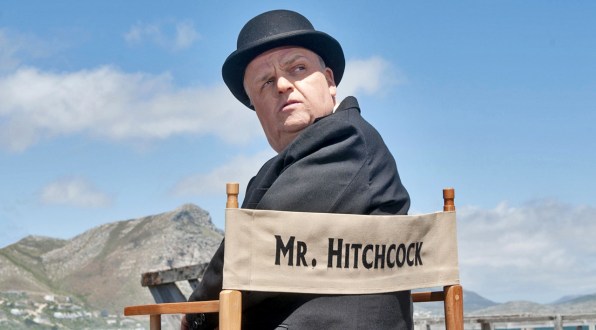 Jarrold had met Toby Jones, who portrayed Truman Capote in Infamous, early on in casting, and the director was confident he could embody Hitchcock. But the actor had scheduling conflicts. Ultimately, the shoot was delayed so Jones could take on the role. "Toby is such a clever person in terms of playing real people. He's not someone who slavishly tries to impersonate them. He brings his own qualities to the role on top of an immense amount of research," Jarrold says. "He likes to disappear into the part. He transformed himself in four hours in makeup every day, and you may have heard that once he was on set, he was Alfred Hitchcock. He wasn't Toby Jones anymore."
The Girl was shot in 26 days in Cape Town, South Africa, and nearby coastal locations in part because Jarrold wanted to use a hot, sunny locale. "One thing I love about Hitchcock films is that murder often happens but it's not always dark and gloomy. He shot in bright, searing sunlight," Jarrold says.
Most of The Girl was shot on digital, but sequences in which you see Hitchcock filming were captured on 35mm film using vintage cameras, including a Mitchell like the one Hitchcock famously used, to achieve a Technicolor look. "We used the type of diffusion, the type of lighting, the type of stylish shooting that was very much late Hitchcock, the Hollywood style if you like, that he used in the early '60s and just before that," Jarrold says. "And within the film there are some nods to Hitchcock shots, sort of homages to Psycho, Vertigo, The Birds and all that."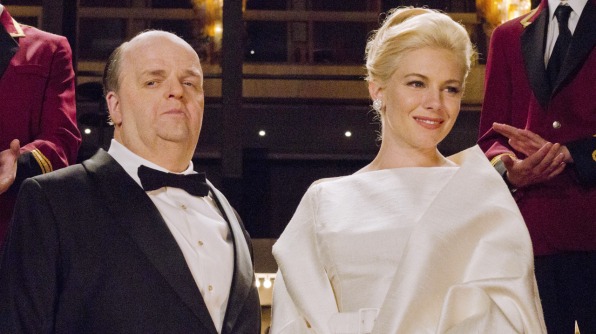 It was crucial to bring the viewer into the unique visual world created by Hitchcock, but it was equally important for Jarrold to craft an intense psychological drama. "A lot of the film is about control–Hitchcock desperately trying to control Tippi, and she, in her own way, trying to resist that," he says.
Hedren, who told attendees of an HBO panel at the Television Critics Association Press Tour this summer that Hitchcock, who blacklisted her in Hollywood, may have ruined her career but didn't ruin her life, is not portrayed as a victim in The Girl. "A lot of people would have crumbled or cracked. But she was so interesting in the way she was able to stay strong. She was walking a tightrope really," Jarrold says. "She had an innocent quality and yet a strong quality, and she was never, ever going to submit to him."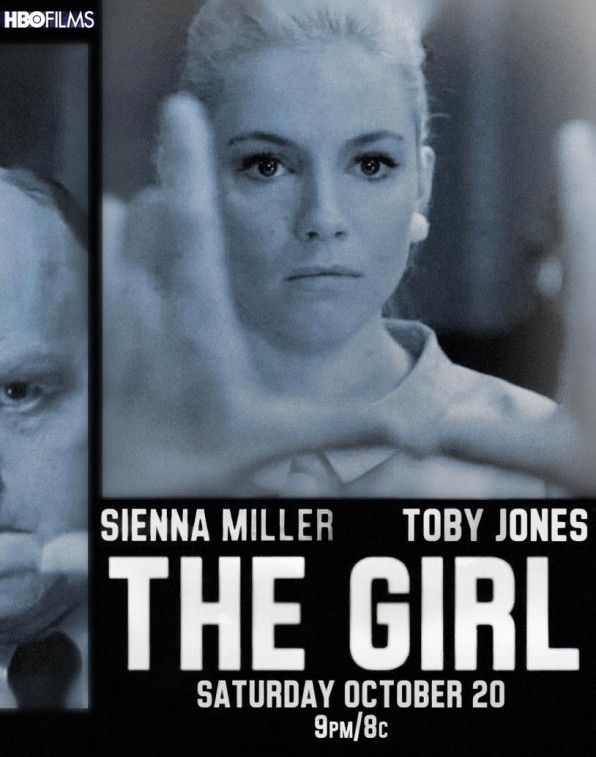 While Hitchcock's treatment of Hedren was deplorable, Jarrold didn't want to portray him as simply a monster. "I hope we haven't done that," he says. "I think perhaps in the first half of the film you might think that. Hopefully, as the film goes on, you delve into his psychology and begin to see his vulnerabilities and where he is coming from."
As to whether he is concerned about rubbing Hitchcock fans the wrong way, Jarrold says, "Obviously, if you don't want to hear this story, you may not like it. But, for me, it enriched the experience of watching his other films. He was unbelievably successful. He made these very commercially successful films, and yet he was showing relationships on-screen that were very odd and peculiar, and he was making the audience identify with them through his brilliance as a filmmaker."