Hats off to the owners of Angel Recording Studios in north London for allowing in 90 toddlers to play with assorted musical instruments and an audio recording kit during a two-day shoot for baby food company Cow & Gate. The end result, which broke in the U.K. on TV and online today, (October 9) is "Supergroup"–a commercial which, thanks to the supreme patience of its makers and judicious editing, is surely destined for both social and awards success (note: Watch the spot before reading further. You'll appreciate the payoff a little more).
In the ad, a group of toddlers investigate the instruments and equipment in a professional recording studio. As each explores and tinkers in their own particular way a cacophony of different sounds results which, gradually, fuses into a lively rendition of "Come on Eileen," a U.K. number one hit in the early '80s for Dexys Midnight Runners.
The commercial, a two-minute version of which has been made for cinemas and online with 60-, 40- and 30-second cut-downs for TV, is a marked shift in approach in an advertising category traditionally characterized by images of peachy-faced babies and model mums living in unfeasibly perfect homes.
The starting point was Cow & Gate's expertise in nutrition, which is underpinned by their knowledge of young children's development, according to Neil Dawson, Executive Creative Director of the agency behind the ad, BETC, London.
"The idea was to say something about letting children develop at the speed that best suits them rather than getting hung up on developmental milestones," he explains.
"The 'Supergroup' idea is almost ironic, as what we wanted to capture was real kids discovering things and expressing themselves at their own pace, then present this in an honest and truthful way. The rest of the sector can feel so patronizing and false. We wanted to produce something that felt real and truthful–and I think that's what's surprises people most when they watch the ad."
For the shoot, the agency sourced 90 toddlers through an ad targeting parents, mummy bloggers recruited online, and a Facebook competition run by Cow & Gate. Two cameras were then kept constantly rolling during two days of filming to record everything that happened when each child was allowed in for a short period to play.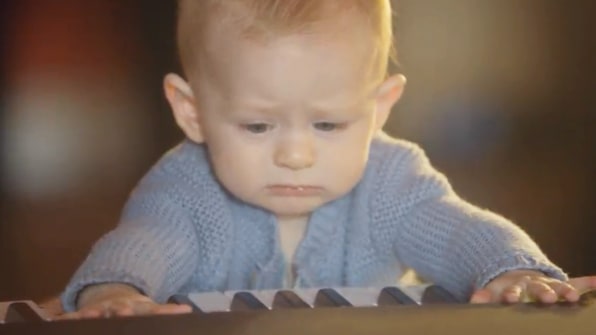 The Dexys Midnight Runners track had already been chosen ahead of filming for its upbeat pace, memorability, and instrumental variety.
"Maybe because of the recession, there is an awful lot of dour or overly sentimental advertising around at the moment," Dawson explains. "We hoped the subject matter combined with the right music would produce something different–something much more upbeat."
Over and beyond that, however, he readily admits he wasn't sure quite what to expect.
"Working with kids this small you are clearly restricted in terms of how long they can be on set, and there's no way you can ask them to do something again," Dawson continues. "So basically, you get what you get and the fact that what we got is so great is a lot down to our director and what was then put together in the edit."
"Supergroup"'s director is Jim Field Smith, a British film director, comedy writer, and actor whose credits include TV series Episodes and Butter, a movie about an Iowa butter-carving competition, which opened in the U.S. on October 5.
"I thought it would be hard enough to sync the kids' actions with the song. But the halt in the middle of the longer cut where one kid starts to cry, the others all respond and a small girl then beats them back in with a pair of drumsticks as the music resumes, is the pure magic you only get from a great filmmaker," Dawson adds.
It's not the first time the agency has worked with small children, of course. BETC, Paris was behind the Evian Rollerbabies commercial. This time around, however, no CG was involved, Dawson insists: "It's all completely natural–which is a nice contrast. Though if we get half as many hits as we did for Evian we will, of course, be extremely pleased."