Described by one observer as "the grimmest stunt ever," the human butchery and morgue that popped up at London's Smithfield meat market last weekend (September 28 & 29) was the culmination of a heart-stopping promotional campaign for Resident Evil 6, the latest game installment in the zombie horror franchise, which launches October 3.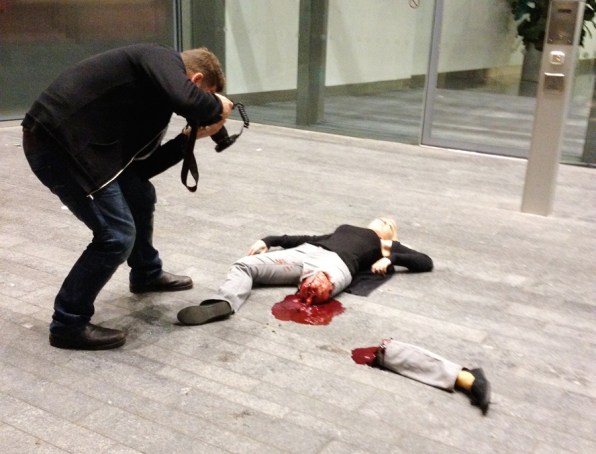 It all began a couple of weeks ago when five murder scenes were carefully staged then photographed outside five prominent London media companies, including the offices of the Guardian newspaper, Future Publishing, and Blue Fin Building, home to magazine publisher IPC. Gruesome injuries were re-created with expert help from St. Bartholomew's Hospital Pathology Museum.
The "crime scene images" were then sent to 75 members of the press based in and near each location accompanied by an autopsy report detailing in a scientifically valid way the injuries shown on each body–each "death" being a way a character might die during Resident Evil 6 game play.
A follow-up mailing then targeted 125 journalists with a selection of pre-packaged fresh meat products. Though these were everyday animal products bought from a local supermarket, each packet had been carefully re-labeled to suggest human origin–"Human Thigh Steaks," for example–and accompanied by a pot of red or green herbs in direct reference to health tonics used in the game.
Finally, journalists were invited to a launch event at a human butcher's called Wesker & Son–named after a key character in the game. The pop-up store was filled with fake body parts sourced from U.S. props specialist Dapper Cadaver.
There were also edible products available to buy in the shop, which was open to the public for two days. Though made from animal meat, the products, such as "Peppered Human & Lemon Sausages," were carefully designed to look like human flesh by food artist Sharon Baker, whose centerpiece was also on display–a full-sized meat model of herself.
"The brief was simple: raise awareness of the game within the non-gaming community beyond hardcore gamers who were already anticipating the game's release. "But zombies have become a bit of a cliché, so my response was: 'Let's do something a little bit different,'" explains the campaign's creator Emma Thomas, a London-based freelance creative director better known in PR and events circles as Miss Cakehead, who specializes in edgier events.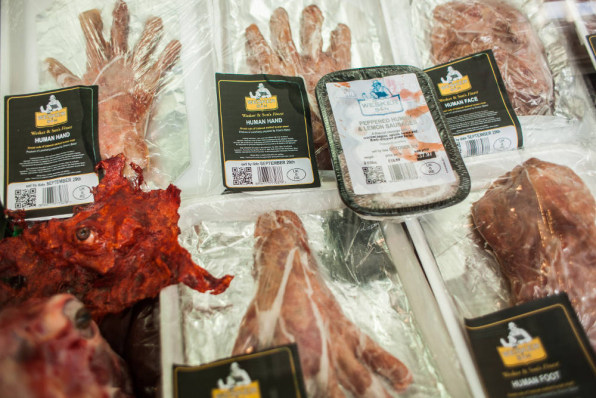 Earlier this year Miss Cakehead organized Alcatraz Hotel, offering people a chance to spend a night in a pop-up recreation of America's most famous penitentiary in London's Kings Cross to promote the U.K. launch of U.S. TV series Alcatraz. She's also the creative force behind Eat Your Heart Out, an annual showcase of bad taste cakes that launched in London in 2010 and returns next month–this year, anatomically correct is the culinary theme.
"It was important to engage people and encourage them to spread the word and share, so what was needed was something that went beyond the traditional games launch PR focus on lots of blood and gore," she continues, pointing to a recent U.K. campaign for the release of The Walking Dead Season 2 DVD for which a mobile burger van was commissioned selling burgers made of brain and offal, which generated only limited social interest.
However, also important was the finer detail. "We didn't want the pop-up shop to look like your usual pop-up shop–it needed to be run down and seedy, not polished or tack," she adds. Her quest for authenticity is also what drove Miss Cakehead to approach medical illustrator Emily Evans to print the Resident Evil 6 "No Hope Left" logo in blood to send out in selected press packs.
The shop, which attracted more than 200 visitors on each day it was open, generated significant media coverage and social traffic. Meanwhile, days after it closed visitors who bought products are still tweeting images of their purchases and how they looked cooked. "It's been weird, it was unexpected, but it's all gone rather well," Miss Cakehead adds with some understatement. "And it shows the scope there is to for new ways to create exciting experiences beyond traditional agency thinking."
Take a look inside the butcher shop in the slide show above (and if you've read to this point, you've been warned…).