Homemade silly music videos on YouTube are a dime a dozen. Except when they end up being worth a lot more.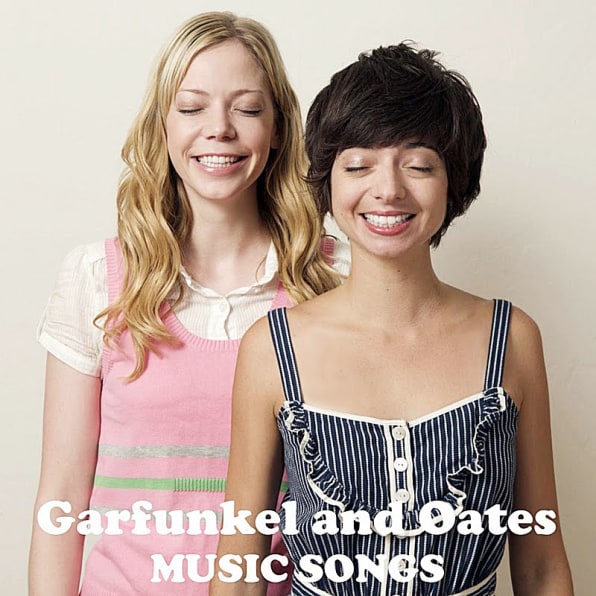 In just a few short years, Riki Lindhome and Kate Micucci went from making videos on their couch to touring the world and making a show for HBO Go. The duo, better known collectively as Garfunkel & Oates, took their personal stories and observations and turned them into wryly funny videos shot in the simplest way possible: a static two-shot on their couch. Unlike many videos that are uploaded every day, people actually watched. And laughed. And told other people.
The secret to YouTube success is elusive. There's no magic formula that helps you get to a million views right away; however, there are some best practices to keep in mind. As they continue touring behind their latest album, Slippery When Moist and celebrating the launch of their semi-autobiographical HBO Go show, Garfunkel and Oates talked with Co.Create about the evolution of their songwriting, keeping it basic, and learning as you go.
Riki Lindhome: We knew very little about making videos before we started. I had made one short, so I had only that experience. But it was a little bit and it did help me learn how to edit. Kate and I got together to make a different short, which we turned into a musical, and that's how we started writing songs. I had rudimentary knowledge of how to upload, how to edit, things like that. And I had a camera–not a good one, but a camera. So we didn't have a lot, but we had enough.
Kate Micucci:Being online and being seen by many people, that made us think, oh, wait a second, people are wanting to see more. Maybe we should keep going with writing songs and filming them. It was kind of YouTube that informed us that it was something we could keep doing.
Kate: We didn't always plan for the couch videos to be this thing that we did. It was really just a way to make something to show our friends our songs quickly. Then we kind of kept with the theme of the two of us on Riki's couch.
Riki: Every time we've had a real music video, we've had to go into a studio and record it, and edit it. Recording is just a lengthy process, so to have to record before every professional video, that's where a real time drain comes in. When we make the couch videos, though, we don't have to professionally record them. It's just immediate. We write something, and we can play it that day.
That's kind of the whole thing we go for, which may be part of the reason people like our videos, is that it's all just a ton of fun. It doesn't come from a place of trying to get more YouTube hits or trying to get people to come to our shows. It's more like, "We think this is funny, here you go." Some of the videos people respond to, and some of them not so much, but we're proud of everything we put out there.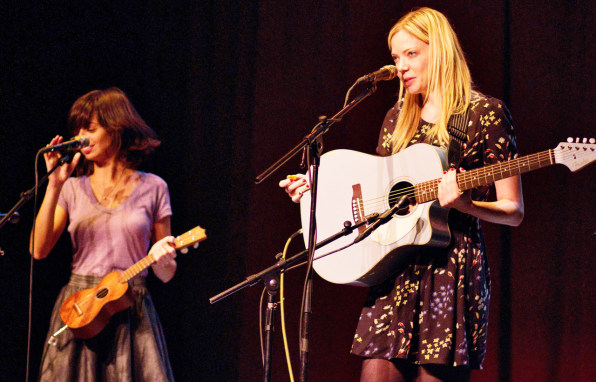 Kate: The couch videos are pretty basic, but we try to mix things up sometimes with concepts. On one of our more recent ones, "29/31", Riki and I played the same woman two years apart in age. At the last minute before recording, we thought that we should be wearing shirts that say 29 and 31. That's about as fancy as the couch videos get.
Riki: At the beginning we would write the songs in like an hour and then immediately put them out there, and we'd even have the words written on cue cards because we didn't know the songs. Now we go out, we workshop the songs, get them really tight, and then we put them out there. It can take, like, five months to write a song now. So the order has changed, but we still just literally press record, sit down on my couch, upload it onto iMovie, and put it up.
Riki: Eventually we started mixing in "real" videos too. The songs tend to be based on our lives, so they have a beginning, middle, and end. They're not generically, "I'm in love with you!" It's more specific, with a lot of details, so that make it easier to make a video out of.
Kate: "Present Face" was the first "real" video we made. Riki had the idea right before Christmas, and we put it together in two days.
Riki: Every time we put a real video together like that, it's all us. We're really flying blind too. We'll just wake up and think about how cool an idea would be as a video. There's not a lot of calculation that goes into it honestly. When we have time and energy to make it happen, then we do. It's a sort of scrappy process. We'll be trying to get deals on stuff, and borrowing equipment. Putting as much money as we can toward it, and getting as many favors as we can for it. You know, trying to do it on a shoestring budget.
Riki: If you believe in what you're doing, you should just do it. You'll keep getting better. We've figured out so much along the way. Every year we have a better camera. And now we have lights, and now we have a mic. You just sort of slowly figure it out. People will give you feedback. If you don't like something you've done, you can take it down.
Kate: It can be as basic as putting a camera and your laptop and hitting record. If you feel like you can do it, do it. The more content you put out, the more people come to you. And once you start getting an audience, then you get subscribers and you can put them on a mailing list and just send out your new videos. We did not set out to necessarily set out to have a band and tour, but we started writing these songs that we loved, and started putting them out, and we wanted to see what happened.