With the official opening of London 2012 an expansive field of brands–both official partners and otherwise–are taking final positions for a multi-million pound marketing bonanza which British media owners hope will create a much-needed golden summer of advertising.
We run through 12 of the top London 2012 brand campaigns so far.
Coming together to cheer as one is the theme of Visa's "The Difference" Olympic ad created by TBWA/Chiat/Day. The aim? To encourage people to submit a supportive cheer for Olympic and Paralympic athletes in the form of a click, post, photo or video. Part of the brand's "Go World" strategy, the largest push in its 25 year history as an Olympic sponsor, the global cheer initiative uses popular social media platforms along with TV, digital advertising and user promotions to help inspire more than 60 Visa-sponsored athletes. The brand has also embodied the perils of being an official sponsor, though, drawing some public criticism for removing non-Visa cash machines near the Olympics venue.
U.K. power company EDF Energy will illuminate the London Eye during the Olympic Games and Paralympics with a light show made from Games-related tweets. The "Energy of the Nation" initiative will measure the nation's mood using data from 10 million U.K. Twitter users with tweets filtered by brand experience agency Ignite and a team of graduates from MIT. The results will be used to put on a "low carbon" light show each night at 9pm drawing attention to EDF's London Eye sponsorship and London 2012. A "mission control" structure at the London Eye will enable visitors to participate using digital and social media. An accompanying web site, mobile and Facebook apps have also been created.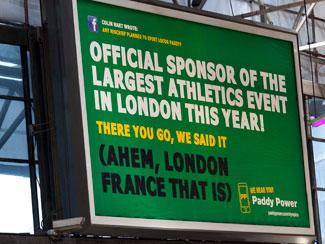 With its reputation for controversial advertising it was only a matter of time before Irish bookmaker Paddy Power, not an official Olympic sponsor, crossed swords with LOCOG (the London Organising Committee of the Olympic and Paralympic Games)–which it did just days before the Games' opening. By sponsoring an egg and spoon race to take place in the Burgundy, France town of London on August 1, Paddy Power claims in its current poster campaign to be: "Official sponsor of the largest athletics event in London this year! (Ahem, London France that is)." LOCOG's response–to instruct outdoor company JCDecaux to remove the campaign from high profile sites–prompted the bookmaker to instruct its lawyers. However on July 25, LOCOG backed down.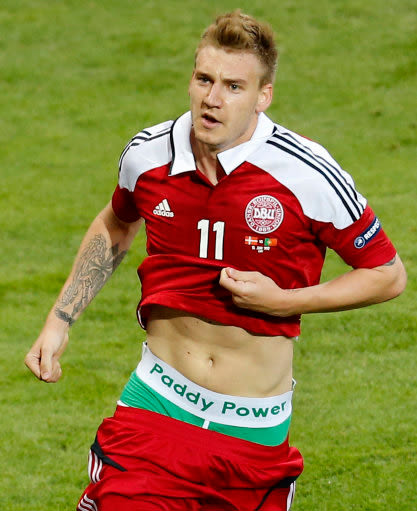 Coca-Cola's Olympic strategy, "Move to the Beat," is all about getting teens excited about the Olympics by tapping into their passion for music and fusing it with sport. The initiative kicked off in February with the launch of "Anywhere in the World"–the brand's London 2012 anthem by Mark Ronson and Katy B. The campaign's latest incarnation, a TV sport created by Mother, features footage from the U.K.-wide torch relay set to the same track showing runners in different parts of the country–winners of Coca-Cola's Future Flames activity.
London 2012 official airline is, naturally, British Airways and its Olympic strategy, with advertising by Bartle Bogle Hegarty, includes "Home Advantage"–a deliciously counter-intuitive plea by the national airline for Brits not to fly during the Games. In one TV spot a BA aircraft is seen driving to the Olympic stadium through London past landmarks such as the Palace of Westminster and Trafalgar Square accompanied by The Clash's "London Calling." In a neat twist, those watching on Facebook or at taxi.ba.com were able to enter their post code to see images of their own street posted into the advert.
The John Lewis department store in London's Oxford Street has been wrapped in an asymmetric British flag while a banner displaying Olympic-themed items shoppers can buy in-store has gone up in Stratford a stone's throw from the Olympic Stadium. The retailer, which is official department store provider to the Games, has also linked with fellow London 2012 partner Adidas to install giant banners and wraps at both its Cardiff and Sheffield outlets featuring giant images of Team GB competitors. An idea inspired by Sears' store wrap in the red and white Canadian flag at the 2010 Winter Olympics in Vancouver, perhaps?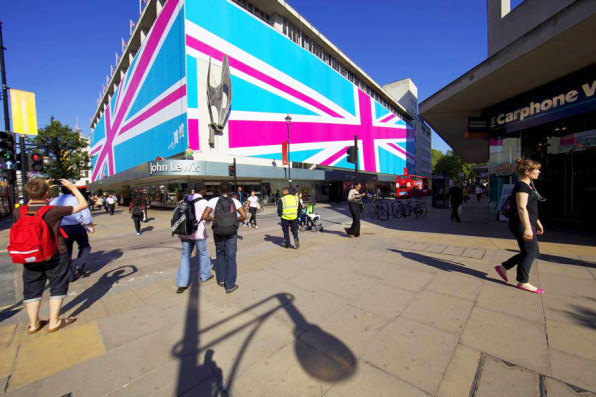 With the "brand police" out in full force in the run-up to London 2012, several marketers (see Paddy Power above) found clever ways to join the Olympics conversation without paying sponsorship fees–or nasty fines for breaking the rules that attend such sponsorships. Non-sponsor Nike's own particular brand of rebellion comes in the form of a spot that encourages you, the athlete at any level, to "Find Your Greatness" and spotlights athletes that, completely coincidentally, happen to be finding their greatness in towns and cities called London (London Ontario, London, Ohio, etc).
Lego's just-launched Olympic outdoor campaign, "Great building, Great Britain," is for its new Team GB mini figure range spanning boxers to sprinters and gymnasts. No less than 35 ads have been created by agency Dazzleship featuring different Lego Team GB figures smiling above a strapline wishing each athlete good luck. The push will be further supported by digital outdoor and digital executions will be regularly updated to ensure the campaign keeps pace with events once the Games get underway.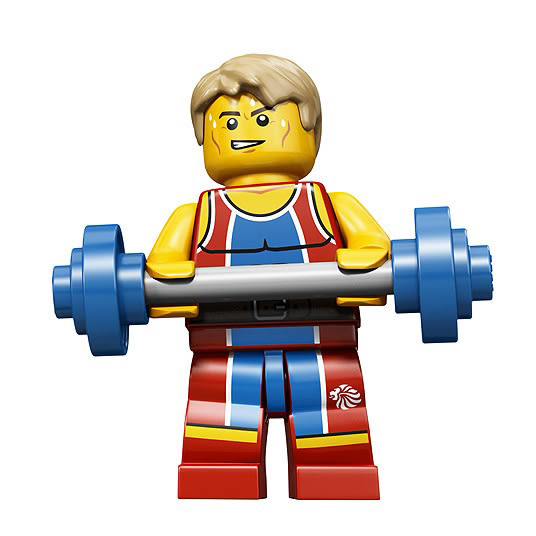 Become an Olympic participant in the 100m sprint or freestyle swimming, 10km run or bicycle road race and see how your personal best compares against the all-time greats–both human and animal–courtesy of The Guardian. The newspaper's interactive team developed his retro-styled interactive game to mark London 2012 and pay homage to the 8-bit console classics of the 1980s. "Could You Be a Medalist?" was inspired by The Guardian's Sport Editor, Sean Ingle, with design by Jamie Lenman. The crude chip tone background music is courtesy of Jordan Gray, a.k.a. DJ Starpause.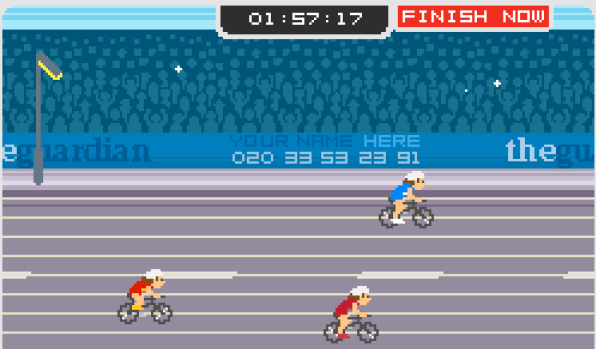 Procter & Gamble launched its "Thank You, Mom" campaign at the Vancouver Games in 2010. A critical and commercial success, the campaign is back for London 2012. In one execution, a re-working of its 2010 Winter Olympics 'Thank you, mom' spot produced by Wieden + Kennedy, P&G pushes raw emotion to the tear-jerking nth degree with its depiction of mothers worldwide raising children to become champions and sharing their triumph. 'Being a mom is the hardest job in the world,' the ad says, 'but it's also the best.' Weeks after launch, this spot is still riding high in the U.K. viral charts. Beyond advertising, the Moms campaign extends to an on-site presence at the games, based around the "Family Home," dubbed a "home away from home" for athletes and their families. P&G also surprised moms with tickets to the games' much-anticipated opening ceremony.
A striking 90-second TV ad is the current highlight of Channel 4's multi-million pound "Meet the Superhumans" strategy–the broadcaster's biggest single marketing push in its 30 year history. The spot, underlining the channel's role as official broadcaster of the London 2012 Paralympic Games, was created by the channel's in-house agency 4Creative and directed by Tom Tagholm. Launched simultaneously across 78 channels at 9pm GMT on July 17, its pounding soundtrack is Public Enemy track "Harder Than You Think."
The latest installment of Adidas' "Take the Stage" Olympics strategy is a simple yet striking print and TV push focused on top British athletes. The series of posters and films, created by agency Sid Lee, began with print executions featuring just the tagline. A second wave, launched in mid-July, expanded on this theme. Each print execution pairs an individual athlete with an individual message–a portrait of heptathlete Jessica Ennis, for example, accompanying the line: "Take the Crown." The emotionally-charged film, meanwhile, is suitably nation-rousing featuring top British athletes and the mental challenges of competing at the highest level on the global stage. Another recent ad featured David Beckham surprising Team GB fans in a photobooth.