Twenty years ago the only sports fans who could hope to have a personal conversation with an Olympic athlete were those who were willing and able to hang out at sports events and queue, possibly for hours, on the off chance they might get an autograph and a smile.
Today the smartphone- and tablet-wielding public are able to connect with their sporting heroes in an instant. The scale of uptake of mainstream social media means the relationship between sports stars and sports fans has been transformed. And, around the London 2012 Games, interaction will take place at a rate never seen before.
A social media conversation analysis by agency SapientNitro has established the most popular "socialympians" ahead of the London 2012 Olympic Games, which kicks off on 27 July.
The agency looked at different measures of sociability, including athletes with the largest Facebook/Twitter/Instagram followings and which athletes and Olympic teams were doing the most to engage and converse with fans.
Leading the pack on a total fan basis is Team U.S. basketball star Lebron James–his combined Twitter, Instagram and Facebook networks amount to just under 16.5 million; runner-up is Spanish tennis ace Rafael Nadal whose networks total almost 13.6 million. Another Team U.S. basketball player Kobe Bryant at just less than 13.5 million fills third spot; Swiss tennis player Roger Federer is fourth with a little more than 11 million and Brazilian football sensation Neymar Junior comes in fifth with just under 10.5 million (If you're looking at Instagram only, USA's Kevin Durant and Carmelo Anthony are tops, with over 450,000 followers each).
Team USA members take up the most spots within the top 100 global athletes, occupying 37 of the top 100 places. Team GB is next with 12 athletes, followed by Team France with 10.
Of the 100 most popular athletes the rankings are highly skewed towards basketball, tennis, and football players–among the top 30 global athletes, the only ones who don't play basketball, tennis, or football are Usain Bolt and Michael Phelps.
The most popular athletes also strongly skew male, with only 7 of the top 30 global athletes being women. Women make up roughly 1/3 of the top 100 spots.
That chattiest Olympic athlete–the one with the highest "conversation index"–a measure of interaction that includes things like Retweets and @replies over a given period–is another American and another basketball player, Tyson Chandler. Brazilian volleyballer Murilo Endres and Team USA basketball player Candace Parker were also ranked among the top most conversational Olympians (it should be noted though, that this index is based on a small sampling of Tweets during the one-week period being measured. There were other athletes, like Australian boxer Danny Green, who had higher overall Twitter activity, i.e. more Tweets, during this time).
Collectively the top five athletes have a reach of 65,031,352. The London 2012 Games will be the first where the scale of connection has this kind of potential. At the 2008 Summer Olympics in Beijing, Twitter had around 6 million users and Facebook had 100 million. Todays' figures are an estimated 140 million for Twitter and 900 million for Facebook.
SapientNitro SVP and managing director Nigel Vaz says: "Technology has changed the way in which consumers connect with the Olympics, their national teams and individual athletes. Genuine social conversations between athletes and the public have broken down barriers and made the London Olympic Games more inclusive and engaging than ever before."
"The International Olympics Committee (IOC) deserves credit for attempting to embrace the enormous impact social media will make on the London Olympic Games. The challenge of having to protect Olympics sponsors and broadcast rights, keep aspects of the opening ceremony a surprise and maintain positive PR around everything from transport to security is fully at odds with a world that has grown accustomed to sharing, liking and tagging all aspects of their lives."
But in terms of protection, as with everything around mega-events, there are strict, some would say draconian and possibly counter-productive rules about what athletes may and may not post on social media. Woe betide an Olympian who tweets anything at odds with sponsors and posting photos and film is a total no-no.
Despite the tight rules there are some who are still not altogether happy with an open and accessible Olympics. Lord Coe, chairman of the London Organising Committee of the Olympic and Paralympic Games (LOCOG) who is also a former double Olympic champion and 12-time world record holder in athletics (1,500m and 800m) last week warned athletes to stop Tweeting if they want to win medals. "I have found a direct correlation between the amount of activity an athlete enters into on social media and their ultimate performance when it really matters–but that's for them to figure out," Coe said.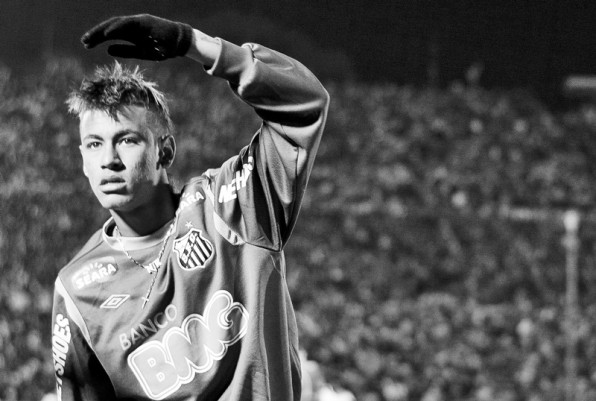 There are many who might not agree with Coe's point of view. As Vaz says: "Athletes such as Lebron James, Usain Bolt, Neymar or Ryan Lochte are among the most followed and most active of our 'socialympians.' Lord Coe's comments that prolific Tweeters risk their medal chances don't stand up to the scrutiny of SapientNitro's research; they're indicative of someone who understands the impact social media will have on the London Olympic Games, but is not yet fully comfortable with it."