Before Desperate Housewives ended its eight-season run on ABC in May, series creator Marc Cherry was already hard at work on Devious Maids, a pilot that he ultimately sold to Lifetime. Centering on five Latina maids working for wealthy, eccentric employers in Beverly Hills, the show, premiering in 2013, opens up a tantalizing world of storytelling possibilities for Cherry, and he is loving it. "I feel completely recharged to be working on this," he says.
That said, lessons learned from Desperate Housewives are being applied to this fresh creative endeavor. "I don't think you can write a television series for eight years without learning a whole lot of lessons," Cherry reflects. Here, he looks back on the creation and making of Desperate Housewives, sharing the wisdom that he gained from the experience with Co.Create.
Cherry, who first made a name for himself in Hollywood as a writer and producer for The Golden Girls, came up with the idea for Desperate Housewives after a chat with his mom about the sometimes messy lives of women who live in the suburbs. He thought he had a great premise and pitched the show to five different networks. They all turned it down (and, indeed, ABC passed on Devious Maids before it was sold to Lifetime). But Cherry wrote the pilot script anyway because he believed in the idea. He shopped the script around, and once again, he was rejected all over town. While executives appreciated the quality of the writing, a show about a bunch of wacky housewives (there was nary a Real Housewife on television at that time) narrated by a dead woman simply wasn't for everyone. Did Cherry ever think of ditching Desperate Housewives and coming up with another idea? "You know what, no, I didn't because it was the best thing I'd ever written," he says. "It's kind of hard to give up on the best thing you've ever done."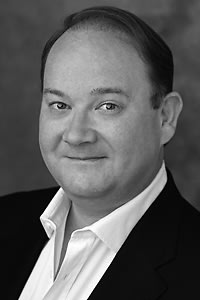 You need to have pride in what you do and follow your instincts as a television writer. But if you're going to work in Hollywood, you need to be collaborative, too. "I think the problem with most writers is that they are too stuck in their ways. They don't open themselves up to looking at the script in new ways. They're not open to rewriting it and making it better. That's not a problem I tend to have," Cherry says. "I'm very open to suggestions, and I listen to what people have to say. I am more than willing to change my work." To that end, Cherry recalls laboring on at least 17 drafts of the pilot for Desperate Housewives before he sold the show to ABC.
You probably can't name the street most of the characters from your favorite television shows live on, but if you were a fan of Desperate Housewives, you knew you'd find the ladies on Wisteria Lane. And while Wisteria Lane was a lovely street to look at, it was also the epicenter of all kinds of craziness. A plane crash even crashed on the street in one episode. "The neighborhood was a character in the show, and that was very much intentional," Cherry says.
Finding a place that would serve as Wisteria Lane wasn't easy, though. "It was very scary when we were scouting for the pilot. We were very lucky to get onto the Universal [Studios Hollywood] lot because there wasn't another suburban neighborhood backlot that we could have used and had we been forced to shoot in an actual neighborhood, they would have gotten sick of us, and I don't know that we would have lasted the entire eight years," Cherry muses.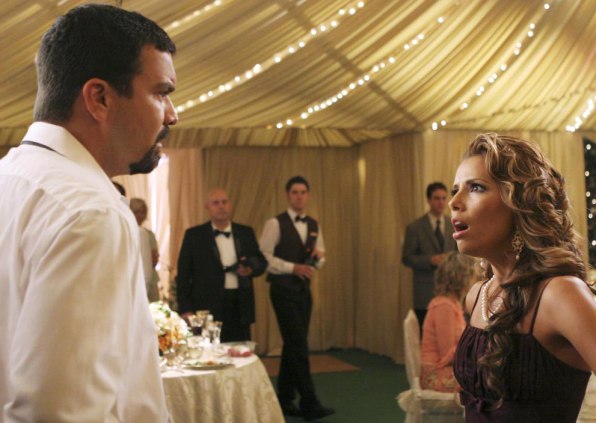 "The networks will always want you to write characters of a certain age because they want you to hit that 18 to 49 demographic," Cherry says. And without a doubt, Bree, Gabrielle, Lynette and Susan–all women in their 30s (at least when the show began)–were the stars of Desperate Housewives. But Wisteria Lane's crotchety old Karen McCluskey (played by the late Kathryn Joosten) was a scene stealer. "My beloved Kathryn Joosten–right from the start she was this amazing voice on the street, and we went back to her time and time again," says Cherry, noting, "She wasn't originally intended as a regular, but she was so good in the one episode we hired her for–as a matter of fact, she won an Emmy for her first episode–we learned very quickly that when someone pops off that screen, use them again."
As any showrunner will tell you, it becomes a challenge to come up with stories to tell as a network series–especially an hour-long show–gets on in years, and Desperate Housewives was no exception. "The show got harder and harder to do because we had gone through so many stories. We had really taken the women through so many experiences that we were starting to say a lot of times in the [writers] room, "Oh, we've done that," Cherry says.
"We ran longer than the seven years I had originally planned, but we didn't go the nine years I think the network was asking for, so the eight seasons was a lovely compromise," Cherry continues. "I was determined to end the show before America stopped caring entirely. You don't want to be one of those shows that people look at one day and go, 'Is that still on?' So I think we got out just in the nick of time."