[youtube 8AEd8fq5iG0]
At times during the NBA Finals I couldn't believe what I was seeing. Not because LeBron James or Dwyane Wade was defying gravity (not to mention the Thunder); Miami's superstars have a way of making the extraordinary appear almost routine. Rather, I was dumbstruck by an ad, an ad that Ford ran twice, during games four and five.
It began like this:
Mother, rushing to her daughter's side: "Honey, what's wrong?"
Daughter, fighting back tears: "Ale got a new Ford Escape!"
Mother, suddenly on the verge of tears herself: "A Ford Escape. The one that practically parks itself?"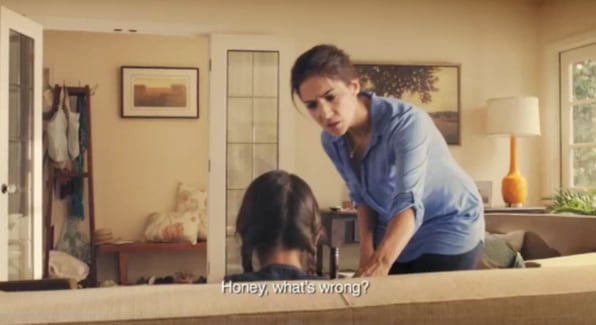 I believed I was watching the future of advertising. Did I mention that the mother and daughter–and the announcer–were speaking Spanish? And that their lines appeared onscreen in subtitles? Now maybe un commercial espanol on ABC shouldn't be surprising in 2012 given that one in six Americans identify themselves as Hispanic. This demographic is the fastest growing segment in the country; by Nielsen's estimate, it'll make up 60 percent of the total population growth in the U.S. by 2016.
Still, this was the first time I could recall seeing an ad format on a major TV network aimed at two groups of consumers in two languages–Spanish for Hispanics, subtitles to include everybody else. I called around and discovered that I'd missed earlier variations on the theme: some Spanish ads during CBS's broadcast of the Latin Grammys and the short-lived Jimmy Smits series Cane as well as during the 2004 World Series on Fox (that ad, by GM, featured Spanish rap but no dialogue). Until the NBA Finals, Ford had never tried anything like this. "It was a big deal," says Matt VanDyke, who oversees U.S. marketing and communications for the automaker. And it was a big stage on which to experiment. The games scored the weeks's top ratings—more than 15 million viewers on the nights the Escape ad aired.
The day after game two of the NBA Finals, ABC execs called Zubi, a Miami-based agency that specializes in Hispanic marketing for big brands, including Ford. "[ABC] said, 'We've noticed extraordinary penetration of Spanish-speaking viewership,' " says VanDyke. "The highest number they've seen on any sports programming and higher than any typical numbers for prime-time programming." Which made sense. ABC had the finals to itself. It wasn't being simulcast on a Spanish-language network. And if any team could attract an Hispanic audience, it's El Heat, which plays in a county, Miami-Dade, that's 65 percent Hispanic.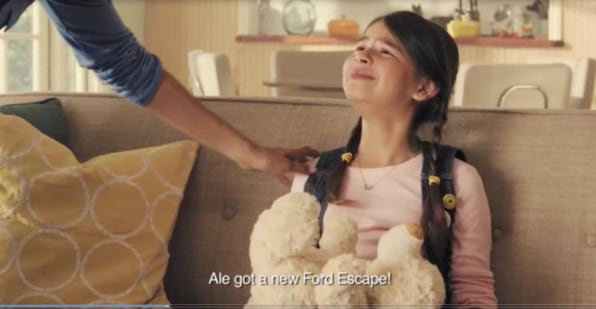 How about trying something different, ABC suggested, and running an Hispanic ad during one of the games to reach that audience?
"The first email from me was, 'What?'" admits VanDyke. "Will it make sense to a general audience? Are we going to subtitle it?"
He and Ford know the demographic trends all too well. How the buying power of the country's 52 million Hispanics is substantial ($1.1 trillion in 2011, according to IBISWorld). How it's expected to only keep growing ($1.6 trillion by 2015, IBISWorld says). How Hispanics are helping lead the auto industry's current recovery. Sales to Hispanic car buyers are up 17 percent over last year, compared to 10-percent growth for all buyers.
So VanDyke said si to the ad. It came together quickly, over the weekend, says David Rodriguez, Ford's multicultural marketing manager, who works with Zubi. During the previous three months, the automaker had worked on the campaign for the 2013 Ford Escape, which included ads targeting the Hispanic market. The spots began rolling out in recent weeks on Univision, the popular Spanish-language network. Zubi, which trumpets the motto "erase stereotypes" on its cleverly designed site, proposed just the ad for the leap to ABC. The 30-second spot was a parody of a telenovela in which a family discovers its neighbors have bought the new Escape. Everyone—mom, dad, their young daughter—is inconsolable. They're so melodramatic they make the Thunder's flopper extraordinaire James Harden seem subtle. You could watch the commercial with the sound off and still understand what's going on. Ford added subtitles anyway.
The automaker doesn't plan to routinely air its Spanish-language ads on the major networks, says VanDyke. They'll appear on Univision, as planned. But he and his marketing team are studying the impact of this NBA Finals experiment on brand awareness and sales for the Escape in the coming weeks. "Overall, we got real positive feedback," says VanDyke. "The ad was surprising. We were paying attention to social media, and we also heard from employees and dealers. Some people did say, 'I think you ran the wrong ad.' And other people said, 'You were just trying to get noticed.'"
It worked. It broke up the routine much like the NBA's annual Noche Latina (Latin Night), with teams sporting El Heat and Los Bulls jerseys. When the Ford commercial came on during a break in the Heat-Thunder drama, I suspect one segment of the 15 million-plus viewers sat up and thought, "Hey, they're speaking my language." And another group leaned forward to read the subtitles, as I did, and thought, "Hey, this is different. What are they saying?" For those 30 seconds, both were captivated.
Follow Chuck Salter and Fast Company's CoCreate on Twitter.