When visiting the website of a creative company, the expectation is to find some contact information and selections of work and/or a demonstration of just how desperately social-media-savvy the proprietors are. When you visit the site of Secret Location and a phone starts ringing, however, you know something altogether different is going on. Clicking on the persistently ringing phone initiates a multi-layered narrative experience that seamless combines short film, interactivity, and gaming.
Dubbed The Sevens, the experience is the centerpiece of Toronto-based interactive agency Secret Location's relaunched website and is designed to surprise and entertain while showcasing the extent of the company's skills. Well versed in creating experimental interactive narratives such as Rookie Blue: Interrogation Room for Global TV, Stanfield's Guy At Home in His Underwear, and Endgame Interactive for Showcase, which won an International Digital Emmy in 2012, for this site Secret Location builds on the insights learned from previous work to create an experience that is both chilling and exhilarating.
The Sevens begins and ends with a phone call and contains three puzzles for viewers to solve. Once the narrative begins we meet Julie, a suburban teen who possesses unique powers, like moving cryptic symbols floating in her room. The first puzzle users encounter unlocks a phone number; the next, a pass code. If users solve the puzzles and dial the number, they will receive a phone call and a chance to solve one final puzzle in order to reveal an alternative ending. If users fail to solve the puzzle the first time, the video loops back to the beginning. It's worth the extra effort to figure it out.
James Milward, Secret Location founder and executive producer, says that the idea for The Sevens was born four years ago in the company's first portfolio site. Built around a choose-your-own adventure interactive narrative, users fully embraced the site's sense of discovery–perhaps too much. Over 120,000 people visited the site in the first three months, and many of them thought the company's phone number, placed at the bottom, was part of the experience. It was not. Yet over 100,000 people called that number trying to play along. So when the time came to reinvent his company's website, Milward saw the potential to do something interesting with the phone.
The reason behind this independent project–which was created with writer/filmmaker José Avelino Gilles Corbett Lourenço–is largely research and development. But R&D in isolation, says Milward, only tests the functional technology, whereas he's more interested in experimenting with how tech intersects with narrative. "We're always experimenting from a tech standpoint, but where we're really trying to experiment more is where that technology meets story. So it's not enough to workshop whether tech works. From our standpoint, it comes to bear where technology meets a creative story idea," he says, noting that this type of tinkering for a client-facing project is not really possible. "It's one thing to get the phone number working technically, it's another to get the phone number to work correctly when you have to punch numbers in a keypad within a certain amount of time in order for a narrative to progress."
If the first Secret Location site spurred the phone integration in The Sevens, then Endgame Interactive inspired its flawless integration of film, interactivity, and gaming.
Launched in spring 2011, Endgame Interactive was created as an interactive episode of Endgame, a show on Canadian network Showcase. One of the first experiences to pull in user's data with Facebook's API, the piece blended a show-related narrative with investigative gaming. Lauded with an International Emmy, it was groundbreaking. Still, Milward says there was much to improve on.
"Endgame showed us a lot of things. We learned things about length and how much time gaming eats up as you stop the narrative," says Milward, noting that at 20 minutes, the interactive episode was a bit too long for online attention spans. "We wanted to try to build a version of a cinematic experience that was interactive with choice that could be through in one session but was really mind blowing."
The first goal was to create a storyline that could be understood and digested in about seven minutes. The second was to create an experience that was enhanced and not interrupted by gaming elements. "With Endgame Interactive, we felt that when you played the games you stopped experiencing the narrative. The whole storyline paused. So we experimented with playing or asking someone to solve a game in the actual interactive narrative format of the film. The film never stops when you play the games; they're functionally a part of the actual film, so you see the main character moving when you play the games," says Milward. "That's one of the most difficult things to do when you talk about interactive narratives, to keep a sense of immersion and interactivity to a minimum so the immersion can be continued. And that's where we're trying to do with this overall."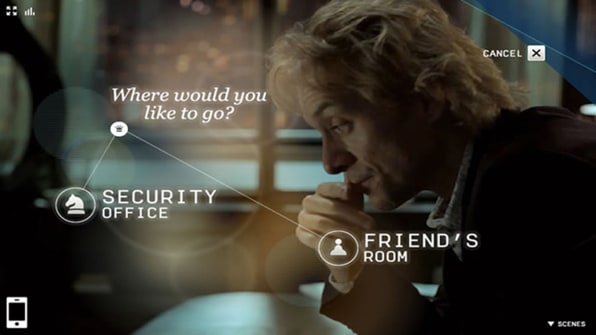 While The Sevens is specifically for the agency's growth, Milward is quick to point out that it's not a stepping-stone to anything, rather a way to create better experiences for its clients.
"We can incubate original stuff or we can do client projects. Both of those sides inform one another and we want to keep doing both," he says. "Our goal is not grinning our teeth begrudgingly doing client work until we can make enough money on our own stuff. We like to solve problems for people and we like to create collaborative projects. That helps make the things we incubate stronger."
In fact, one of the reasons the storyline for The Sevens is so mysterious is to allow for further exploration. Milward won't divulge the meaning of the symbols, what all the dimension jumping is about, or what's next for Julie, except to say she's one of seven exceptional people. The plan is to roll out multiple chapters to explore different members of The Sevens, let users inform future narratives, and to experiment with new forms of interactive storytelling, of course.
Says Milward: "We're looking to how we can create a model or several models from this sandbox. Not only an internal resource standpoint, but also externally as model for how we can help our clients monetize their content interactively."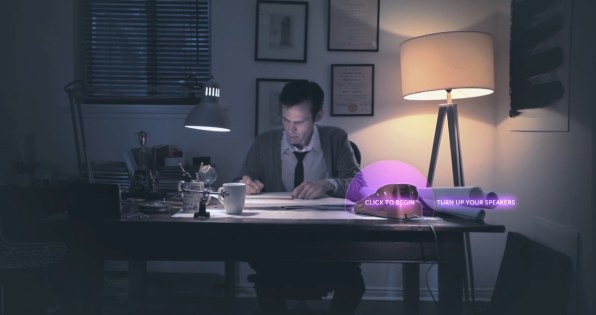 Aside from creating a mysterious story world with great potential for meshing new storylines with innovative interactivity, The Sevens represents some interesting applications of technology. Here, for the more technically minded, Secret Location founder and executive producer James Milward explains how it was all done.
"The Sevens experience utilizes a combination of services and platforms to execute the concept. The front-end execution is built with Adobe Flash in AS3 and published in the Flash 10.1 Player, to support the use of particle simulations and other heavy processes. We are also using Javascript on the front end to communicate to Node.js through Socket.io. This allows us to have real-time communication between the phone and website for interpreting the tones generated by the user's phone instantly.
"It means that each user has their own real-time and specific conversation with the site–a new phone number and pass code is generated every time a user participates.
"We're currently using the third-party MaxMind API with PHP for determining the user's location based on their API. This allows us to generate the appropriate phone number for the user to call in on.
"The database is built in MySQL and utilizes a Node.js back end for communication between the database, client machine, and a third-party telephony API by Twilio, which is a VoIP-based service. Utilizing Twilio and Node.js in a unique way, through a series of cryptic codes, to identify the user's phone number with their web session in order to sync the two experiences in a seamless integration. The Node.js instance is served through Amazon's Web Services, along with all of the larger content being cached through Cloudfront.
"We have always been interested in mixing mediums, so services like Twilio and Ribbit, as well as devices like the Arduino combined with processing, are things that we've done a lot of experimenting with. The ability to incorporate those technologies in a story-driven execution means we're not just building something for technology's sake but rather using it to elevate the way a story can be told."